The functional interactome of PYHIN immune regulators reveals IFIX is a sensor of viral DNA.
Bottom Line: We discover that IFIX detects viral DNA in both the nucleus and cytoplasm, binding foreign DNA via its HIN domain in a sequence-non-specific manner.Furthermore, IFIX contributes to the induction of interferon response.Our results highlight the value of integrative proteomics in deducing protein function and establish IFIX as an antiviral DNA sensor important for mounting immune responses.
Affiliation: Department of Molecular Biology, Lewis Thomas Laboratory, Princeton University, Princeton, NJ, USA.
No MeSH data available.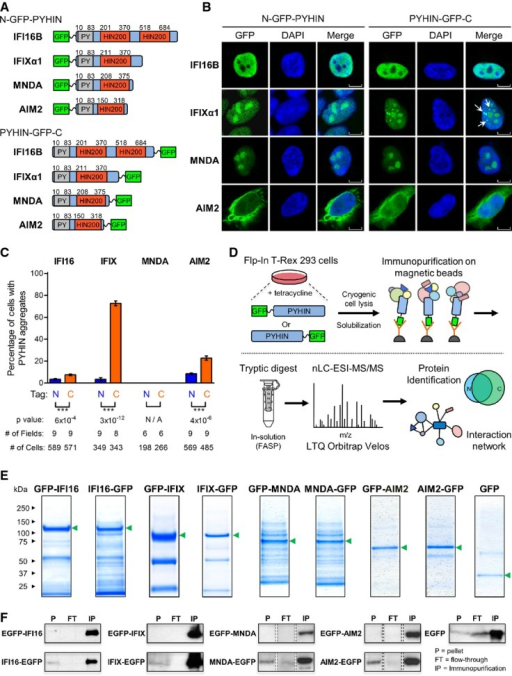 © Copyright Policy - open-access
License
getmorefigures.php?uid=PMC4358659&req=5
Mentions: To elucidate PYHIN protein interactions, we generated a series of cell lines that inducibly express each PYHIN protein tagged with a fluorescent tag for visualization, affinity isolation, and subsequent proteomic analyses. This was necessary given the lack of appropriate antibodies for immunoaffinity purification of all four PYHIN proteins. We selected HEK293 cells as a model system, as these cells are commonly used for characterizing fundamental molecular and cellular processes, such as transcription, cell cycle, and apoptosis, and are highly suited for transgene expression. Previous studies have used HEK293T cells to reconstitute immune signaling pathways by reintroducing specific pathway components, which are normally absent in these cells. (Ablasser et al, 2013a,b, 2014; Diner et al, 2013; Sun et al, 2013). Therefore, we instead used a system derived from HEK293 cells, in which we could detect endogenous STING and IRF3 (Supplementary Fig S1B), two central components of DNA stimulated immune signaling pathway (Tanaka & Chen, 2012). This is in agreement with previous reports that HEK293 cells already express STING (Ishikawa & Barber, 2008) and do not require its reintroduction for virus-triggered interferon response (Li et al, 2012), as in the case of HEK293T cells. Additionally, we observed that the pyhin genes, although present at low levels, are inducible by type I interferon in wild-type HEK293 cells (Supplementary Fig S1A). We therefore generated tetracycline-inducible HEK293 cell lines that express integrated PYHIN transgenes, allowing transient overexpression of the four PYHIN proteins. This transient overexpression avoided the potential PYHIN-mediated cell cycle arrest, apoptosis, and transcriptional changes that may be associated with this family of proteins (Ding et al, 2004; Fujiuchi et al, 2004; Chen et al, 2006; Sun et al, 2014). As IFI16 and IFIX have multiple isoforms, we used transgenes encoding the longest and most abundantly expressed isoforms for each—IFI16B and IFIXα1 (Ding et al, 2004; Li et al, 2012). GFP was chosen as the affinity tag to ensure efficient isolation of PYHIN proteins using high-affinity anti-GFP antibodies, as we have previously described (Cristea et al, 2005; Joshi et al, 2013). PYHIN proteins were tagged at either the N- or C-termini to eliminate tag-dependent effects on protein localization and interactions, providing a total of nine HEK293 cell lines inducibly expressing one of the GFP-tagged PYHIN proteins or GFP alone as control (FigA and B, Supplementary Fig S2A). While some variations in expression levels were observed, all tagged PYHIN proteins were expressed well and at levels comparable to the control GFP (Supplementary Fig S2B).