A multi-scale approach reveals that NF-κB cRel enforces a B-cell decision to divide.
Bottom Line: B-lymphocyte population dynamics, which are predictive of immune response and vaccine effectiveness, are determined by individual cells undergoing division or death seemingly stochastically.Combining modeling and experimentation, we found that NF-κB cRel enforces the execution of a cellular decision between mutually exclusive fates by promoting survival in growing cells.We show that a multi-scale modeling approach allows for the prediction of dynamic organ-level physiology in terms of intra-cellular molecular networks.
Affiliation: Department of Chemistry and Biochemistry, Signaling Systems Laboratory, UCSD, La Jolla, CA, USA San Diego Center for Systems Biology, UCSD, La Jolla, CA, USA Bioinformatics and Systems Biology Graduate Program, UCSD, La Jolla, CA, USA.
No MeSH data available.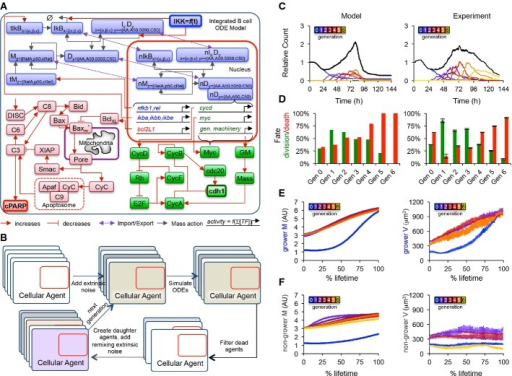 © Copyright Policy - open-access
License
getmorefigures.php?uid=PMC4358656&req=5
Mentions: Based on our molecular analysis, we constructed an integrated ODE model (FigA and Supplementary Methods) with NF-κB-controlled synthesis of BcLXL, a key regulator in the apoptosis module, as well as NF-κB-controlled synthesis of CycD, a key regulator in the cell-cycle module. Furthermore, in the cell-cycle module, growth is controlled by general machinery (GM), which represents the ribosomes and other cellular components that promote the accumulation of cell mass. Mass in turn promotes the growth of general machinery, creating a positive feedback loop that results in exponential growth and cellular progression through the cell cycle. However, since we observed B cells to delay growth prior to the first division (Fig2), we needed to model the control of general machinery (GM) in more detail. Hence, we incorporated NF-κB-controlled synthesis of Myc, a transcription factor that promotes cell growth, which is typically low in quiescent cells but a known NF-κB target gene. To obtain population dynamics, the integrated ODE model was incorporated into cellular agents (Fig5B), which kept track of their generation, age, and independent set of starting synthesis/degradation or total protein concentrations, which were drawn from normal or log-normal distributions, respectively. The models were solved until the agent died [defined as (cPARP) > 25,000 molecules/cell] or completed mitosis [(cdh1) > 0.2], at which point it was removed or replaced by two new daughter agents, respectively. We subjected daughter agents to extrinsic re-mixing noise to account for loss of correlation with successive generations. When training the model on our results from the wild-type condition, we retained the value of all published NF-κB, cell-cycle, and apoptosis parameters, leaving a set of free parameters specifying BclXL, CycD, and Myc transcript synthesis and degradation, as well as parameters controlling the growth and survival of cells (Supplementary Methods and Supplementary Table S9). Remarkably, we were able to recapitulate the observed population dynamics (Fig5C), the fraction of cells dividing or dying in each generation (Fig5D), as well as the growth trajectories of growing and non-growing cells in each generation (Fig 5E and F) by fitting just these free parameters from within biologically plausible ranges to a set of features (Supplementary Tables S9 and S10, and Supplementary Methods).