Limited mitochondrial permeabilization causes DNA damage and genomic instability in the absence of cell death.
Bottom Line: Mitochondrial outer membrane permeabilization (MOMP) has historically been thought to occur synchronously and completely throughout a cell, leading to rapid caspase activation and apoptosis.Using a new imaging approach, we demonstrate that MOMP is not an all-or-nothing event.Rather, we find that a minority of mitochondria can undergo MOMP in a stress-regulated manner, a phenomenon we term "minority MOMP." Crucially, minority MOMP leads to limited caspase activation, which is insufficient to trigger cell death.
Affiliation: Cancer Research UK Beatson Institute, Garscube Estate, Switchback Road, Glasgow G61 1BD, UK; Institute of Cancer Sciences, University of Glasgow, Garscube Estate, Switchback Road, Glasgow G61 1BD, UK.
Show MeSH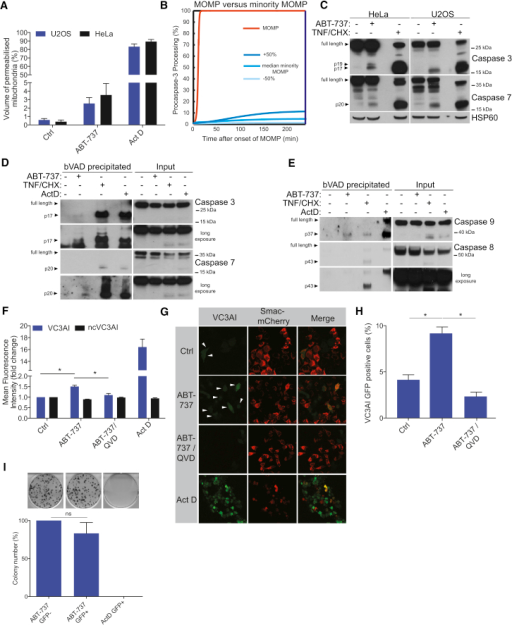 © Copyright Policy - CC BY
License
getmorefigures.php?uid=PMC4352766&req=5
Mentions: We next sought to understand the consequences of minority MOMP, and in particular, whether it might lead to activation of caspases at sub-apoptotic levels. We first quantified the extent of minority MOMP in HeLa cells. This revealed an average of 2.5% of a cell's mitochondria undergoing permeabilization following sub-lethal ABT-737 treatment (Figure 2A). Together with previously published criteria, this allowed us to adapt a mathematical HeLa cell model of the apoptosis execution phase (Rehm et al., 2006) to perform in silico simulations of the consequences of minority MOMP on the efficiency of caspase-3 processing and activation. Importantly, despite the presence of amplifying feedback loops which ensure rapid and full caspase activation in response to regular MOMP, simulations for minority MOMP conditions demonstrate that caspase-3 would be processed and activated sub-maximally and therefore, potentially, at sub-lethal levels (Figures 2B and S2A). To experimentally verify this, U2OS and HeLa cells were treated with the BH3-mimetic ABT-737 in the presence or absence of caspase inhibitor quinolyl-valyl-O-methylaspartyl-[2,6-difluoro- phenoxy]-methyl ketone (Q-VD-OPh). Treatment with a wide range of sub-lethal doses of ABT-737 triggered caspase activity as evidenced by pro-caspase-3 processing and PARP cleavage, effects that were blocked by caspase inhibition (Figures S2B and S2C). We next compared caspase activity between conditions that engage minority MOMP and apoptotic conditions. Cells were treated with ABT-737 to induce minority MOMP or with TNF/CHX or Act D to engage apoptosis (Figures 2C–2E and S2D). We determined executioner caspase-3 and -7 activity, by detection of their active, cleaved fragment (Figure 2C) or by their activity-dependent precipitation using biotin-Val-Ala-Asp-Fluoromethyl Ketone (b-VAD) (Figure 2D). Both approaches demonstrated that caspase-3 and -7 activity was detectable but significantly less in ABT-737 treated cells undergoing minority MOMP compared with apoptotic cells (Figures 2C and 2D). Levels of active caspase-9, precipitated with b-VAD, were also detectable but significantly less in ABT-737 treated cells undergoing minority MOMP in comparison to apoptotic cells (Figure 2E). In line with ABT-737 activating the mitochondrial caspase pathway, ABT-737 treatment led to caspase-9 but not caspase-8 activation (Figure 2E). Collectively, these data argue that minority MOMP can engage sub-lethal caspase activity. To corroborate these findings, we used a recently developed caspase reporter protein (VC3AI) that fluoresces following caspase-mediated cleavage (Zhang et al., 2013). As validation, apoptotic treatments led to an increase in fluorescence in VC3AI expressing HeLa cells in a caspase-dependent manner, whereas cells expressing the non-cleavable control (ncVC3AI) remained non-fluorescent (Figure S2E). Significantly, flow cytometry analysis demonstrated that ABT-737 treatment led to a detectable increase in caspase activity in viable cells that was inhibited by the caspase inhibitor Q-VD-OPh, further supporting the hypothesis that minority MOMP triggers sub-lethal caspase activation (Figure 2F). We then treated HeLa cells co-expressing Smac-mCherry together with either VC3AI or ncVC3AI with the BH3-mimetic ABT-737. In line with the flow cytometry data, treatment with ABT-737 specifically increased the percentage of cells displaying weak caspase-dependent fluorescence (Figures 2G, 2H, and S2F). Importantly, cells exhibiting caspase-activity failed to display apoptotic, widespread MOMP because Smac-mCherry remained localized in the mitochondria (Figure 2G). We next determined if cells displaying sub-lethal caspase activity could survive long-term. HeLa cells expressing the VC3AI reporter were treated either with ABT-737 to engage minority MOMP dependent caspase activity or Act D to trigger mitochondria-dependent apoptosis. Equal numbers of caspase active (GFP-positive cells) from both conditions were sorted and compared for clonogenic survival versus caspase inactive, GFP-negative cells (Figures 2I and S2G). Importantly, similar clonogenic survival was observed comparing ABT-737 treated caspase active versus inactive cells; in contrast, stimulation of mitochondrial dependent apoptosis by Act D prevented clonogenic outgrowth (Figure 2I). Taken together, these data demonstrate that minority MOMP can engage low level caspase activity under which cells can survive.