Successful percutaneous transluminal angioplasty for the treatment of renovascular hypertension with an atrophic kidney.
Bottom Line: We present the case of a 61-year-old man with renovascular hypertension caused by chronic total occlusion of the left renal artery resulting in an atrophic kidney.The endocrine function of the left kidney was believed to be preserved; thus, we performed percutaneous transluminal renal angioplasty with stent placement.After the procedure, the patient's blood pressure decreased gradually to within the normal range without adverse events.
Affiliation: Division of Cardiology, Nephrology, Pulmonology and Neurology, Department of Internal Medicine, Asahikawa Medical University, Midorigaoka-higashi 2-1-1-1, Asahikawa, Japan, maru824@asahikawa-med.ac.jp.
ABSTRACT
---
Renovascular hypertension is an important cause of secondary hypertension. We present the case of a 61-year-old man with renovascular hypertension caused by chronic total occlusion of the left renal artery resulting in an atrophic kidney. Although renography indicated almost no residual function of the left kidney, renal vein sampling showed a significant increase of renin secretion in the left kidney. The endocrine function of the left kidney was believed to be preserved; thus, we performed percutaneous transluminal renal angioplasty with stent placement. After the procedure, the patient's blood pressure decreased gradually to within the normal range without adverse events. The laboratory data on endocrine function and the renography findings drastically improved. Percutaneous transluminal renal angioplasty is a promising therapeutic procedure for renovascular hypertension with an atrophic kidney. Show MeSH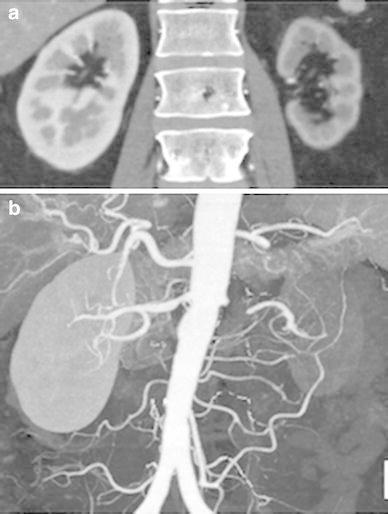 © Copyright Policy - OpenAccess
getmorefigures.php?uid=PMC4352654&req=5
Mentions: On admission, he had a blood pressure of 200/102 mmHg and a pulse of 78 beats/min. Physical examination revealed a systolic murmur, grade II/VI, in the left parasternal area with accentuation of the aortic second heart sound and a typical bruit in the umbilical region. The lungs were clear on auscultation, and no edema of the lower limbs was present. There were no neurologic findings except for blurry vision. On ophthalmologic examination, Keith–Wagener–Baker classification grade IV hypertensive retinopathy was noted. The laboratory data showed a blood urea nitrogen (BUN) level of 16 mg/dl, serum creatinine level of 1.04 mg/dl, and serum potassium level of 3.2 mEq/l. The C-reactive protein level was <0.10 mg/dl. PRA was >20 ng/ml/h and PAC was 515 pg/ml. Arterial blood gas analysis on room air showed a pH of 7.42, PaCO2 of 43 torr, PaO2 of 80 torr, and a bicarbonate level of 28.1 mmol/l. Based on these findings, we made a diagnosis of RVH. Chest X-ray demonstrated clear lung fields, and an electrocardiogram showed strain T waves on II, III, aVF, V5, and V6, as well as a high voltage (SV1 + RV5 = 50 mm). Renal ultrasonography showed that the right kidney was 12.0 × 5.7 × 5.7 cm in size and the left was 8.8 × 4.7 × 4.3 cm. We suspected stenosis of the left renal artery because of the atrophic kidney. After admission, we stabilized the blood pressure with continuous infusion of nicardipine. On the third day, the blurry vision improved. The intravenous infusion of nicardipine was changed to take controlled-release nifedipine by mouth. A dose of controlled-release nifedipine, 60 mg/day, was not successful in lowering the blood pressure, so methyldopa, 750 mg/day, was added. MDCT showed occlusion of the left renal artery, atrophy of the left kidney, and mild stenosis of the right renal artery (Fig. 1a, b). Collateral vessels to the left renal artery around the left kidney were identified, and the left renal artery was determined to have chronic total occlusion. 99mTc-mercaptoacetyltriglycine (99mTc-MAG3) renography revealed a marked decrease in the effective renal plasma flow of the left kidney (left side, 22.7 ml/min; right side, 247.2 ml/min), and no peak curve of the left kidney on renogram (Fig. 2), suggesting that the left kidney might have no residual renal function. To determine the pathophysiology, angiography and renal vein sampling were performed. Aortic angiography showed mild stenosis of the right kidney artery and total occlusion of the left kidney artery (Fig. 3a–c). The MDCT findings also suggested that collateral vessels were present. Renal vein sampling indicated that the PRA of the left vein was 3.2 times higher than that of the right vein (left, 48 ng/ml/h; right, 15 ng/ml/h). Based on these findings, we concluded that the left kidney was atrophic and had almost no residual renal function because of chronic total occlusion, but the endocrine function remained. MDCT showed that the total occlusion lesion of the left renal artery was short (length, 1.5 cm) with no calcification. Therefore, we decided to perform PTRA after informed consent to treatment and complications. A 6.5-F sheathless guiding catheter (Parent Plus PTRA; Medikit, Tokyo, Japan) was positioned at the ostial part of the left renal artery. A 0.014-inch guide wire (Shevalier; Cordis, East Bridgewater, NJ, USA) was able to cross into the distal true channel (Fig. 4a). Predilatation was performed with a 1.5-mm balloon (Make Way Plus; Kawasumi, Tokyo, Japan) at 12 atm. Further dilatation was performed with a 4-mm balloon (Aviator Plus; Cordis) at 12 atm. After predilatation, a 5.0 × 18-mm stent (Palmaz Gensis; Cordis) was deployed across the lesion at 14 atm with a good final result, and the blood flow of the left renal artery was completely recovered (Fig. 4b). There were no complications such as dissection, perforation, or embolization. The next day, blood pressure decreased gradually to 100–120/60–80 mmHg after PTRA, and methyldopa was discontinued (Fig. 5a). Before discharge, both the PRA and PAC were much lower than on admission, 0.2 ng/ml/h and 96.5 pg/ml, respectively. 99mTc-MAG3 renography revealed a moderate decrease in the effective renal plasma flow of the right kidney and a mild increase in that of the left kidney (left side, 53.0 ml/min; right side, 199.7 ml/min) (Fig. 5b).Fig. 1