Confined placental mosaicism: implications for fetal chromosomal analysis using microarray comparative genomic hybridization.
Affiliation: NE Thames Regional Genetics Service, Great Ormond Street Hospital for Children NHS Foundation Trust, London, UK.
The utility of array comparative genomic hybridization (CGH) testing in prenatal diagnosis has been recently described, with potential advantages, including improved detection of pathogenic chromosomal rearrangements following rapid analysis of uncultured chorionic villi or amniocytes... Confined placental mosaicism for aneuploidies, and whole chromosome arm rearrangements, is a well-established phenomenon in chorionic villus samples (CVS), with a reported incidence of 1–2%... However, so far as we are aware, CPM for submicroscopic changes found by microarray testing has not been previously reported... Here, we report a case of CPM involving a deletion of exons 7–10 of the STS gene detected following analysis of array CGH results obtained from uncultured chorionic villi... The QF-PCR result was consistent with disomy 13, 18 and 21 and a male (XY) fetus... The karyotype result was normal male, 46, XY... The array results from the direct CVS, CVS-CC and neonatal blood all share the same eight regions of copy number variation, as well as two rare variants of unknown significance, both of which were maternally inherited, thereby eliminating the possibility of a sample mix-up... Because the detection of mosaicism by array CGH can be problematic, we compared our results in this patient with positive controls from our own laboratory database... To our knowledge, this is the first report of a potentially clinically significant copy number loss confined to the placenta and limited to the cytotrophoblast cell lineage detected by array CGH and subsequently confirmed by MLPA in a prenatal setting... Microarrays have only recently been introduced into clinical service for prenatal diagnosis, and so the frequency of discrepant results obtained by analysis of uncultured CVS and other sources of genetic material are as yet unknown... Previous experience suggests that particular care is required to ensure that the mesenchymal core DNA fraction is sufficiently well represented to avoid such results... Although this protocol was followed in the case reported here, we still encountered discrepant results... In addition, given the selective growth of the mesenchymal core cells in culture, the use of CVS-CC as the preferred tissue for microarray testing would minimise the incidence of CPM and false-positive findings... However, in a clinical diagnostic service, the use of CVS-CC instead of CVS would result in a delay in reporting of the urgent prenatal results.
Show MeSH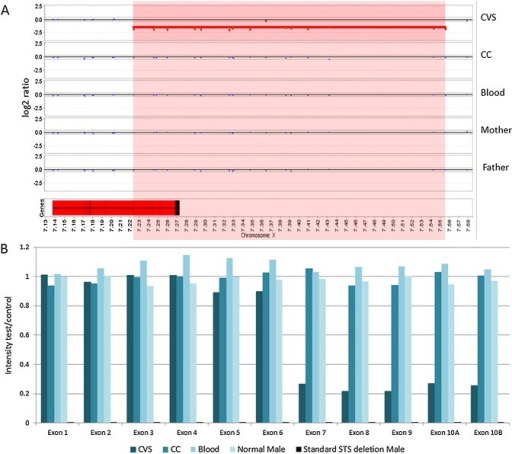 © Copyright Policy - open-access
License
getmorefigures.php?uid=PMC4352329&req=5
Mentions: The QF-PCR result was consistent with disomy 13, 18 and 21 and a male (XY) fetus. The karyotype result was normal male, 46, XY. The direct CVS microarray result indicated a 332 kb loss for the short arm of chromosome X with breakpoints within Xp22.31 [arr Xp22.31(7,223,740–7,555,450)×0] (log2 ratio: −1.52). This loss disrupted the STS (steroid sulphatase, OMIM #300747) gene, indicating a deletion of exons 8, 9 and 10, as well as possible deletion of exon 7 (Figure 1A). This deletion predicts a likely STS deficiency syndrome (X-linked ichthyosis, OMIM #308100) phenotype in a male fetus.6 Parental follow-up using microarray indicated no evidence of copy number change in this region in either parent, suggesting the de novo origin of this copy number loss in the fetus (Figure 1A). In view of the likely pathogenic nature of this deletion, the result was reported following discussion with our clinical review panel. Given the small size of the loss on chromosome X, there were no BAC (bacterial artificial chromosome) clones available within the deleted region, and therefore, confirmatory FISH (fluorescence in situ hybridization) testing was not performed.