A Tale of Two Recent Spills — Comparison of 2014 Galveston Bay and 2010 Deepwater Horizon Oil Spill Residues
ABSTRACT
---
Managing oil spill residues washing onto sandy beaches is a common worldwide environmental problem. In this study, we have analyzed the first-arrival oil spill residues collected from two Gulf of Mexico (GOM) beach systems following two recent oil spills: the 2014 Galveston Bay (GB) oil spill, and the 2010 Deepwater Horizon (DWH) oil spill. This is the first study to provide field observations and chemical characterization data for the 2014 GB oil spill. Here we compare the physical and chemical characteristics of GB oil spill samples with DWH oil spill samples and present their similarities and differences. Our field observations indicate that both oil spills had similar shoreline deposition patterns; however, their physical and chemical characteristics differed considerably. We highlight these differences, discuss their implications, and interpret GB data in light of lessons learned from previously published DWH oil spill studies. These analyses are further used to assess the long-term fate of GB oil spill residues and their potential environmental impacts.
No MeSH data available.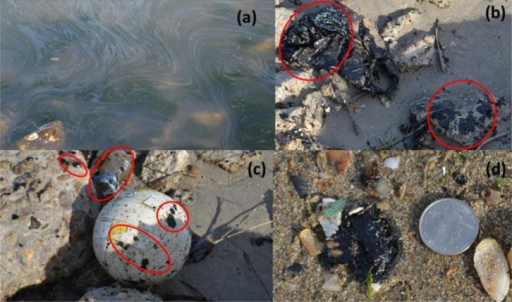 © Copyright Policy
License
getmorefigures.php?uid=PMC4340883&req=5
Mentions: Fig. 1 shows the GB and DWH oil spill sites and our sampling locations. No specific permissions were required for sampling at these locations. Also, the field studies did not involve endangered or protected species. GPS coordinates for our DWH field site in Alabama are: 30°16'42.8" N 87°33'17.1" W; GPS coordinates for our GB field site in Texas are: 29°22'22.6" N 94°49'48.6" W. GB oil began washing on GB beaches within few hours after the spill on March 22, 2014. The GB samples analyzed in this study were collected on March 29, 2014, from an amenity beach located along the Texas City Dike road, about 2 km away from the spill location. The DWH oil first arrived on Alabama's beaches in early June, 2010, about a month after the accident, and the samples were collected on June 11, 2010 from Orange Beach, Alabama, located about 175 km from oil release location. Further details on the DWH field site, observed contamination patterns, and field sampling methods are discussed in Hayworth et al. [8] and Mulabagal et al. [12]. Fig. 2 shows typical first-arrival oil deposition patterns observed at these two field sites. Although the overall deposition patterns appear similar, the physical characteristics of oil residues were distinctly different. The GB first-arrival oil was black/grayish, highly viscous material, while the DWH first-arrival oil was a brownish, low viscosity emulsion. On the day of sampling (June 11, 2010), DWH oil was actively washing ashore along most of Alabama's 50 km sandy beach system and public access to these contaminated beaches was unrestricted. In contrast, on the day of GB oil sampling (March 29, 2014) oil was washing ashore only along a limited stretch of GB shoreline, and public access to these active deposition areas was restricted. Our GB oil spill sampling efforts were completed near a sparsely contaminated area, located about 2 km from the spill site, which had previously been cleaned and reopened for public use. Fig. 3 shows the field observations made at this site. Despite active clean-up efforts, the shoreline water along these "cleaned areas" had a strong petroleum odor, and the nearshore water had patches of floating oil sheen (see Fig. 3A). We also observed oil adhering to rocks, beached objects and vegetation (Fig. 3B & C). Furthermore, small blobs of oil (about 2 cm diameter; see Fig. 3D) were randomly scattered in the intertidal zone. During our sampling effort, we collected oil adhered to rocks and beached objects and also collected several beached oil blobs from the intertidal zone. These samples were shipped to our laboratory for chemical analysis.