The newest "omics"--metagenomics and metabolomics--enter the battle against the neglected tropical diseases.
Affiliation: Section of Gastroenterology, Hepatology & Nutrition, Department of Pediatrics, Baylor College of Medicine and Texas Children's Hospital, Houston, Texas, United States of America.
Metagenomic analyses are most often undertaken by sequencing the bacterial 16S ribosomal RNA (rRNA) subunit or by whole metagenome shotgun sequencing, typically on a massively parallel pyrosequencing platform... These technologies have expanded the scope of traditional culture-dependent microbiological methods and have enhanced our understanding of the rich microbial communities that inhabit the intestine, skin, oral cavity, and genitourinary tract and how these commensal microbes interact with both pathogen and host... Today's commonly employed methods fall under one of two categories, the first of which is sequencing the 16S ribosomal RNA gene subunit... As improvements in sequencing and microbial identification develop, new methods of surveillance and diagnosis will merit testing in the field... Metabolites produced by microbial and host cells contain an extraordinary array of physicochemical properties, may be present in virtually any body tissue or fluid, and are found in concentrations differing by multiple orders of magnitude... Both of these approaches are dependent on sample preparation methods that introduce bias and inevitably metabolite losses... Alternatively, nuclear magnetic resonance (NMR) spectroscopy does not require prior separation of compounds within a sample, although minimizing sample preparation comes at a cost in terms of resolution; NMR can usually only detect compounds at or above a millimolar level... Moreover, a fully annotated, comprehensive metabolite library, especially for microbial-derived compounds, is still many years away... Early metabolomic studies revealed that small changes in the intestinal compartment have profound effects on host metabolites measured outside of the intestine... Similarly, Fasciola hepatica infection in rats induced metabolic changes in areas as remote from the liver as brain tissue... Metabolic profile differences were manifest in altered concentrations of neural nucleotides; specifically, brains of infected rats had increased concentrations of inosine, tyrosine, and phenylalanine and decreased levels of glycerophosphocholine, succinate, inosine mono-, di-, and triphosphate, adenosine, and adenosine mono-, di-, and triphosphate compared to controls... Only 25 of these metabolites were among the 126 significantly altered metabolites comparing acute versus antibiotic-treated intensive care unit patients with S. aureus sepsis... Nonetheless, a subset of the 25 metabolites common to inbred mouse and clinical studies successfully predicted treatment response in humans... Finally, autopsy specimens revealed abnormal patterns of inflammation and anaerobic metabolism in the brain of an elderly individual who died despite receiving the standard postexposure neuroprotection for rabies, the strain of which was identified using deep sequencing of host RNA... We ultimately seek to understand how specific microbes contribute to nutritional status, how metabolic profiles contribute to disease pathogenesis, and how manipulation of either may influence the host response to infection.
No MeSH data available.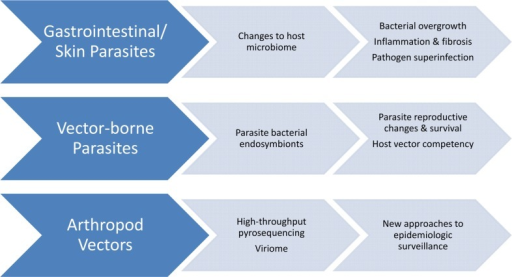 © Copyright Policy
License
getmorefigures.php?uid=PMC4326130&req=5
Mentions: However, bacteria are not the only pathogens that reshape the microbiome (Fig. 1). In a model of Trichuris suis infection, whipworms do not cause overt diarrhea, but they do alter the relative abundance of 13% of genera in the porcine proximal colon. Even more dramatic changes were identified by WMS, which revealed that 26% of all metabolic pathways were altered by infection, most significantly replication, recombination and repair, carbohydrate transport and metabolism, and cell wall, membrane, and envelope biogenesis [23]. Likewise, Opisthorchis viverrini changes the fecal microbiome of hamsters at every taxonomic level from phylum to genus, including enrichment of Ruminococcaceae, Lachnospiraceae, and Lactobacillus. Stool from infected animals contained increased overall microbial loads and alpha diversity compared to controls. Unexpectedly, thousands of fluke-associated bacteria were detected in the bile of infected animals (bile was sterile in uninfected controls); among these biliary bacteria were 60 taxa not isolated in stool, including the potentially pathogenic genera Bordetella, Burkholderia, Pseudomonas, Serratia, and Sphingomonas [24]. These alterations potentially contribute to biliary inflammation and periductal fibrosis and ultimately to the sequence of events leading to neoplastic changes and cholangiocarcinoma. Finally, Sarcoptes scabiei modifies the porcine skin microbiome, increasing Staphylococcus colonization from <1% to up to 80% relative abundance following infestation with mites [25], potentially increasing the risk of bacterial superinfection. Nonetheless, not all helminths alter their microbial environment in all infections; no substantial changes to the fecal microbiome were detected in Ecuadorian school children infected with Trichuris trichiura [26] or in adults experimentally infected with Necator americanus [27]. Important next steps include identifying mechanisms by which alterations in the host microbiome mediate disease and proposing strategies by which the microbiome could be "repaired" to lessen the risk of long-term morbidity.