Fragile X mental retardation protein: from autism to neurodegenerative disease.
Affiliation: Faculty of Medicine, University of Toronto Toronto, ON, Canada.
Fragile X mental retardation protein (FMRP) is a RNA binding protein, the absence of which due to silencing of the FMR1 gene causes fragile X syndrome, an X-linked neurodevelopmental disorder (Bassell and Warren, ; Bhakar et al., ; Santoro et al., )... More and more potential FMRP mRNA targets and interacting proteins have been identified in the mammalian brain, supporting the critical roles of FMRP in neurodevelopment, synaptic plasticity and other neurological disorders apart from fragile X syndrome (Wang et al.,, ; Pasciuto and Bagni, ; Suhl et al., )... Fragile X syndrome, the most common monogenic cause of autism spectrum disorders (ASDs), has been leading the way for better understanding of autism and other neurodevelopmental disorders (Belmonte and Bourgeron, ; Bhakar et al., ; Banerjee et al., ; Cook et al., )... A considerable amount of evidence suggests that soluble Aβ oligomers are the predominant neurotoxic species of Aβ, with Aβ 42 fragment as the particularly potent form (Klyubin et al., ; Masters and Selkoe, ; Klein, )... Aβ oligomers exert the toxic effects by binding to their receptors on neuronal synapses, disrupting normal synaptic signaling pathways, which further leads to synaptic damage accompanied by neuronal loss (Benilova et al., ; Sheng et al., ; Pozueta et al., ; Wang et al., ; Tu et al., )... Thus, in addition to the established role in fragile X syndrome and autism, FMRP likely contributes directly to AD pathogenesis through mGluR5 dependent APP production... As discussed above, a number of signaling pathways, including PI3K-Akt-mTORC1, MEK-ERK and PAK1 pathways, have been found to be involved in the neurodegenerative progression of AD... In addition, the FMRP targeted Aβ oligomer receptors including mGluR5 and NMDARs could be ideal therapeutic targets for AD (Figure 1A)... Particularly, pharmacological inhibition or genetic deletion of mGluR5 was recently found to rescue learning deficits, or reduce Aβ oligomers and plaques in AD mice (Um et al., ; Hamilton et al., )... Tau plays crucial roles in the neuronal cytoskeleton stabilization and is an important target for AD therapies (Gotz et al., ; Himmelstein et al., ; Giacobini and Gold, )... Interventions focused on preventing or reducing tau hyperphosphorylation and mislocalization may provide additional strategies for treatment of AD... The relevant kinases and phosphatases could be the FMRP targets such as GSK3β, ERK, S6K1, PP2A, PTEN, and STEP (Figure 1A)... Although the tau based treatments are encouraging, additional work are undoubtedly needed to optimize each treatment for further development of safe and effective therapies... Developing novel therapies directed at FMRP targets may benefit both neurodevelopmental and neurodegenerative disorders... It is now known that FMRP controls signaling pathways that could be associated with both neurodevelopmental and neurodegenerative disorders.
No MeSH data available.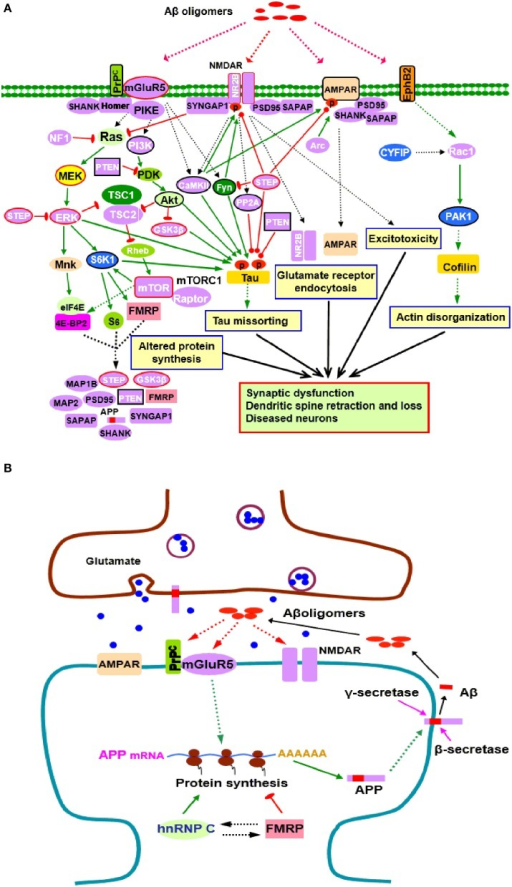 © Copyright Policy - open-access
License
getmorefigures.php?uid=PMC4325920&req=5
Mentions: A growing number of synaptic proteins have been proposed as potential Aβ receptors or coreceptors, which are believed to mediate Aβ induced synaptic dysfunction (Karran et al., 2011; Paula-Lima et al., 2013; Pozueta et al., 2013; Overk and Masliah, 2014). Those receptors include, but are not limited to, NMDARs, mGluR5, AMPARs, cellular prion protein (PrPC), PSD-95, and EphB2 (Lacor et al., 2004; Lauren et al., 2009; Cisse et al., 2011; Larson and Lesne, 2012; Mucke and Selkoe, 2012; Um et al., 2013; Tu et al., 2014). In fact, some of Aβ receptors (NMDARs, mGluR5, and PSD-95) and their associated scaffolding proteins and adhesion molecules such as SAPAP, Shank, Homer, and SynGAP1, are those whose mRNAs are FMRP targets (Darnell and Klann, 2013; Santini and Klann, 2014), suggesting that FMRP might be involved in initiating toxic effects of Aβ oligomers through regulating Aβ receptors (Figure 1A).