The mythical concept and untoward consequences of a diagnosis of dysplastic nevus: an overdue tribute to A. Bernard Ackerman, MD.
Affiliation: Cutaneous And Maxillofacial Pathology Laboratory, PC, Indianapolis, IN, USA.
The so-called dysplastic nevus first entered medical parlance in 1980, originally known as the B-K mole in 1978, only to evolve over the next 34 years into a variety of names including familiar and atypical sporadic mole, melanocytic nevus with persistent lentiginous melanocytic hyperplasia, junctional or compound nevus with architectural atypia/disorder with or without cytological atypia, and Clark's nevus, to mention but a few... In addition, overlapping criteria may be seen in nevi on special sites such as the palm/sole, genitalia (especially vulva of young women), umbilicus, perianal, scalp, and intertriginous folds. "Although the diagnosis of cutaneous malignant melanoma is usually based on histopathologic criteria may at times be inadequate in differentiating melanoma from certain types of benign nevi. " Collectively, overlapping melanocytic criteria may well be the answer for such confusion between a so-called dysplastic nevus, melanocytic nevus and a superficial melanoma... Furthermore, reports mushroomed forth suggesting genetic transmission, but nowhere is there objective evidence that links the so-called dysplastic nevus or the so-called dysplastic nevus syndrome to malignant melanoma genetically or familial... The fact is that in melanocytic neoplasia, there are a variety of melanocytic nevi and a variety of melanomas, e.g., melanoma in situ, superficial melanoma, and melanoma, but there is no dysplastic nevus... Likely causes for the formation of false mythical conclusions operative in this untoward and ill-fated issue are the following : Simple "logic," that is, a conclusion based upon something that seems reasonable, e.g., heavy objects will fall faster then lighter ones... This procedure is indeed unbelievable, extremely alarming, if not outright shocking... They result in traumatic psychological e.g., worry anxiety and fear, as well as physical e.g., unsightly cutaneous scars... Similar radical surgery was performed in New York with wide and deep surgery including amputation for melanoma... Yet surprisingly, only about 50% of Halsted's mutilated radical mastectomy patients survived over three years, which was not superior to simpler procedures such as lumpectomy, introduced later... Medical history is replete with examples of destroyed myths... For instance, it was believed for decades that peptic ulcer disease was simply a result of stress and anxiety, but now we understand from Barry Marshall and Robin Warren that the problem is the result of the bacterium Helicobacter pylori, and from Harald zur Hausen that cervical squamous cell carcinoma is not due to sexual promiscuity, but in point of fact to the human papillomavirus, HPV16/18... To him, and too many informed, knowledgeable and well-versed colleagues, the so-called dysplastic nevus clearly is mistaken for a one of a variety of different types of melanocytic nevi, or a misdiagnosis of what is in reality a superficial melanoma.
No MeSH data available.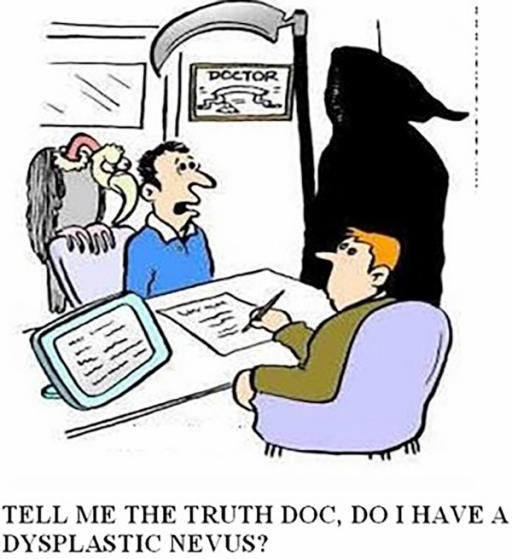 © Copyright Policy
getmorefigures.php?uid=PMC4325688&req=5
Mentions: Treatments for this so-called dysplastic nevus and so-called dysplastic nevus syndrome regrettably have had the support and are promoted by many in the medical community, and sorry to say, in the legal community as well. What's more, there is disagreement among experts regarding screening guidelines for high-risk characteristics of cutaneous melanoma [17]. Among others, management includes repeated total body skin exams, repeated total body photographs, and aggressive avoidance of sun exposure. These procedures often lead especially and above all to the re-excision with margins of the so-called dysplastic nevus. Along these lines, excision of additional so-called dysplastic nevi (Figure 1) must also be considered meaningless. Sentinel lymph node biopsy is often considered in so-called dysplastic nevi with severe architectural disorder and/or cytologic atypia. This procedure is indeed unbelievable, extremely alarming, if not outright shocking. They result in traumatic psychological e.g., worry anxiety and fear, as well as physical e.g., unsightly cutaneous scars. The consequences for these far-reaching therapeutics and prognostications for the so-called dysplastic nevus are barely credible, if not potentially tragic. (Figure 2) [18,19]. Rarely, regrettably and inappropriately to some, additional procedures are thought to avoid future litigation, and/or are thought to be good for business.