Reemerging Ebola haemorrhagic fever 2014 and the risks of its introduction into Brazil.
The Ebola virus was identified in 1976 during epidemics of haemorrhagic fever in southernSudan and northern Zaire (now the Democratic Republic of the Congo)... The average mortalityrate of Ebola virus disease, formerly known as Ebola haemorrhagic fever, is around 50% withrates varying from 25-90% in past outbreaks... The hosts of the Ebola virus are fruit-eating bats of the family Pteropodidae... Introductionof the virus into the human population occurs through close contact with blood, secretions,organs and other fluids from infected animals such as chimpanzees, gorillas, fruit-eatingbats, monkeys, wild antelopes and wild pigs that are found sick or dead in the rainforests.The Ebola virus is transmitted among human beings through direct contact by means oflacerated skin or mucosa, with blood, secretions, organs and other body fluids frominfected individuals or by means of materials and clothing that have become contaminatedwith these fluids... Healthcare professionals (physicians, nurses, pathologists and researchers) often becomeinfected when they are treating patients with suspected or confirmed Ebola virus infection,through direct contact... These symptoms are followed by vomiting, diarrhoea, skinrashes, kidney and liver impairment and, in some cases, internal and external bleeding,such as through the gums and in the faeces... The most frequent laboratory findings arediminished platelet levels and elevation of hepatic enzymes... Ebola infection can be confirmed through the following investigations:(i) presence of antibodies seen through ELISA, (ii) detection through antigen uptake, (iii)serological neutralisation test, (iv) electron microscopy and (v) isolation of the virusthrough culturing... Samples of material from patients are extremely infectious and thelaboratory tests have to be performed under the highest safety conditions, both for thetechnician and for the other people who use the laboratory... According to the World Tourism Organization, in 2012Brazil received 5.6 million visitors (2014 estimate 6.4 million), however no Africancountry was among the top 20 sending countries... A study conducted by the Biological System Modeling Laboratory of Northeastern Universityin the USA, in September 2014, investigated the risk associated with the Ebola outbreak inWest Africa in 2014 (Sierra Leone, Guinea, Liberia and Nigeria)... This represented a high short-term risk... It is to be hoped that this prediction doesnot become a reality, but preparations need to be made for such an emergency, until suchtime that the World Health Organization considers that the epidemic in West Africa or inany other country has been brought under control... In addition to the formal recommendations that the Ministry of Health has been making withregard to surveillance at ports and airports, we suggest that it should make furtherrecommendations to all Brazilian state health departments for preparations for medical carein suspected or confirmed cases of this disease... We suggest to the Ministry of Health to take the following measures: (i)set up a task force of physicians and senior nurses with the capacity to train teams withinstate health departments, regarding surveillance and medical care for patients withsuspected or confirmed Ebola virus infection, (ii) help in setting up and training fordiagnostic and medical care centres for this disease, within state health departments and(ii) maintain surveillance at the diagnostic and medical care centres of state healthdepartments through retraining their teams, when necessary.
Show MeSH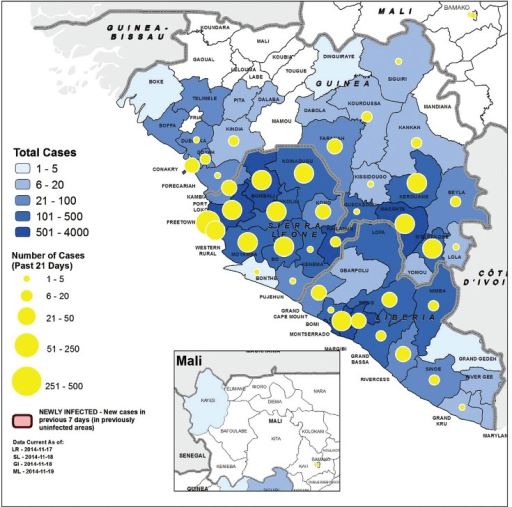 © Copyright Policy - open-access
License
getmorefigures.php?uid=PMC4325613&req=5
Mentions: Filoviral diseases are caused by viruses of the family Filoviridae, which is composed bythe Marburg, Cueva and Ebola viruses. Filoviruses are particles formed by long filamentsthat contain a single strand of RNA and they cause haemorrhagic fever in humans andnon-human primates (monkeys, gorillas and chimpanzees). Given the lethal nature of theseviruses, they are considered to be class IV pathogens, i.e., highly dangerous. Fivesubtypes of the Ebola virus have been identified: Zaire Ebola virus, Reston Ebola virus,Sudan Ebola virus, Tai Forest Ebola virus and Bundibugyo Ebola virus (Figure). The Zaire, Sudan and Bundibugyo subtypes have been responsiblefor major outbreaks of the disease. On the other hand, although the Reston and Tai Forestsubtypes may affect human beings, no cases of fever and death among humans have beennotified.