Lack of the ubiquitin-editing enzyme A20 results in loss of hematopoietic stem cell quiescence.
Bottom Line: Lack of A20 in HSCs results in diminished pool size, impaired radioprotection, defective repopulation, and loss of quiescence.Strikingly, deletion of both IFN-γ and A20 in hematopoietic cells results in partial rescue of the HSC phenotype.We anticipate that our experiments will facilitate the understanding of mechanisms through which A20-mediated inflammatory signals control HSC quiescence and functions.
Affiliation: Department of Genetics and Development, Institute for Cancer Genetics, and Herbert Irving Comprehensive Cancer Center, Columbia University Medical Center, New York, NY 10032.
Show MeSH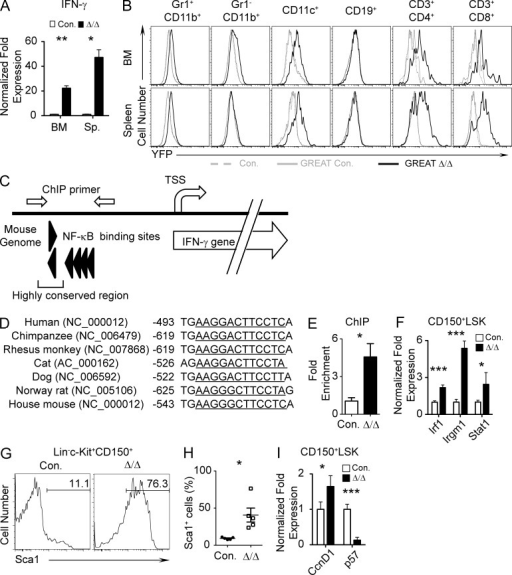 © Copyright Policy - openaccess
License 1 - License 2


getmorefigures.php?uid=PMC4322050&req=5

Mentions: Earlier studies identified IFN-γ as a direct target of NF-κB proteins (Sica et al., 1997), and based on the critical role of IFN-γ in the maintenance of HSCs (Baldridge et al., 2011; King and Goodell, 2011), we hypothesized that deregulated IFN-γ signaling might be potentially responsible for the HSC phenotype of A20Hem-KO mice. To test this, we measured the expression levels of IFN-γ in A20Hem-KO mice. In line with our hypothesis, we detected elevated levels of Ifn-γ mRNA in both BM and spleen of A20-deficient mice (Fig. 6 A). To substantiate this finding and to identify the cellular source of IFN-γ in A20 mutant mice, we crossed A20Hem-KO mice with the IFN-γ–YFP reporter GREAT (IFN-γ reporter with endogenous polyA transcript) mice (Reinhardt et al., 2009). These transgenic mice have an IRES-eYFP reporter cassette inserted between the translational stop codon and the 3′ UTR/polyA tail of the Ifn-γ gene (Reinhardt et al., 2009). Our analysis of hematopoietic compartments from GREAT-A20Hem-KO mice suggested an elevated expression of YFP and, therefore, IFN-γ in CD11C+, CD3+CD4+, and CD3+CD8+ cells of BM and spleen (Fig. 6 B). In addition, myeloid cells, such as granulocytes and monocytes, from GREAT-A20Hem-KO mice also expressed YFP, albeit at lower levels (Fig. 6 B). Next, we tested whether Ifn-γ is a direct target of NF-κB in A20 mutant BM cells. Our analysis of mouse Ifn-γ gene sequences indicated the presence of five (AAGGACTTCCTC) NF-κB–binding sites (Wong et al., 2011) in its promoter region. Among these sites, one NF-κB–binding site (from −541 to −530) is highly conserved across species (Fig. 6, C and D), and chromatin immunoprecipitation (ChIP) data revealed an increased binding of NF-κB to the Ifn-γ promoter in A20Hem-KO BM cells (Fig. 6 E). To understand the physiological relevance of deregulated IFN-γ expression on the HSC compartment, we investigated whether IFN-γ signaling was augmented in the HSCs from A20Hem-KO mice. Real-time PCR data indicated that the expression levels of IFN-γ target genes, such as Irf1, Irgm1, and STAT1, were elevated in A20 mutant HSCs (Fig. 6 F). Deregulated IFN-γ signaling results in up-regulated surface expression of Sca1 in HSPCs, as Sca1 is a direct target of IFN-γ (Snapper et al., 1991; King and Goodell, 2011). Our analysis of the LSK compartment indicated increased surface expression of Sca1 in hematopoietic progenitors and in total BM cells of A20Hem-KO mice (Fig. 6, G and H; and not depicted). Intriguingly, up-regulation of Sca1 in HSPCs has been connected with increased cell cycle activity (Essers et al., 2009).