VEGF-A modulates expression of inhibitory checkpoints on CD8+ T cells in tumors.
Bottom Line: The recent development of therapies targeting PD-1 and CTLA-4 have raised great interest since they induced long-lasting objective responses in patients suffering from advanced metastatic tumors.However, the regulation of PD-1 expression, and thereby of exhaustion, is unclear.In view of these results, association of anti-angiogenic molecules with immunomodulators of inhibitory checkpoints may be of particular interest in VEGF-A-producing tumors.
Affiliation: INSERM U970, Paris Cardiovascular Research Center, Université Paris-Descartes, Sorbonne Paris Cité, 75015 Paris, France Service d'immunologie biologique, Service d'oncologie médicale, Service de chirurgie digestive, Service d'hépatogastroentérologie et d'oncologie digestive, Hôpital Européen Georges Pompidou, 75015 Paris, France.
Show MeSH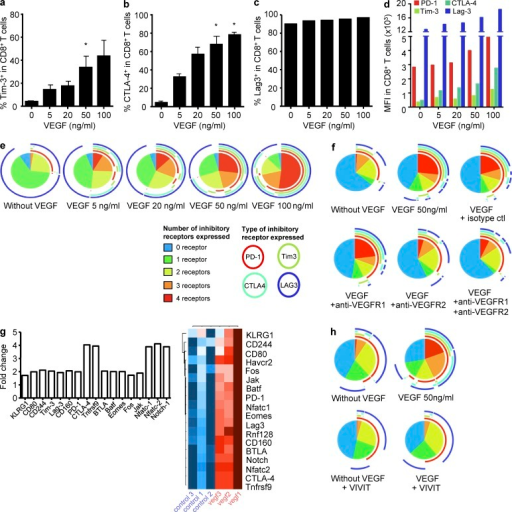 © Copyright Policy - openaccess
License 1 - License 2


getmorefigures.php?uid=PMC4322048&req=5

Mentions: PD-1 is the first inhibitory receptor associated with T cell exhaustion. However, other receptors are expressed on exhausted T cells, such as Tim-3, CTLA-4, and Lag-3 (Sakuishi et al., 2010; Woo et al., 2012; Duraiswamy et al., 2013). Density and co-expression of these different molecules have been associated with the magnitude of T cell exhaustion. The more the T cells express these receptors the more they are dysfunctional (Blackburn et al., 2009). We observed that VEGF-A not only enhances PD-1 expression but also increases the percentages of Tim-3– and CTLA-4–expressing CD8+ T cells in a dose-dependent manner (Fig. 3, a–c). The levels of the expression for each molecule (PD-1, Tim-3, CTLA-4, and Lag-3) were also increased in a dose-dependent manner (Fig. 3 d). We then analyzed the simultaneous co-expression of these receptors. Strikingly, compared with the basal expression of 0–1 inhibitory receptor expressed on CD8+ T cells in the absence of exogenous VEGF-A, increasing VEGF-A concentrations induced the simultaneous expression of 3–4 inhibitory receptors on more than 2/3 of T cells (Fig. 3 e). To determine whether VEGF-R1 or VEGF-R2 are involved in VEGF-A–mediated T cell exhaustion, we added neutralizing antibodies to the CD8+ T cell culture in the presence of VEGF-A. Anti–VEGF-R2, but not anti–VEGF-R1 antibody, was able to block the VEGF-A–induced up-regulation of these inhibitory receptors (Fig. 3 f), demonstrating the involvement of VEGF-R2 in this phenomenon. To extend this observation, we analyzed the differential expression of genes coding for inhibitory receptors involved in CD8+ T cell exhaustion. Quantitative RT-PCR analysis showed that other inhibitory receptors, such as CD244/2B4, CD160, and BTLA, were also enhanced by VEGF-A stimulation (Fig. 3 g). These results showed that VEGF-A enhances expression of many different inhibitory receptors involved in CD8+ T cell exhaustion. Furthermore, an increased expression of NFAT was observed after VEGF-A stimulation (Fig. 3 g). NFAT is known to be involved in VEGF-R2 signaling (Liu et al., 2003; Schweighofer et al., 2009), as well as in the control of PD-1 and CTLA-4 expression (Gibson et al., 2007; Oestreich et al., 2008). To determine if VEGF-A–induced T cell exhaustion is dependent on NFAT activation, we used a specific NFAT inhibitor (11R-VIVIT; Le Roy et al., 2012). Interestingly, NFAT inhibition blocked the VEGF-A–induced simultaneous expression of the 4 inhibitory receptors (Fig. 3 h). Among the different signaling pathways activated by VEGFR2 (PI3K–Akt, PLCγ, and Erk), the PLCγ–calcineurin pathway is known to activate NFAT (Schweighofer et al., 2009). Upon VEGF-A treatment, increased PLCγ phosphorylation was observed in CD8+ T cells by Western blot (unpublished data). Furthermore, inhibition of PLCγ and calcineurin by the chemical inhibitor U73122 and cyclosporine A (CsA), respectively, resulted in an inhibition of VEGF-A–induced inhibitory receptor expression on CD8+ T cells (unpublished data). Together, these results show that VEGF-A enhances the expression of inhibitory receptors involved in T cell exhaustion via activation of the VEGFR2–PLCγ–calcineurin–NFAT pathway.