Overexpression of the PP2A regulatory subunit Tap46 leads to enhanced plant growth through stimulation of the TOR signalling pathway.
Bottom Line: DEX-induced Tap46 overexpression and Tap46 RNAi resulted in increased and decreased phosphorylation of S6 kinase (S6K), respectively, which is a sensitive indicator of endogenous TOR activity, and Tap46 interacted with S6K in planta based on bimolecular fluorescence complementation and co-immunoprecipitation.Furthermore, inactivation of TOR by estradiol-inducible RNAi or rapamycin treatment decreased Tap46 protein levels, but increased PP2A catalytic subunit levels.These findings suggest that Tap46 modulates plant growth as a positive effector of the TOR signalling pathway and Tap46/PP2Ac protein abundance is regulated by TOR activity.
Affiliation: Department of Systems Biology, Yonsei University, Seoul 120-749, Korea.
No MeSH data available.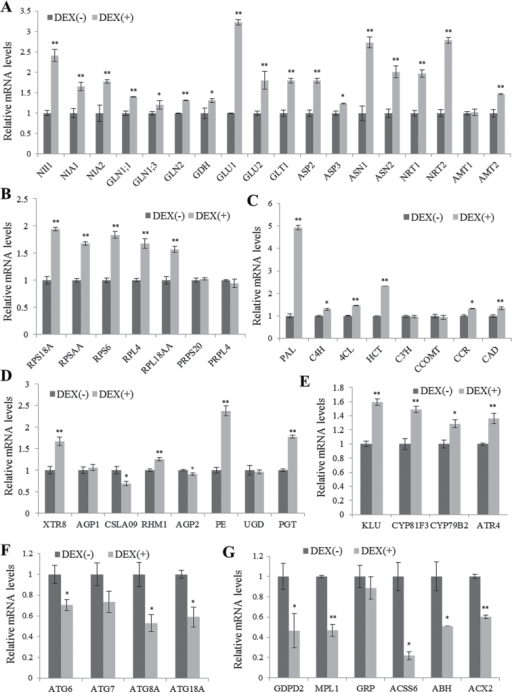 © Copyright Policy - creative-commons
License 1 - License 2


getmorefigures.php?uid=PMC4321543&req=5

Mentions: To examine changes in gene expression upon induction of Tap46 overexpression, real-time quantitative RT-PCR was performed using total RNA from DOE-11 seedlings after 3 days of ethanol [(–)DEX] or DEX [(+)DEX] treatment (Fig. 7; Supplementary Table S2). The focus of this analysis was on genes associated with nitrogen metabolism, ribosome biogenesis, lignin biosynthesis, cell wall biogenesis, cytochrome 450, autophagy, and lipid degradation, of which expression was modulated by the TOR pathway (Xiong et al., 2013). Among nitrogen metabolism genes, NII1 (nitrite reductase), GLU1 (glutamate synthase), ASN1 (asparagine synthetase), and NRT2 (nitrate transporter) genes were highly upregulated, suggesting increased nitrogen assimilation in (+)DEX seedlings (Fig. 7A). A few nuclear-encoded ribosomal protein genes were also upregulated upon DEX treatment, suggesting enhanced ribosome biogenesis processes, while plastid-encoded ribosomal protein genes (PRPS20 and PRPL4) were not affected (Fig. 7B). Among the lignin biosynthetic genes, transcript levels of PAL (phenylalanine ammonia-lyase), the first gene of the monolignol biosynthetic pathway, and HCT (hydroxycinnamoyl-CoA:shikimate hydroxylcinnamoyl transferase) significantly increased upon DEX treatment (Fig. 7C). Out of eight genes coding for synthesis and modification of cell walls, PE showed significantly increased transcript levels upon DEX treatment, while XTR8 and PGT were moderately induced (Fig. 7D). The transcript levels of four cytochrome 450 genes, KLU, CYP81F3, CYP79B2, and ATR4, were slightly higher in DEX-treated seedlings than in (–)DEX samples (Fig. 7E). KLU (CYP78A5) acts in the generation of a mobile growth-promoting signal, while CYP81F3, CYP79B2, and ATR4 (CYP83B1) are involved in auxin metabolism (Bak et al., 2011). In contrast, autophagy and lipid degradation-related gene transcripts were reduced in DEX-treated seedlings (Fig. 7F, G). These upregulated and downregulated genes in Tap46 overexpression seedlings mimic those induced by TOR activation (Xiong et al., 2013), further supporting the role of Tap46 in the TOR pathway.