Deep sequencing reveals important roles of microRNAs in response to drought and salinity stress in cotton.
Bottom Line: CitationRank-based literature mining was employed to determinhe the importance of genes related to drought and salinity stress.The NAC, MYB, and MAPK families were ranked top under the context of drought and salinity, indicating their important roles for the plant to combat drought and salinity stress.These results will contribute to cotton stress-resistant breeding as well as understanding fibre development.
Affiliation: Department of Biology, East Carolina University, Greenville, NC 27858, USA.
No MeSH data available.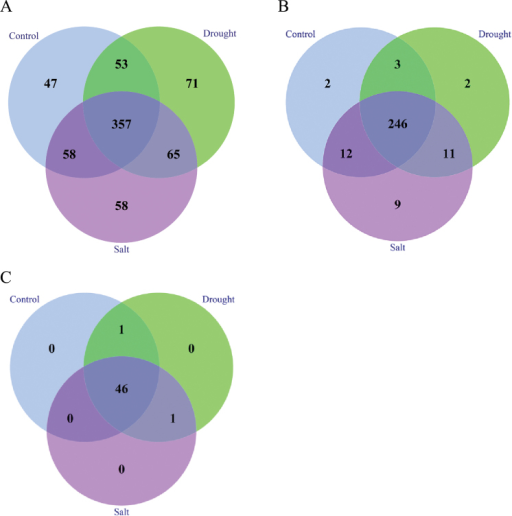 © Copyright Policy - creative-commons
License 1 - License 2


getmorefigures.php?uid=PMC4321542&req=5

Mentions: miRNAs are well known to be highly conserved across species. According to alignment of all clean reads from three libraries against all known plant miRNAs in miRBase (Release 20) (Kozomara and Griffiths-Jones, 2011) with no more than three mismatches, a total of 709 known plant miRNA families were identified in cotton; out of these, 515, 546, and 538 families are from control, drought-treated, and salted-treated samples, respectively (Supplementary Table S1 available at JXB online). These miRNA families accounted for ~0.47% of the total unique read sequences and 23.59% of the total redundant read sequences on average (Table 1). Among these miRNA families, 71 and 58 miRNA families were specific to drought and salt treatment, respectively, whereas 47 miRNA families were only found in the control treatment (Fig. 2A). For example, miR1868 and miR2099 were expressed only in drought- and salt-treated samples, respectively (Supplementary Table S1). In addition, drought- and salt-treated libraries shared 65 miRNA families that did not occur in the control library. A total of 357 out of 709 miRNA families were identified in the three libraries, suggesting their key roles in maintaining normal biological activities, such as miR156/157, miR159, miR168, and miR172 (Table 3; Supplementary Table S1). Interestingly, all three libraries share similar most frequent miRNA families, including miR156, miR157, miR166, miR167, and miR3954. Pearson's χ2 test showed that 565 out of 709 (79.69%) miRNA families were expressed differentially in the three libraries (P-value ≤0.05). Both fold change and the P-value were used to define the significance of expression (significant *, absolute fold change ≥1 and P-value ≤0.05; extremely significant **, absolute fold change ≥1 and P-value ≤0.01). It turned out that a total of 443 (62.48%) miRNA families showed a significant difference in expression in the pairwise comparison of the three treatments, including miR157, miR159, miR2948, and miR3694 (Table 3; Suppelementary Table S1). miR1854 and miR1148 had the largest fold change in both control versus drought and salt versus drought, up to ≥10 fold, indicating that drought stress strongly inhibited their expression. Similarly, miR1097 and miR5170 were expressed 5- to 7-fold less in the salt-treated sample than in the control and drought treatment.