Synthetic biology approaches to improve biocatalyst identification in metagenomic library screening.
Bottom Line: There is a growing demand for enzymes with improved catalytic performance or tolerance to process-specific parameters, and biotechnology plays a crucial role in the development of biocatalysts for use in industry, agriculture, medicine and energy generation.Metagenomics takes advantage of the wealth of genetic and biochemical diversity present in the genomes of microorganisms found in environmental samples, and provides a set of new technologies directed towards screening for new catalytic activities from environmental samples with potential biotechnology applications.The bottleneck arising from inefficient screening of enzymatic activities has been addressed from several perspectives; however, the limitations related to biased expression in heterologous hosts cannot be overcome by using a single approach, but rather requires the synergetic implementation of multiple methodologies.
Affiliation: Departamento de Química, FFCLRP, University of São Paulo, Ribeirão Preto, SP, Brazil.
Show MeSH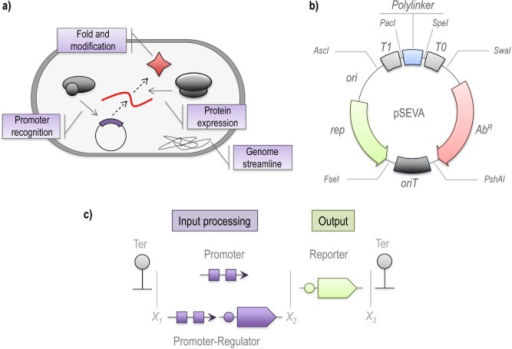 © Copyright Policy - open-access
License
getmorefigures.php?uid=PMC4321373&req=5
Mentions: The previous sections have highlighted a number of bottlenecks facing metagenomic screening that need to be resolved in order to improve the discovery rate of target enzymes. These limitations can be grouped in three main categories (as shown in Fig. 2). First, there is a need for improvement in host organism capabilities with the aim of improving the expression of the target enzymes. Second, the development of new genetic tools is necessary in order to improve the construction of metagenomic libraries suitable for screening in different hosts. Finally, continuation of ongoing research to elaborate novel screening strategies that enhance the discovery rate of the enzymes of interest is needed. The advances in synthetic biology over the past decade could provide the framework to address these constrains, and a particularly promising approach is the analysis of biological systems in an analogous way as electronic devices, whereby cells can be reprogrammed to perform new tasks with high efficiency (Purnick and Weiss, 2009; Weber and Fussenegger, 2010). Synthetic biology relies on a conceptual framework more closely related to engineering than biology, such as design, modelling, implementation and debugging (Canton et al., 2008; Purnick and Weiss, 2009; Weber and Fussenegger, 2010). The design aspect focuses on the planning and construction of new gene circuits for the desired application (Canton et al., 2008). Modelling involves computational simulation of the proposed gene circuits in order to both evaluate performance and capabilities and to guide the selection of the suitable molecular components necessary for its construction (Koide et al., 2009). The implementation step encompasses the physical assembly of the DNA elements encoding the appropriate components (such as promoters, regulators, terminators, enzymes, transporters, etc.), and follows a specific assembly standard (Arkin, 2008). Finally, the debugging step requires the testing and validation of the circuit in vivo, and includes the correction of undesirable traits that have their origin in the emergent properties of biology systems (Gardner et al., 2000; Moon et al., 2011; Siuti et al., 2013). Several examples of new biological circuits that have been successfully designed and implemented are currently available (Gardner et al., 2000; Cox et al., 2007; 2010; Moon et al., 2011; Silva-Rocha and de Lorenzo, 2011), and in recent years, the field has developed at a remarkable speed (Weber and Fussenegger, 2010; Zhan et al., 2010; Regot et al., 2011; Siuti et al., 2013).