Low-dose γ-radiation inhibits IL-1β-induced dedifferentiation and inflammation of articular chondrocytes via blockage of catenin signaling.
Bottom Line: Here, we found that LDR, at doses of 0.5-2 centiGray (cGy), inhibited interleukin (IL)-1β-induced chondrocyte destruction without causing side effects, such as cell death and senescence.LDR also inhibited chondrocyte destruction through the catenin pathway induced by epidermal growth factor, phorbol 12-myristate 13-acetate, and retinoic acid.Collectively, these results identify the molecular mechanisms by which LDR suppresses pathophysiological processes and establish LDR as a potentially valuable therapeutic tool for patients with cytokine- or soluble factors-mediated cartilage disorders.
Affiliation: Division of Radiation Cancer Biology, Korea Institute of Radiological & Medical Sciences, Seoul, Korea; Department of Chemistry, College of Natural Sciences, Hanyang University, Seoul, Korea.
Show MeSH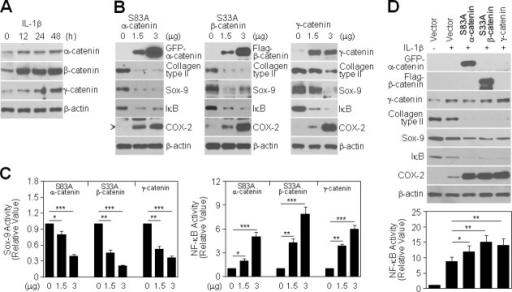 © Copyright Policy - open-access
License
getmorefigures.php?uid=PMC4321059&req=5
Mentions: We next examined downstream targets of Akt signaling, focusing on catenin proteins involved in the coordination of cell–cell adhesion and gene transcription. IL-1β treatment caused a time-dependent induction of α-, β-, and γ-catenin protein levels in chondrocytes (Fig. 4A). Ectopic overexpression of β-catenin binding-deficient mutant α-catenin (Supporting Information Fig. 1A), nonubiquitinatable mutant β-catenin, or wild-type γ-catenin in chondrocytes led to suppression of type II collagen and Sox-9 expression, induction of COX-2 expression, and degradation of I-κB protein in all experiments (Fig. 4B). Consistent with this, these maneuvers significantly suppressed Sox-9 and promoted NF-κB transcriptional activities; specifically, transfection of 3 μg of the above-mentioned α-, β-, and γ-catenin plasmids decreased Sox-9 activity by approximately 60%, 79%, and 63%, respectively, compared to the respective controls (Fig. 4C, left) and increased NF-κB activity by approximately 5.0-fold, 7.8-fold, and 6.0-fold, respectively (Fig. 4C, right). The combined effect of catenin overexpression and IL-1β treatment on chondrocyte dedifferentiation and inflammation, measured as suppression of type II collagen and Sox-9 protein expression, induction of I-κB protein degradation and promotion of COX-2 protein expression, was much greater than that produced by IL-1β alone (Fig. 4D, top). The greater expression of COX-2 under these combined treatment conditions was paralleled by a greater enhancement in NF-κB transcriptional activity; whereas IL-1β alone induced an approximately 8.5-fold increase in NF-κB activity compared to controls, when combined with overexpression of the indicated α-, β-, and γ-catenin forms, IL-1β increased NF-κB activity by approximately 12.4-fold, 15.5-fold, and 14.2-fold, respectively (Fig. 4D, bottom). These results suggest that IL-1β-induced catenin signaling has a pivotal role in promoting the destructive cellular phenotype of chondrocytes.