Ectopic expression screen identifies genes affecting Drosophila mesoderm development including the HSPG Trol.
Bottom Line: These include the FGF ligand Pyramus, α-integrins, E-cadherin, Cueball, EGFR, JAK/STAT signaling components, as well as the heparan sulfate proteoglycan (HSPG) Terribly reduced optic lobes (Trol).Our data support the view that both HSPGs function to support FGF-dependent processes in the early embryo as they share phenotypes with FGF mutants: Trol in terms of effects on mesoderm migration and caudal visceral mesoderm (CVM) migration and Sdc in terms of dorsal mesoderm specification.The differential roles uncovered for these two HSPGs suggest that HSPG cofactor choice may modify FGF-signaling outputs.
Affiliation: Division of Biology and Biological Engineering, California Institute of Technology, 1200 East California Boulevard, MC 114-96, Pasadena, California 91125.
Show MeSH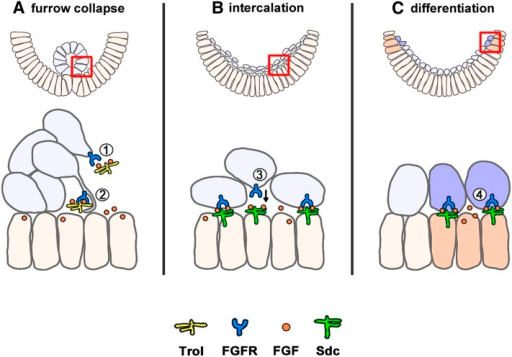 © Copyright Policy - open-access
License
getmorefigures.php?uid=PMC4321038&req=5
Mentions: Our screen isolated the HSPG Trol, a secreted protein, but another HSPG, Sdc, which contains a transmembrane domain, was reported previously to work with FGF during mesoderm development in the early embryo (Knox et al. 2011). Comparing Trol and Sdc revealed spatiotemporal differences in their expression (Figure 3, A and B and Figure 5, A–D) and nonoverlapping phenotypes relating to several FGF-dependent processes (Figure 4, Figure 5, Figure 6, and Figure 7). FGF signaling regulates a variety of activities that include communication between both distant cells and adjacent cells. However, their ability to modulate the range of FGF signaling is undetermined. Both Trol and Sdc are expressed in the ventral ectoderm during mesoderm migration (Figure 5, A and D arrows), and their expression patterns overlap with that of the FGF ligand Ths at these stages (Kadam et al. 2009). However, localized Trol is expressed earlier than Sdc. Furthermore, ectopic expression of Sdc in the mesoderm (both broadly and earlier than normal) results in a moderate spreading phenotype (Figure 5G), which we suggest is due to its sequestration of Ths ligand from Trol. Trol normally supports tube collapse, based on our genetic analysis, and likely is the only HSPG acting in this role. Based on these data, we propose the model that Trol, a component of the extracellular matrix (ECM), is able to promote FGF–FGFR interactions required for tube collapse in which mesoderm cells at a distance from the ectoderm respond to activation ("long-range" action). However, cell membrane–associated Sdc likely works locally to regulate FGF-FGFR interactions between neighboring cells ("short-range" action) as, for example, in the induction of dorsal somatic lineages (e.g., Eve). As Trol is secreted, it may be better suited to support long-range or at least longer-range diffusion of the ligand relative to Sdc, which contains a transmembrane domain. For instance, during the FGF-dependent collapse of the invaginated tube of cells following EMT, Trol may aid in delivering FGF ligand to the receptor present in mesoderm cells located initially (before collapse) at a distance from the ectoderm (Figure 8A-1). Conversely, the fact that Sdc is membrane-associated suggests that Sdc, and not Trol, functions to support short-range FGF signaling in adjacent cells to support the processes of cell intercalation (Figure 8B) and cell differentiation (Figure 8C).