Disruption of medial prefrontal synchrony in the subchronic phencyclidine model of schizophrenia in rats.
Bottom Line: We found that this regimen reduced theta oscillations in the medial prefrontal cortex.It further produced abnormal cortical synchronization in putative cortical pyramidal cells.These alterations in prefrontal cortex functioning may contribute to cognitive deficits seen in subchronic NMDA antagonist pre-treated animals in prefrontal-dependent tasks.
Affiliation: School of Psychology, College of Medicine, Biological Sciences and Psychology, University of Leicester, United Kingdom.
Show MeSH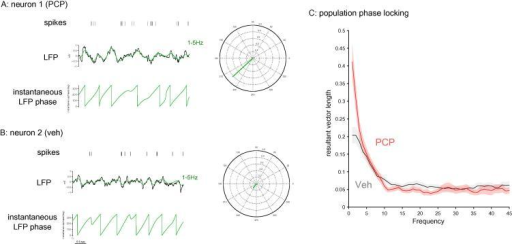 © Copyright Policy - CC BY
License
getmorefigures.php?uid=PMC4317768&req=5
Mentions: mPFC was targeted with a left-side craniotomy with coordinates: +3.2 mm AP; 0.5 mm ML; −2 mm DV (Paxinos and Watson, 2007). Recording electrodes consisted of quartz glass-coated platinum/tungsten wires pulled and ground to custom shapes in our laboratory (shank diameter 80 μm; diameter of the metal core 23 μm; free tip length ∼8 μm; impedance, 1–3 MΩ; Thomas Recording, Giessen, Germany). Wideband signals were acquired continuously via an op-amp-based headstage amplifier (HST/8o50-G1-GR, 1x gain, Plexon Inc., Dallas, TX, USA), passed through a preamplifier (PBX2/16wb, 1000x gain; Plexon Inc., Dallas, TX, USA) and digitized at 40 kHz. For spike sorting the raw signal was band-pass filtered 300–3000 Hz and spikes were sorted using the Matlab-based Wave_clus software to yield single-unit spike trains (Quiroga et al., 2004). Wave_clus performs unsupervised spike detection and sorting using wavelets and super-paramagnetic clustering. All automatic detection thresholds and sorting solutions were examined individually and adjusted if needed. Field potentials were low-pass filtered using a 200-Hz cut-off Butterworth filter and downsampled offline to 5000 Hz. Power spectral densities of the signals recorded from PFC were estimated by means of Welch periodograms (window length: 2 s, overlap: 90%, Hanning window, resolution 1 Hz/bin). Treatment effects in the energy values (mean power of all frequencies within the band) for the delta (0.5–3.5 Hz), theta (4–7.5 Hz), alpha (8–12 Hz), mu (10–12 Hz), beta (13–30 Hz) and gamma (30–70 Hz) frequency bands were assessed using the Mann–Whitney U test for equal medians. To investigate drug effects on spike-local field potential (LFP) synchrony, the LFP signal was band-pass filtered using a 3-Hz moving window with a second-order Butterworth filter. A Hilbert transform was applied to obtain the instantaneous phase for each frequency range (Fig. 3A, B) (Saleem et al., 2010). Average phase angle for each spike at each frequency window was calculated using the Matlab toolbox CircStat (Berens, 2009). Further analyses were calculated using Neuroexplorer (Nex Technologies, Littleton, MA, USA) and custom-written Matlab routines.