Superoxide dismutases and superoxide reductases.
Affiliation: Department of Chemistry and Biochemistry, University of California Los Angeles , Los Angeles, California 90095, United States.
SODs catalyze the disproportionationof superoxide to give O2 and H2O2, a reaction requiring one proton per superoxide reacted, but noexternal reductant (eq 7). 67 All of the SOR enzymes contain only iron, while the three typesof SODs are the nickel-containing SODs (NiSOD), the iron- or manganese-containingSODs (FeSOD and MnSOD), and the copper- and zinc-containing SODs (CuZnSOD).Although the structures and other properties of these four types ofmetalloenzymes are quite different, they all share several characteristics,including the ability to react rapidly and selectively with the smallanionic substrate O2... The first and most obviousof the similarities between these enzymes is that they all containredox-active metal ions at their active sites: Ni inNiSOD, Fe in FeSOD and SOR, Mn inMnSOD, and Cu in CuZnSOD... Another propertyshared by some but not all SODs is irreversible inactivation of theenzyme resulting from reaction of the reduced SOD with H2O2... This reaction, generally termed the peroxidative reaction,is the result of a Fenton-type reaction in which the reduced metalion at the active site reduces H2O2 to generatehydroxyl radical, which then reacts with amino acid residues nearby.Interestingly, eukaryotic CuZnSODs and most FeSODs react rapidly inthis fashion with H2O2, whereas MnSOD and prokaryoticCuZnSODs do not... These are difficult values for Niaq ions to achieve because water will both oxidize and reduceat potentials less extreme than Niaq... In fact,of the redox metal ions found in SODs, only nickel does not catalyzesuperoxide disproportionation in aqueous solution... Thislow reactivity with O2 is reminiscent of that of SORs (seesection 7) and contrasts with that of the mononuclearnonheme Fe sites of oxygenase enzymes, in which O2 reactsreadily with the Fe state of the enzyme once the co-substrateis bound (reviewed in refs... Earlywork on FeSOD found that small anions do not coordinate directly toFe even though they do coordinate directly to Fe... If a SOD is inactivated by H2O2, it is often claimed that the SOD must be an FeSOD or a CuZnSODand, if it is not inactivated by H2O2, thatit must be a MnSOD (or NiSOD)... This mechanismis most effective when proton transfer is coupled to electron transfer.Because this is the case for both FeSOD and MnSOD, both of these proteinshave the possibility of tuning the metal ion's E° via modulation of the energy associated with proton uptake,that is, changing the pKa's ofthe OH/H2O ligand in the reduced andoxidized states (Figure 16)... Fully functional humanCu,Zn-SOD1 is extraordinarilystable, melting at 92 °C and remaining folded in 8 M urea or1% SDS (reviewed in ref... Removal of the metal ions (E,E-SOD1) decreases the melting temperature to 54 °C, and reduction of the disulfide bond results in the leaststable form (E,E-SOD1), which melts at 42 °C... A more interesting hypothesisis that the lysine, upon detachmentof the glutamate, would acquire a position that allows it to stabilizethe hydroperoxide ligand, either directly or through water molecules,and would also facilitate the protonation of the hydroperoxo (by acidifyingthe water molecule)... As just mentioned, the distinct results foundfor different enzymes are inconclusive in this respect, or, as itso often occurs, the enzymes are particularly robust for those singleamino acid changes... The fact thatfour evolutionarily unrelated metalloenzymes arose to protect organismsagainst O2 toxicity, that is, NiSOD,Fe/MnSODs, CuZnSOD, and SORs, provides excellent examples both ofconvergent evolution and of nature's ingenuity (in a Darwinianand a non teleological sense).
Show MeSH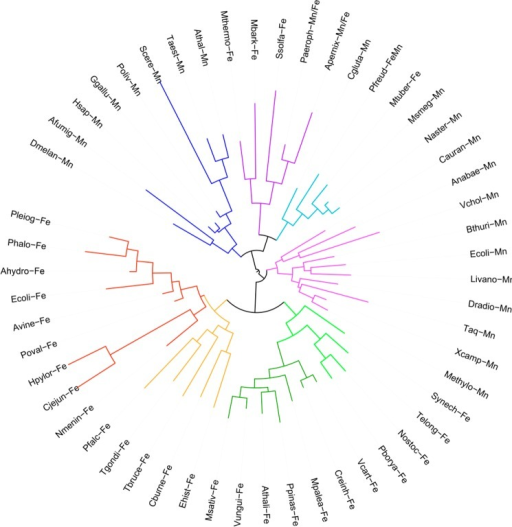 © Copyright Policy
License
getmorefigures.php?uid=PMC4317059&req=5
Mentions: The sections that followdescribe how amino acid sequence similarities among Fe- and/or MnSODsare remarkably consistent with what is known about the evolution ofeukaryotic cells as well as the major branches of the tree of life.Mitochondrial MnSOD can be traced back to the archaeal origin of eukaryoticcells, chloroplast FeSOD to cyanobacterial origin and protist FeSODto bacterial origin (of possibly more than one type, and possiblyvia lateral gene transfer). The conservation of SODs across the domainsof life indicates that FeSODs and MnSODs existed as distinct typesevolving independently before the emergence of eukaryotes, becausethese two clusters separately (Figure 18).Distinct FeSODs and MnSODs appear to have arisen even before divergenceof major branches of bacteria, or moved among branches by lateralgene transfer.188a,194 However, FeSODs remain the mostwidely dispersed, consistent with a very early origin.195