SOX17 is a critical specifier of human primordial germ cell fate.
Bottom Line: Remarkably, SOX17 is the key regulator of hPGC-like fate, whereas BLIMP1 represses endodermal and other somatic genes during specification of hPGCLCs.Notable mechanistic differences between mouse and human PGC specification could be attributed to their divergent embryonic development and pluripotent states, which might affect other early cell-fate decisions.We have established a foundation for future studies on resetting of the epigenome in hPGCLCs and hPGCs for totipotency and the transmission of genetic and epigenetic information.
Affiliation: Wellcome Trust Cancer Research UK Gurdon Institute, Tennis Court Road, University of Cambridge, Cambridge CB2 1QN, UK; Department of Physiology, Development and Neuroscience, Downing Street, University of Cambridge, Cambridge CB2 3EG, UK; Wellcome Trust-Medical Research Council Stem Cell Institute, Tennis Court Road, University of Cambridge, Cambridge CB2 3EG, UK.
Show MeSH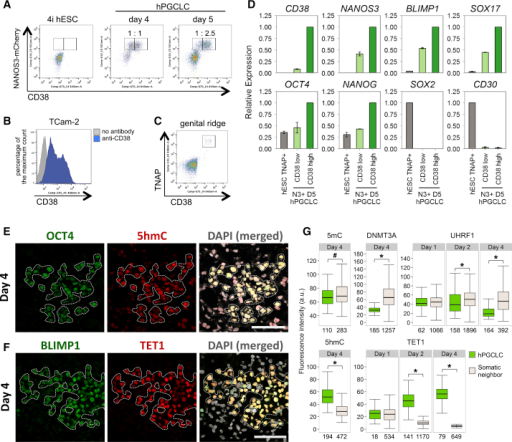 © Copyright Policy - CC BY
License
getmorefigures.php?uid=PMC4310934&req=5
Mentions: A heat map of mRNA expression revealed that hPGCLCs and gonadal hPGCs shared expression of early PGCs (BLIMP1, TFAP2C, DND1, NANOS3, UTF1, ITGB3, and KIT) and pluripotency genes (TNAP, OCT4, NANOG, PRDM14, and LIN28A) but with a notable lack of SOX2 expression (Figure 2C). Early mesoderm marker T was detected in hPGCLCs (Figure 2C), as in mouse early PGCs (Aramaki et al., 2013). Interestingly, expression of two endodermal genes, SOX17 and GATA4, was detected in hPGCLCs, embryonic hPGCs, and TCam-2, which are absent in the mouse germline. Notably, we identified CD38 expression in hPGCLCs/hPGCs and TCam-2, but not in hESCs or soma (Figures 2C and see also Figures 3A–3C). Overall, hPGCLCs indeed have germ cell characteristics consistent with hPGCs. Late germ cell markers, however, including DAZL, VASA, and MAEL, were only detected in hPGCs (Figure 2C). TCam-2 gene expression was similar to hPGCLCs, albeit with lower expression levels of NANOS3, ITGB3, and T and upregulation of a few somatic genes, e.g., HAND1 and RUNX1. Immunofluorescence analysis validated the expression of BLIMP1, TFAP2C, and OCT4 in hPGCLCs/hPGCs and TCam-2 (Figures 2E–2H). Interestingly, PRDM14 showed nuclear localization in the majority of hPGCLCs but was predominantly enriched in the cytoplasm of hPGCs (Figure 2F). Importantly, although SOX2 was undetectable, there was significant expression of SOX17 in hPGCLCs, hPGCs, and TCam-2 (Figures 2G and 2H).