Factors affecting longitudinal trajectories of plasma sphingomyelins: the Baltimore Longitudinal Study of Aging.
Bottom Line: We found that most sphingomyelin species increased with age.African Americans also showed higher circulating sphingomyelin concentrations compared to Caucasians.Notably, these associations showed specificity to sphingomyelin acyl-chain length and saturation.
Affiliation: Department of Health Science Research and Neurology, Mayo Clinic, Rochester, MN, USA.
Show MeSH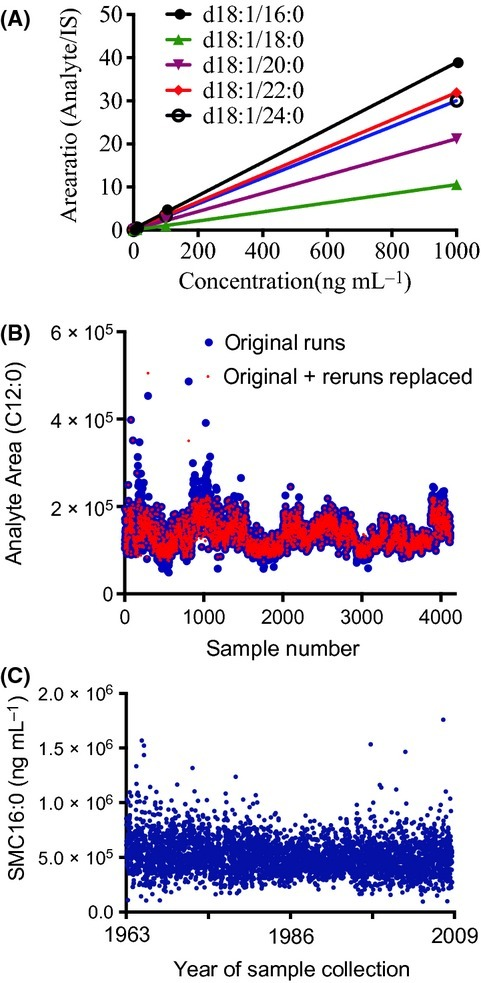 © Copyright Policy - open-access
License
getmorefigures.php?uid=PMC4310757&req=5
Mentions: A crude lipid extraction of plasma was obtained using a modified Bligh and Dyer procedure as previously described (Haughey et al., 2004; Bandaru et al., 2013). Sphingomyelin C12:0 (1.3 μg mL−1; Avanti Polar Lipids, Alabaster, Alabama) was included in the extraction solvent as an internal standard. The chloroform layer containing a crude lipid extract was dried in a nitrogen evaporator (Organomation Associates Inc., Berlin, MA, USA) and stored at −80 °C. Dried extracts were resuspended in pure methanol just prior to analysis. Analyses of sphingomyelins were performed on a triple quadrupole mass spectrometer (API3000, AB Sciex Inc., Thornhill, Ontario, Canada) using instrument parameters similar to those described in previous studies (Bandaru et al., 2007, 2011, 2013). Samples were injected using an Agilent 1100 high-pressure liquid chromatography (HPLC) (Agilent Technologies, Inc., Santa Clara CA, USA) equipped with a reverse phase C18 column (Phenomenex, Torrance, CA, USA). Sphingomyelin species were separated by gradient elution at the flow rate of 0.7 mL min−1. Mobile phases consisted of A: 60% methanol, 39% H2O, 1% formic acid with 5 mm ammonium formate; and B: 99% methanol, 1% formic acid, and 5 mm ammonium formate. Gradient conditions were as follows: 60% B for 0.01 min, a gradual increase to 100% B over the next 0.49 min, and hold at 100% B for 3 min. Decline from 100% to 0% B during the next 0.01 min, hold at 0% B for 0.99 min, increase from 0% to 60% B for 0.5 min and hold at 60% B for the final 0.5 min. The eluted sample was injected into the ion source where the detection of each sphingomyelin species was conducted by multiple reaction monitoring (MRM) in positive mode. Detailed MRM transitions of individual molecular species for sphingomyelin precursor and fragment ions are provided in Table5. The ion spray voltage (V) was 5500 at a temperature of 80 °C with a nebulizer gas of 9 psi, curtain gas of 8 psi, and the collision gas set at 10 psi. The declustering potential was 60 V, the focusing potential 300 V, the entrance potential 10 V, the collision energy 30 V, and the collision cell exit potential 10 V. MS/MS scanned from 300 to 1000 atomic mass units (amu) per second with steps of 0.1 amu. Eight-point calibration curves (0.1 to 1000 ng mL−1) were constructed by plotting the area under the curve for sphingomyelin C16:0, C18:0, C20:0, C22:0, and C24:0 (Avanti polar lipids, Alabaster, AL, USA) prepared in pure methanol normalized to the C12:0 internal standard. The correlation coefficients (R2) obtained were >0.999 (Fig.3A). Concentrations of sphingomyelins in each sample were determined by fitting the identified sphingomyelin and dihydrosphingomyelin species to these standard curves based on acyl-chain length (i.e., concentrations of C16:0 and C16:1 were both determined based on the C16:0 standard curve). Instrument efficiency was closely monitored using a series of internal standards run daily. Area under the curve for these standards was plotted weekly to track instrument efficiency. Runs were stopped when consistent deviations of more than 30% from the median internal standard values were noted, and the instrument was recalibrated. Individual samples in which the internal standard deviated more than 30% of the median internal standard value were rerun. Using these criteria, approximately 20% of samples required reanalysis. Data that produced internal standard values closest to the overall median value were incorporated in the final analysis (Fig.3B). Instrument control and quantification were performed using Analyst 1.4.2 and MultiQuant software (AB Sciex Inc., Thornhill, ON, Canada). Intra-day coefficient of variation (CV) was determined by analyzing 5 pooled samples 6 times. Intra-day CVs were as follows: C16:0 (2.1%), C18:0(5.7%), C20:0 (2.1%), C22:0 (3.0%), C24:0 (3.6%), C16:1 (2.1%), C18:1 (3.6%), C20:1 (9.6%), C22:1 (4.0%), C24:1 (2.4%) and dihydrosphingomyelins (DHSM) C16:0 (4.0%), C18:0 (3.7%), C22:0 (7.4%), and C24:0 (8.6%). Inter-day CVs were determined using five repeat measurements of 10 pooled samples over a 3-month period (the time required for analysis of all study samples). Interday CVs for sphingomyelin species were as follows: C18:0/C16:0 (12%), C18:0/C18:0 (20%), C18:0/C20:0 (24%), C18:0/C22:0 (12%), C18:0/C24:0 (8%),C18:0/C16:1 (12%), C18:0/C18:1 (16%), C18:0/C20:1 (20%), C18:0/C22:1 (28%), C18:0/C24:1 (12%),C18:1/C16:0 (14%), C18:1/C18:0 (8%), and C18:1/C24:0 (6%). Recovery was determined by comparing C12:0 internal standard levels in extracted plasma to equal amounts of C12:0 sphingomyelin prepared in pure methanol. The average extraction recovery obtained was 93%. As the dates of sample collection for this study ranged from 1968 to 2009 and were run in random order over the 3 months, we estimated sample stability by arranging data for each sphingomyelin species by date of study visit. We reasoned that sample degradation or continued enzymatic activity would be manifest by increasing or decreasing trends in analyte concentrations coincident with storage time. When arranged by date of visit, each species showed a random scatter (Fig.3C shows sphingomyelin C16:0), suggesting that sphingomyelin content of plasma was stable with long-term −80 °C storage.