Kinesin-13 regulates the quantity and quality of tubulin inside cilia.
Bottom Line: Loss of both Kin13Bp and Kin13Cp resulted in slow cell multiplication and motility, overgrowth of cell body microtubules, shortening of cilia, and synthetic lethality with either paclitaxel or a deletion of MEC-17/ATAT1, the α-tubulin acetyltransferase.The mutant cilia beat slowly and axonemes showed reduced velocity of microtubule sliding.Thus kinesin-13 positively regulates the axoneme length, influences the properties of ciliary tubulin, and likely indirectly, through its effects on the axonemal microtubules, affects the ciliary dynein-dependent motility.
Affiliation: Department of Cellular Biology, University of Georgia, Athens, GA 30602;
Show MeSH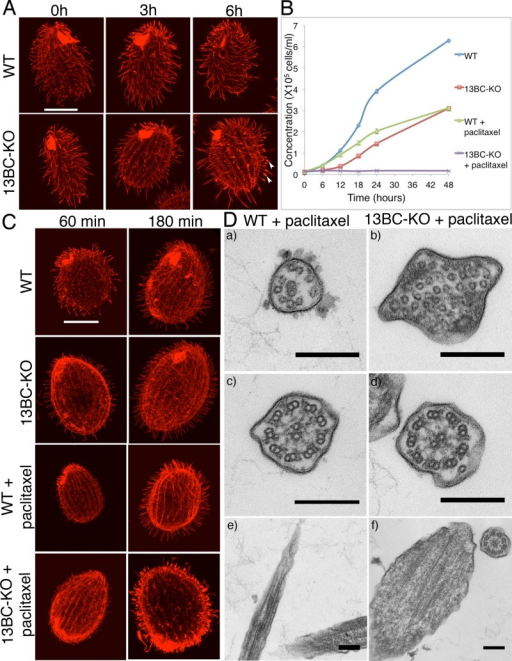 © Copyright Policy - creative-commons
getmorefigures.php?uid=PMC4310739&req=5
Mentions: Although the strong effect of the loss of kinesin-13 on cortical microtubules, some of which are in proximity of the ciliated basal bodies (transverse bundles), can explain the entire contribution of kinesin-13 to ciliogenesis (see Discussion), we were intrigued by the enrichment of Kin13Bp and Kin13Cp in assembling cilia (Figures 1 and 3). The multiplication of 13BC-KO cells is inhibited by paclitaxel (Figure 5B). Paclitaxel could act synergistically with the loss of kinesin-13, making certain microtubules excessively long or too stable. Paclitaxel (40 μM) increased the abundance of cell body microtubules in both the wild-type and 13BC-KO cells (unpublished data). In addition, the paclitaxel-treated wild-type cells developed hyperelongated cilia (as described; Wloga et al., 2009); in 6 h, the average length of cilia in the wild type increased by 40% (from 5.0 ± 1.2, n = 177, at t = 0 to 7.0 ± 1.7, n = 220, at t = 6 h). In the similarly treated 13BC-KO cells, the cilia lengthen only by 9% (from 4.5 ± 0.9 at 0 h, n = 206, to 4.9 ± 1.8, n = 427 at t = 6 h). Unexpectedly, a subset of the drug-treated mutant cilia were excessively short and had tubulin-positive swollen tips (10.5%, n = 427 cilia, at 6 h), whereas such cilia were not seen in the similarly treated wild type (Figure 5A). The swollen mutant cilia were located mostly in the midposterior region, where new cilia assemble from the newly duplicated basal bodies (Frankel, 2000), suggesting that paclitaxel interferes with the elongation of mutant cilia. To test this hypothesis, we applied paclitaxel to cilia-regenerating cells. Whereas wild-type cells regenerated hyperelongated cilia, the 13BC-KO cells regenerated predominantly short cilia with tubulin-filled tips (Figure 5C). At 3 h postdeciliation, the wild-type cilia treated with paclitaxel were 9% longer than the wild-type untreated cilia, whereas the 13BC-KO paclitaxel-treated cilia were 40% shorter than untreated mutant cilia, and 42% of the mutant cilia had tubulin-filled swollen tips (wild type, 4.55 ± 0.08, n = 122; wild type/paclitaxel, 4.92 ± 0.13, n = 158; 13BC-KO, 4.34 ± 0.08, n = 157; 13BC-KO/paclitaxel, 2.71 ± 0.09, n = 195). TEM showed a normal ultrastructure of cilia in the wild-type paclitaxel-treated cells (Figure 5D), except that the cross sections of distal segments (which contain singlet peripheral microtubules; Figure 5D) were more frequent than with the nontreated control (Table 3). Thus, in the wild-type cilia, paclitaxel hyperelongates the distal axonemal segment. Remarkably, the 13BC-KO paclitaxel-treated cells had cilia with tips filled by numerous singlet microtubules (Figure 5D). The large number of these microtubules in cross sections indicates that most if not all are ectopic and not extensions of the axoneme. Such abnormal microtubules were also occasionally seen on cross sections of the middle axoneme segment in the drug-treated 13BC-KO cells. The ectopic singlet microtubules were not present in the untreated 13BC-KO or in treated or untreated wild-type cells (Figure 5D, Supplemental Figure S4, and Table 3). The formation of ectopic microtubules at the tips of assembling cilia of 13BC-KO cells indicates that the delivery of precursor tubulin into kinesin-13–deficient cilia is not inhibited by paclitaxel. To the contrary, the 13BC-KO mutants may have excessive levels of soluble tubulin around the tips of growing axonemes, which could drive the formation of ectopic microtubules in the presence of paclitaxel. To conclude, paclitaxel reveals an abnormal tubulin inside assembling cilia of cells lacking nonnuclear kinesin-13.