A unique insertion in STARD9's motor domain regulates its stability.
Bottom Line: These phosphorylation events are important for targeting a pool of STARD9-MD for ubiquitination by the SCFβ-TrCP ubiquitin ligase and proteasome-dependent degradation.Of interest, overexpression of nonphosphorylatable/nondegradable STARD9-MD mutants leads to spindle assembly defects.Our results with STARD9-MD imply that in vivo the protein levels of full-length STARD9 could be regulated by Plk1 and SCFβ-TrCP to promote proper mitotic spindle assembly.
Affiliation: Department of Chemistry and Biochemistry, University of California, Los Angeles, Los Angeles, CA 90095.
Show MeSH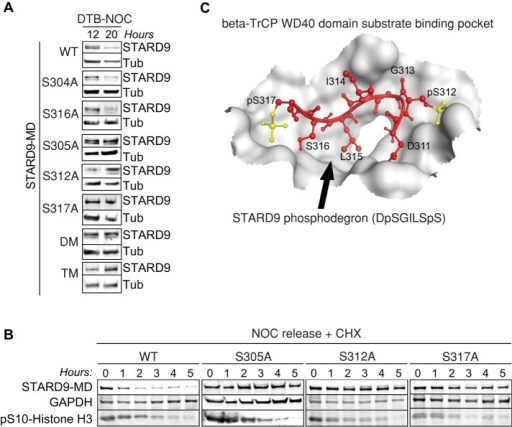 © Copyright Policy - creative-commons
getmorefigures.php?uid=PMC4310736&req=5
Mentions: Owing to the large number of phosphorylation sites within the STARD9-MD, we focused on serine residues that spanned the putative Plk1-PBD SpS binding sites (S304:S305 and S316:S317) and the β-TrCP-binding DpSGXXpS motif (S312 and S316) that were found phosphorylated in mitosis (Figure 3, C–E, and Supplemental Figure S4). To analyze the importance of phosphorylating these serines, we generated LAP-tagged STARD9-MD stable cell lines that had each site mutated to an alanine (S304A, S305A, S312A, S316A, and S317A, all mutants integrated at the same loci within the genome). In addition, we generated double-mutant (S312/316A) and triple-mutant (S312/316/317A) stable cell lines. Next we analyzed the importance of phosphorylation for STARD9-MD protein stability. Wild-type and serine mutant cell lines were synchronized in G1/S, released, and treated with nocodazole for 12 or 20 h and the stability of STARD9-MD monitored by immunoblot analysis. Whereas wild type, S304A, and S316A were degraded by 20 h, S305A, S312A, S317A, the double mutant, and the triple mutant remained stabilized (Figure 4A). Consistently, protein half-life experiments (in which cells were synchronized in early mitosis with nocodazole and released into the presence of cycloheximide, with samples collected every hour and analyzed by immunoblotting) showed that S305A, S312A, and S317A STARD9-MD mutants had a longer half-life than wild-type STARD9-MD (Figure 4B). These results indicated that the phosphorylation of S305, S312, and S317 played critical roles in the degradation of STARD9-MD. β-TrCP is also known to bind and ubiquitinate proteins with a modified consensus that includes one or two additional amino acids between the two phosphoserines—example p105 (DpSGVETpS) and CDC25A (DpSGFCLDpS; Busino et al., 2003; Lang et al., 2003). Because S312 and S317 were phosphorylated and played a role in the degradation of STARD9-MD, we asked whether the β-TrCP substrate-binding site could accommodate the extended consensus STARD9-MD phosphodegron (DpSGILSpS). Indeed, similar to a previous analysis of p105 and CDC25A, molecular modeling indicated that the β-TrCP substrate-binding site within the WD40 domain accommodated the DpSGILSpS peptide, with the extended hydrophobic part of the peptide moving deeper into the pocket (Kanarek et al., 2010; Figure 4C and Supplemental Figure S5).