A unique insertion in STARD9's motor domain regulates its stability.
Bottom Line: These phosphorylation events are important for targeting a pool of STARD9-MD for ubiquitination by the SCFβ-TrCP ubiquitin ligase and proteasome-dependent degradation.Of interest, overexpression of nonphosphorylatable/nondegradable STARD9-MD mutants leads to spindle assembly defects.Our results with STARD9-MD imply that in vivo the protein levels of full-length STARD9 could be regulated by Plk1 and SCFβ-TrCP to promote proper mitotic spindle assembly.
Affiliation: Department of Chemistry and Biochemistry, University of California, Los Angeles, Los Angeles, CA 90095.
Show MeSH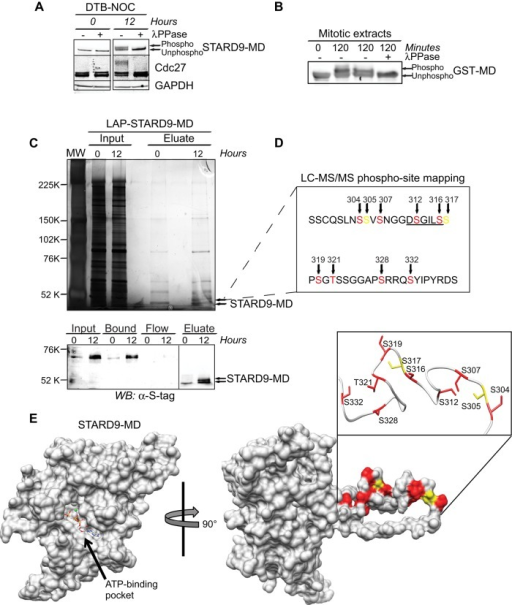 © Copyright Policy - creative-commons
getmorefigures.php?uid=PMC4310736&req=5
Mentions: Because STARD9-MD contained several potential phosphorylation sites, we asked whether the modified form of STARD9-MD was due to phosphorylation. Extracts were prepared from G1/S or mitotic cells expressing STARD9-MD and were subjected to λ phosphatase treatment (Figure 3A). Consistent with our previous results, STARD9-MD was only modified in mitosis and not G1/S (Figure 3A). Of interest, the modified form of STARD9-MD was absent when extracts were treated with λ phosphatase (Figure 3A), indicating that the modified form of STARD9-MD was due to phosphorylation. Consistently, when recombinant GST-STARD9-MD was incubated with mitotic extracts it became modified, and the addition of λ phosphatase reversed this modification (Figure 3B). To further define the phosphorylation events that were likely regulating STARD9-MD stability, we took an unbiased proteomic approach to map the STARD9-MD amino acids that were phosphorylated in mitosis. The LAP-STARD9-MD HeLa stable cell line was used to express and tandem affinity purify STARD9-MD (Torres et al., 2009). Purifications were carried out from G1/S and mitotic cell extracts in the presence of phosphatase, protease, deubiquitinase, and proteasome inhibitors to preserve PTMs and prevent protein degradation. Eluates from these purifications were separated by gel chromatography, and the band corresponding to the phosphorylated form of STARD9-MD (present only in the mitotic purification) was excised and analyzed by mass spectrometry (Figure 3C). STARD9-MD peptides were then inspected for mass spectra shifts indicative of phosphorylation (ST: +79.9663 Da). Surprisingly, we identified 10 phosphorylation sites within STARD9-MD, and nine of 10 phosphorylation sites mapped to the L12 insertion (Figure 3, D and E). Nine of the phosphorylation sites were on serines (serines 304, 305, 307, 312, 316, 317, 319, 328, and 332) and one was on threonine 321, with serines 305 and 317 being the most abundantly phosphorylated (Figure 3, D and E, and Supplemental Figure S4). Of interest, serines 312 and 316 within the DSGXXS motif were phosphorylated, indicating that a DpSGXXpS phosphodegron could be regulating STARD9-MD protein levels (Figure 3, D and E, and Supplemental Figure S4). In addition, two putative Plk1-PBD binding sites, S316:S317 (SpSP canonical) and S304:S305 (SpSV noncanonical), were also phosphorylated (Figure 3, D and E, and Supplemental Figure S4).