Analytical strategies in human growth research.
Bottom Line: A summary table linking each analytical strategy to its applications is provided to help investigators match their hypotheses and measurement schedules to an analysis plan.In addition, worked examples using data on non-Hispanic white participants in the Fels Longitudinal Study are used to illustrate how the analytical strategies might be applied to gain novel insight into human growth and its determinants and consequences.All too often, serial measurements are treated as cross-sectional in analyses that do not harness the power of longitudinal data.
Affiliation: MRC Unit for Lifelong Health and Ageing at UCL, London, WC1B 5JU, United Kingdom.
Show MeSH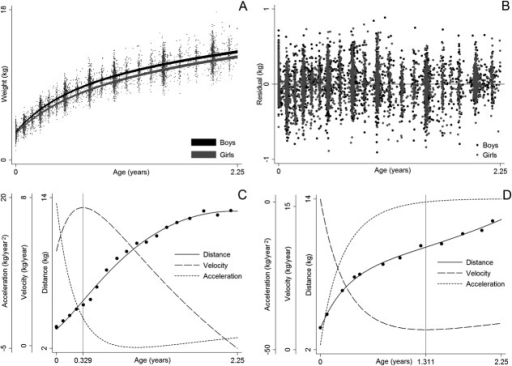 © Copyright Policy - open-access
License
getmorefigures.php?uid=PMC4309180&req=5
Mentions: The final model provided a reasonable fit for the data with a RSD of 0.26 kg. The parameter estimates are not shown because they are not particularly easy to interpret. Instead, Figure 2 illustrates some key findings/ properties of the model. Panel A shows that the sample average growth curve was higher in boys than girls at birth, and that the magnitude of this difference increased to approximately age one year, after which it remained relatively stable. Panel B shows that the level one residuals were relatively homoscedastic over age and that there was little evidence of systematic fitting of curves that were too high or too low at any given age, perhaps with the exception of fitting too low at birth (causing positive level one residuals) and too high at age 1 month (causing negative level one residuals). This pattern has been reported before (Berkey and Reed, 1987; Johnson, 2010; Simondon et al., 1992) and could be expected given that the Berkey-Reed model cannot describe any period of neonatal weight loss. Nonetheless, it has consistently been found to be the best structural model for infant growth (Berkey and Reed, 1987; Chirwa et al., 2014; Johnson, 2010; Pizzi et al., 2014; Simondon et al., 1992). Panel C show the growth distance, velocity, and acceleration curves of one infant who had an early inflection point at age 0.3 years and Panel D shows the curves of one infant who had a late inflection point at age 1.311 years. The majority of infants (70%) actually had an inflection point that occurred outside the studied age range, with only 5% having an early inflection between ages 0.006 and 0.508 years and 25% having a late inflection between ages 0.807 and 1.992 years. Typical weight gain in the sample was therefore characterized by deceleration and declining velocity across the entire age period studied. Similar results were reported in the original publication of the Berkey-Reed (1987) model, but other studies with more frequent data early in life claim to have identified (using the Berkey-Reed model) early inflection points and thus a peak in velocity for all infants in their sample (Mook-Kanamori et al., 2011; Sovio et al., 2009; Tzoulaki et al., 2010). Clearly, the identification and location of traits in the distance, velocity, and acceleration curves are dependent on the number of inflection points the model allows and the amount and frequency of data to which the model fits. A relatively simple example has been used for demonstrative purposes; the model could be developed to account for secular trends, neonatal weight loss, more than one inflection point for some infants, possible complex level one variation (e.g., explicitly model the level one residuals as a function of age, sex, or some other variable), and possible autocorrelation of level one residuals.