Assessment of a University of California, Los Angeles 4-variable risk score for advanced heart failure.
Bottom Line: The model-predicted survival was compared to Kaplan-Meier's estimated survival at 1, 2, and 3 years.Fairly similar results were found when the analyses were repeated in 715 patients after multivariate imputation of missing data.The UCLA 4-variable risk model calibration was inconsistent and high-risk discrimination was poor in an external validation cohort.
Affiliation: Department of Cardiothoracic Surgery and Anesthesiology, Karolinska University Hospital, Stockholm, Sweden (U.S.) Department of Molecular Medicine and Surgery, Karolinska Institutet, Stockholm, Sweden (U.S.).
Show MeSH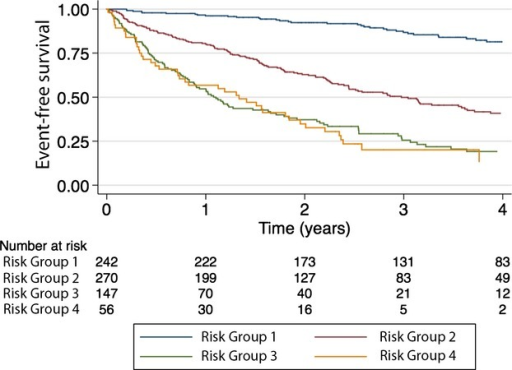 © Copyright Policy - creative-commons
License
getmorefigures.php?uid=PMC4309113&req=5
Mentions: Clinical characteristics of the total study population (n=715) have been reported in previous assessments of the HFSS and SHFM.4 During a mean follow‐up of 2.6 years, 354 (49.5%) events occurred. One‐, 2‐, and 3‐year observed EFS was 79%, 66%, and 55%, respectively. There was lack of discrimination between the 2 highest risk groups (P=0.695) (Figure 3). Cox's model, with the risk score as a continuous independent variable, had better discrimination (C‐index, 0.740), compared to the risk group Cox model (C‐index, 0.719). Overall discrimination was good; AUCs at 1, 2, and 3 years, by continuous risk score: 0.784 (95% CI, 0.746 to 0.821), 0.782 (95% CI, 0.745 to 0.819), and 0.808 (95% CI, 0.770 to 0.846), respectively; by risk groups: 0.753 (95% CI, 0.713 to 0.792), 0.758 (95% CI, 0.721 to 0.795), and 0.772 (95% CI, 0.733 to 0.810), respectively. The overall observed/predicted ratio was 0.87, 0.79, and 0.73, at 1, 2, and 3 years, respectively (Figure 4). Except for the lowest risk group, there were large differences between observed and predicted survival. The difference ranged from 1 to 34 absolute percentage points, depending on risk strata and time of follow‐up, and there was a consistent overestimation of EFS and thus underestimation of risk.