New method for determining total calcium content in tissue applied to skeletal muscle with and without calsequestrin.
Bottom Line: In both fast-twitch (extensor digitorum longus, EDL) and slow-twitch (soleus) muscles from mice, [CaT]WM increased approximately linearly with decreasing muscle weight, increasing approximately twofold with a twofold decrease in muscle weight.Knocking out the high capacity Ca-binding protein calsequestrin (CSQ) did not significantly reduce [CaT]WM in mouse EDL or soleus muscle.Because greater reductions in [CaT]WM would be predicted in both muscle types, we hypothesize that there is a substantial increase in Ca bound to other sites in the CSQ knockout muscles.
Affiliation: Institute of Sport, Exercise and Active Living, Victoria University, Melbourne, Victoria 8001, Australia.
Show MeSH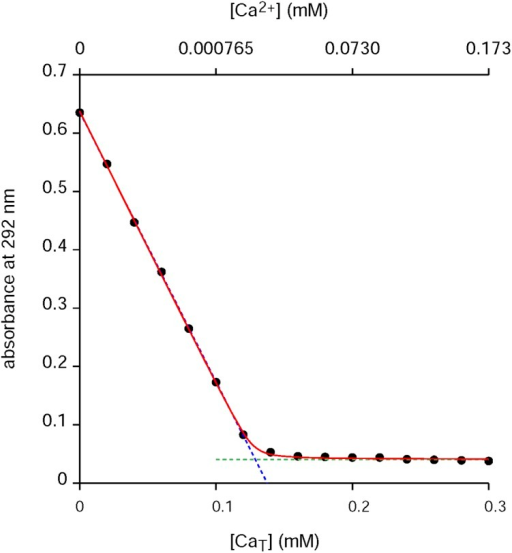 © Copyright Policy - openaccess
License 1 - License 2


getmorefigures.php?uid=PMC4306712&req=5

Mentions: The experiment described in this section gives properties of the lot of BAPTA used in this study, done in part to confirm that these properties agree with published values. Fig. 1 plots BAPTA-related absorbance at 292 nm versus different concentrations of total Ca (denoted "[CaT]") in addition to the usual constituents of the usual measurement solution. The different values of [CaT] were obtained by adding Ca from another solution containing the usual measurement solution with a known amount of total Ca (to give 100 mM CaCl2) added from a known CaCl2 standard. The red (solid) curve in Fig. 1 shows the least-squares best fit to the data of predicted absorbance values assuming a one-to-one binding reaction between Ca and BAPTA. The adjustable parameters for this fit were the Kd, the concentration of total BAPTA ([BT]; total defined as the sum of Ca-free plus Ca-bound forms of BAPTA), and the absorbance values with no Ca present (Azero) and with infinite Ca (Ainf), i.e., with all of the BAPTA in the Ca-bound form. An intermediate step of the fitting process was to determine values of [Ca2+] from the known values of [CaT] and the adjustable parameters [BT] and Kd; the nonlinear, horizontal axis at the top of Fig. 1 shows the values of [Ca2+] corresponding to those of [CaT] shown on the bottom axis. The good fit of the red solid curve to the data in Fig. 1 is consistent with the conclusion of Tsien (1980) of a simple 1:1 stoichiometry, which he observed for the full tested ranges of BAPTA concentrations (0.01–1 mM) and concentrations of free Ca2+ (up to 1 mM). As [BT] was <0.15 mM for all of the experiments reported here, the simple 1:1 stoichiometry should apply to all of the results reported in this Methods and Approaches article, assuming the addition of tissue does not affect this Ca-BAPTA reaction. The extinction coefficients at 292 nm of the Ca-free and Ca-bound forms of BAPTA, εB and εCaB, were obtained with Beer's law from the best-fit values of Azero and Ainf, respectively, and [BT]. The best-fit values of Kd, [BT], εB, and εCaB were, respectively, 0.22 µM, 0.127 mM, 5,009 M−1 cm−1, and 320 M−1 cm−1. This value of Kd, which applies to the ionic strength of this study (0.12 M), is reasonably close to the value of 0.18 µM estimated from data in Harrison and Bers (1987). Because the nominal concentration of total BAPTA was 0.15 mM, the value of 0.127 mM for [BT] indicates a purity of 85% (100 × 0.127 ÷ 0.15). This lack of 100% purity is probably caused by the presence of water, as Harrison and Bers (1987) reported a purity of 79% and determined that the impurity was caused by the presence of water. Our estimated values of 320 and 5,009 M−1 cm−1 for εCaB and εB, respectively, are in very good agreement with the values of 339 and 5,052 M−1 cm−1 at 292 nm estimated from Fig. 1 of Tsien (1980). Of particular interest for this Methods and Approaches article is the difference in extinction coefficients between the Ca-bound and Ca-free forms at 292 nm, denoted "Δε," given by the value −4,689 M−1 cm−1 (−4,689 = 320 − 5,009). In conclusion, the properties of BAPTA estimated in this study agree with published values, and the reaction of Ca with BAPTA follows a simple 1:1 stoichiometry, at least in the absence of tissue.