Molecular basis for SMC rod formation and its dissolution upon DNA binding.
Bottom Line: We unequivocally show that prokaryotic Smc-ScpAB, eukaryotic condensin, and possibly also cohesin form rod-like structures, with their coiled coils being closely juxtaposed and accurately anchored to the hinge.Upon ATP-induced binding of DNA to the hinge, however, Smc switches to a more open configuration.These findings uncover a conserved architectural theme in SMC complexes, provide a mechanistic basis for Smc's dynamic engagement with chromosomes, and offer a molecular explanation for defects in Cornelia de Lange syndrome.
Affiliation: Department of Biological Sciences, KAIST Institute for the Biocentury, Cancer Metastasis Control Center, Korea Advanced Institute of Science and Technology, Daejeon 305-701, Korea.
Show MeSH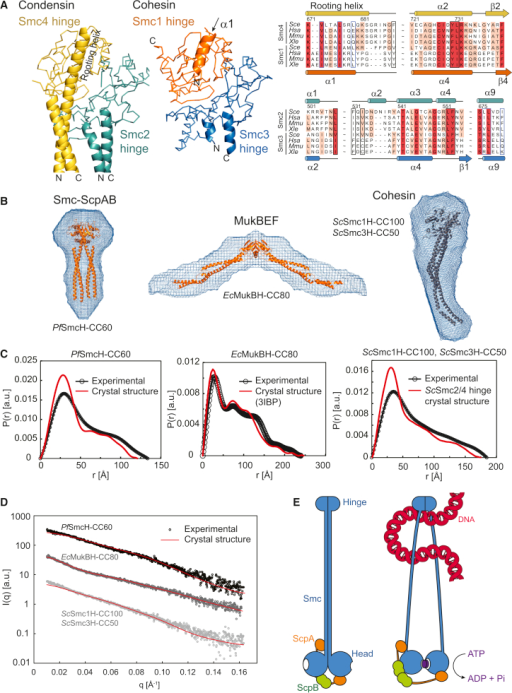 © Copyright Policy - CC BY-NC-ND
License
getmorefigures.php?uid=PMC4306524&req=5
Mentions: Several EM studies depict cohesin and MukBEF in wide open conformations. In case of the latter, the open architecture is further supported by crystal structures of three isolated hinge fragments, all displaying diametrically opposed coiled coils (Ku et al., 2010; Li et al., 2010; Vos et al., 2013). Conceivably, cohesin and MukBEF might be fundamentally different in their structure from both condensin and Smc-ScpAB. Alternatively, all SMC complexes might require closed and open conformations during the course of action but might have distinct intrinsic preferences for these arrangements. To our surprise, we found that the coils/hinge junction in cohesin bears a strong resemblance to condensin. A crystal structure of the cohesin Smc1-3 hinge heterodimer was reported previously (Kurze et al., 2011). It contains a very short Smc3 coiled coil and a short α-helix of Smc1 that corresponds to the rooting α-helix of Smc4. Structural comparison with ScSmc2H-CC110/ScSmc4H-CC110 shows that the short Smc3 coiled coil is oriented similarly as the Smc2 coiled coil and that the short α-helix of Smc1 points in the same direction as the rooting α-helix of Smc4 (Figure 7A). Furthermore, most hydrophobic residues important for the coils/hinge interaction in the Smc2-4 heterodimer are conserved in Smc1 and Smc3 proteins. To address whether cohesin Smc1-3 complexes may indeed be able to adopt a rod shape, we generated a ScSmc1H-CC100/ScSmc3H-CC50 dimer and analyzed its structure using small-angle X-ray scattering (SAXS), a robust technique for characterization of macromolecular conformations in solution (Hura et al., 2009; Rambo and Tainer, 2010, 2013). As proof of principle, we initially performed SAXS analysis on PfSmcH-CC60 and an Ec MukB hinge fragment with long coiled coils, designated as EcMukBH-CC80. For both proteins, molecular envelopes fitted accurately to the rod-shaped or open V-shaped structures obtained by X-ray crystallography (Figures 7B–7D; Figure S6C; Table S3). These findings demonstrate that the coils/hinge junctions have a defined structure in solution as previously indicated by FRET analysis (Figures 1C and 1D). In addition, these experiments confirm the validity and suitability of SAXS for the study of SMC coils/hinge organization. Next, we analyzed the architecture of the ScSmc1H-CC100/ScSmc3H-CC50 dimer by SAXS. Remarkably, the SAXS envelopes derived for the cohesin fragment were clearly too short to accommodate an open V-shaped dimer as seen for EcMukBH-CC80 but were similar in size and shape to the condensin structure (Figures 7B–7D; Figure S6C), suggesting that Smc1-3 proteins fold into rods in solution. Two additional pieces of evidence support this surprising notion. First, a comprehensive lysine proximity map of purified human cohesin—based on the identification of crosslinked peptides by mass spectrometry by the Jan-Michael Peters laboratory—revealed 19 juxtaposed pairs of Smc1 and Smc3 coiled-coil residues (out of a total of 51 on cohesin) (Huis in 't Veld et al., 2014). Almost all these chemical crosslinks occurred between residues with similar position (plus or minus ten amino acids) along the length of the Smc1 and Smc3 coiled coils, being consistent with a well-defined, physical association between the two coiled coils (J.-M. Peters, personal communication). Second, we found that the affinity of the human cohesin hinge for DNA is reduced about 2-fold when 100 amino acids long coiled coils are attached to the Smc1 and Smc3 hinge domains, indicating that the DNA binding site at the cohesin hinge might at least be partially occluded (Figure S6D). Although further studies are clearly necessary, these initial observations provide an indication that all SMC complexes—with the possible exception of MukBEF—might at least transiently adopt a rod-like structure with juxtaposed coiled coils. Intriguingly, cohesin, condensin, and Smc hinge domains, but not the MukB hinge (Ku et al., 2010) (data not shown), display decent affinity for DNA, highlighting the possibility of a conserved functional connection between hinge architecture and regulated association with DNA.