Mesenchymal stem-cell potential in cartilage repair: an update.
Bottom Line: Classical surgical techniques for articular cartilage lesions are frequently insufficient in restoring normal anatomy and function and in many cases, it has not been possible to achieve the desired results.Recently, cell-based therapy has become a key focus of tissue engineering research to achieve functional replacement of articular cartilage.The present manuscript is a brief review of stem cells and their potential in the treatment of early OA (i.e. articular cartilage pathology) and recent progress in the field.
Affiliation: IPROS, CHRO, EA4708 Orleans University, Orleans, France.
Show MeSH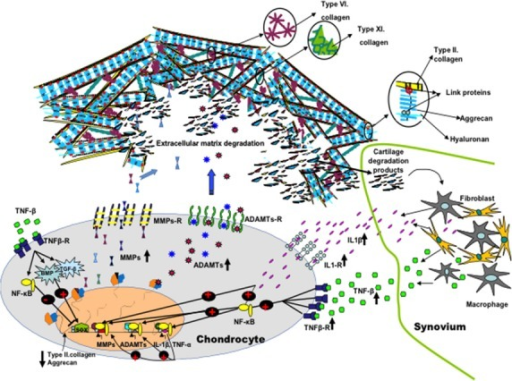 © Copyright Policy - open-access
License
getmorefigures.php?uid=PMC4302639&req=5
Mentions: In the absence of joint damage and disease, the quiescent chondrocytes maintain a low turnover replacement rate of cartilage matrix proteins [21]. With onset of OA, chondrocyte proliferation begins with cluster formation accompanied by prevalence of catabolic activity of matrix-degrading enzymes over anabolic activity of matrix proteins [2,22,23]. The expression of matrix-degrading enzymes is further fueled by an increase in growth factor expression and the appearance of inflammation [2,22–24]. The main matrix-degrading enzymes are the matrix metalloproteinases (MMPs), a family of nine or more highly homologous Zn (++)-endopeptidases that collectively cleave most of the ECM constituents [25]. It is well known that under normal conditions, these enzymes are expressed at a low level in both chondrocytes and synovial cells [9]. However, OA cartilage shows an increase in the amount of MMP-2, MMP-3, MMP-8, MMP-9, MMP-13 and MMP-14, which are included in the degradation of a wide spectra of substrates: types I, II, III, V, VI, VII, X and XI collagens, fibronectin, gelatin, elastin and proteoglycans. These are the main components, which maintain articular cartilage integrity [21,25–31]. Both human and animal studies have shown MMP-13 to be a dominant factor in collagen type II degradation [32]. The abnormal expression of MMP-13 was demonstrated by an amended epigenetic profile with up growth of 4% to 20% in non-methylated sites in normal versus OA chondrocytes [33]. Furthermore, microarray and RT-PCR data have highlighted MMP-13 as a major collagenase with moderate expression in early stages of OA, but overexpressed in advanced stages of the disease [33,34]. In animal studies, postnatal constitutive expression of MMP-13 pathological changes was demonstrated to be similar to that seen in humans by loss of proteoglycans and cleavage of type II collagen [27]. In the early stages of OA, the degradation of predominant proteoglycan, aggrecan, is mainly caused by other proteinases, aggrecanases, such as 'A Disintegrin and Metalloproteinase with the ThromboSpondin motifs' (ADAMTS) family [35]. Two members of the ADAMTs family (ADAMT-4 and ADAMTS-5) are also recognized in OA [36]. It has been shown that both enzymes cleave aggrecans by the 2-fold higher prevalence of ADAMTS4 [35]. However, in the animal study involving ADAMTS-4-knockout mice, no significant difference in the progression and severity of OA was observed following surgical induction [37]. Conversely, ADAMTS-5-knockout mice showed a significant reduction in the severity of cartilage destruction compared with wild-type mice [38]. Recent studies have highlighted the contribution of both enzymes in cartilage degradation by individual or combined impact [39]. Although both enzymes seem involved in OA cartilage destruction with prevalence of ADAMTS-5 [34], their contribution still remains questionable (Figs 1 and 2).