Phosphoproteomic analyses reveal novel cross-modulation mechanisms between two signaling pathways in yeast.
Bottom Line: We observed a pheromone-induced down-regulation of Hog1 phosphorylation due to Gpd1, Ste20, Ptp2, Pbs2, and Ptc1.Distinct Ste20 and Pbs2 phosphosites responded differently to the two stimuli, suggesting these proteins as key mediators of the information exchange.Our results show that the integration of the response to different stimuli requires complex interconnections between signaling pathways.
Affiliation: Department of Biology, Institute of Molecular Systems Biology ETH Zürich, Zürich, Switzerland.
No MeSH data available.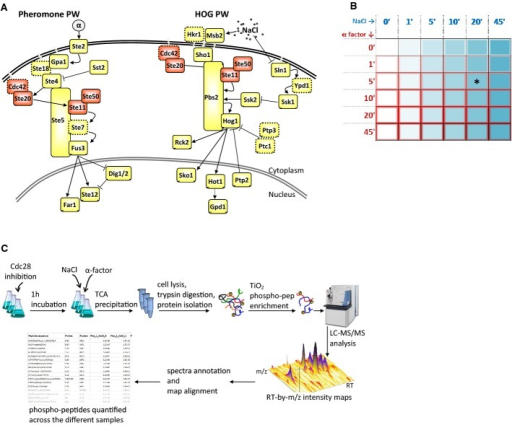 © Copyright Policy - open-access
License
getmorefigures.php?uid=PMC4300490&req=5
Mentions: A prototypic experimental model for studying signaling crosstalk is found in the budding yeast Saccharomyces cerevisiae in two of the four mitogen-activated protein kinase (MAPK) pathways, specifically between the high osmolarity glycerol (HOG) and the mating pheromone response pathways (Fig1A) (O'Rourke & Herskowitz, 1998; McClean et al, 2007; Westfall et al, 2008; Patterson et al, 2010; Saito, 2010). The HOG pathway is capable of sensing the increase in extracellular osmolarity by means of two transmembrane osmo-sensors, Sln1 and Sho1. These independently activate two downstream cascades that converge via two different MAPK kinase kinases (Ste11 and Ssk2/Ssk22) on Pbs2, which are both the scaffold protein and the MAPK kinase of the HOG pathway. Once activated, Pbs2 activates the MAPK Hog1. Most of the active Hog1 then relocates to the nucleus and phosphorylates several transcriptional regulators (Posas et al, 2000), while a small fraction of the active Hog1 remains in the cytoplasm and phosphorylates other enzymes (Mollapour & Piper, 2007; Westfall et al, 2008; Patterson et al, 2010). The main result of Hog1 response is an increased cytoplasmic concentration of glycerol, the most common osmolyte in budding yeast (Saito & Posas, 2012), allowing cells to quickly compensate for the increase in extracellular osmotic pressure. Within the pheromone pathway, the mating response in haploid budding yeast cells is triggered upon the detection of pheromones released by cells belonging to the opposite mating type—MATa or MATα. The mating signal is transmitted to the MAPK cascade via a G protein-coupled receptor (Ste2 for MATa, Ste3 for MATα) that activates Ste20, which in turn activates the MAPK cascade comprising Ste11, Ste7 and the MAPK Fus3, which are all bound to Ste5, the pheromone pathway scaffold protein (Elion, 2000; Bardwell, 2004; Dohlman & Slessareva, 2006). A fraction of the active Fus3 then relocates to the nucleus to affect the expression of several genes. Similar to Hog1, part of the active enzyme remains cytoplasmic to phosphorylate cytoplasmic targets (Choi et al, 1999; Elion, 2001; Parnell et al, 2005).