When the going gets tough: the "why" of goal striving matters.
Bottom Line: In Study 2, 90 British athletes (43 males; M(age)  = 19.63 years, SD(age)  = 1.14) engaged in the same task, but their motivation was primed by asking them to observe a video of an actor describing her or his involvement in an unrelated study.In Study 1, self-reported autonomous goal motives predicted goal persistence via challenge appraisals and task-based coping.In Study 2, primed autonomous (compared to controlled) goal motives predicted greater persistence, positive affect, and future interest for task engagement.
Affiliation: University of Birmingham.
Show MeSH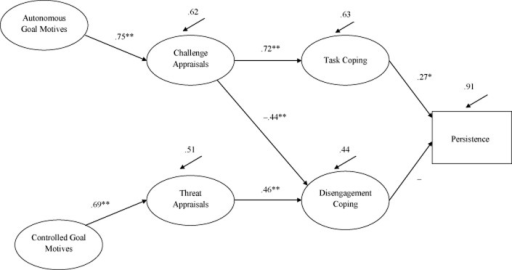 © Copyright Policy - open-access
License
getmorefigures.php?uid=PMC4288988&req=5
Mentions: Next, we tested the hypothesized single-step multiple-mediator model (Figure 1; Preacher & Hayes, 2008), including appraisals and coping strategies. This model fit the data relatively well: χ2(19) = 39.56, p = .003, CFI = .99, NNFI = .98, SRMR = .11, RMSEA = .11, but the modification indices indicated the addition of a negative path from challenge appraisals to disengagement coping. This path was conceptually appropriate (Ntoumanis et al., 2009), and we thus added it to the model, which showed improved fit: χ2(17) = 22.62, p = .16, CFI = .97, NNFI = .95, SRMR = .06, RMSEA = .06. The direct effects in Figure 1 indicate that autonomous motives were strong positive predictors of challenge appraisals, which in turn strongly predicted effort coping. In contrast, controlled goal motives were strong predictors of threat appraisals, which predicted disengagement coping. In addition, challenge appraisals negatively predicted disengagement coping. The number of stages completed was predicted positively by effort coping and negatively by disengagement coping. In line with the recommendations of Preacher and Hayes (2008), bias-corrected bootstrapped 95% confidence intervals (BC-CI) were also calculated for the indirect effects. We obtained significant indirect effects on persistence from autonomous goal motives (β = .22, p < .01, BC-CI = .08 to.36) and challenge appraisals (β = .30, p < .001, BC-CI = .15 to.44). The indirect effects of controlled motives (β = −.07, p = .08, BC-CI = −.15 to.01) and threat appraisals (β = −.10, p = .07, BC-CI = −.22 to.01) on persistence were not significant.