Metabolic engineering of biomass for high energy density: oilseed-like triacylglycerol yields from plant leaves.
Bottom Line: These yields far exceed the levels found in wild-type leaf tissue as well as previously reported engineered TAG yields in vegetative tissues of Arabidopsis thaliana and N. tabacum.Confocal fluorescence microscopy and mass spectrometry imaging confirmed the accumulation of TAG within leaf mesophyll cells.Our results demonstrate the technical feasibility of a vegetative plant oil production platform and provide for a step change in the bioenergy landscape, opening new prospects for sustainable food, high energy forage, biofuel and biomaterial applications.
Affiliation: CSIRO Food Futures National Research Flagship, Canberra, ACT, Australia.
Show MeSH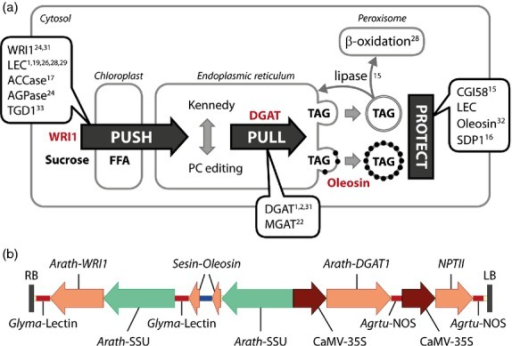 © Copyright Policy - open-access
License
getmorefigures.php?uid=PMC4285938&req=5
Mentions: Worldwide demand for vegetable oil is projected to double within the next thirty years due to increasing food, fuel and industrial requirements (FAO, 2003). Limitations on arable land mean that it will be difficult to meet this additional demand with current oilseed crops. High biomass crops engineered for increased lipid content in vegetative tissues such as leaves have been proposed as a novel platform for meeting global production needs for low-cost, energy-dense lipids such as triacylglycerol (TAG; Carlsson et al., 2011; Chapman et al., 2013; Dyer et al., 2012; Ohlrogge and Chapman, 2011; Troncoso-Ponce et al., 2013). The accumulation of TAG to levels above 10% on a dry weight basis in a dedicated energy crop has been postulated to increase the energy yield in such a crop by at least 30% (Ohlrogge and Chapman, 2011). Current metabolic engineering attempts, however, have only achieved low levels of storage lipid accumulation in nonseed plant tissues far below this benchmark. This can largely be attributed to the fact that single-gene strategies have been the focus of most studies thus far (Figure1a). Examples include the overexpression of DGAT or MGAT genes in leaf tissue (Andrianov et al., 2010; Bouvier-Nave et al., 2000; Petrie et al., 2012b; Sanjaya et al., 2013), reducing TAG and fatty acid turnover (James et al., 2010; Kelly et al., 2013; Slocombe et al., 2009), overexpression of the acetyl-CoA carboxylase gene (ACCase) in potato tubers (Klaus et al., 2004), ectopic expression of transcription factors (LEC1, LEC2, WRI1) that regulate seed development and maturation processes (Mu et al., 2008; Sanjaya et al., 2011; Santos Mendoza et al., 2005; Stone et al., 2008), blocking the lipid transfer between the endoplasmic reticulum and plastid (Xu et al., 2005) as well as down-regulating metabolic pathways that compete for available carbon (Sanjaya et al., 2011).