The CD47-binding peptide of thrombospondin-1 induces defenestration of liver sinusoidal endothelial cells.
Bottom Line: Pretreatment with Y-237642 (a ROCK inhibitor) prevented p4N1-induced myosin activation and fenestrae decrease.Simvastatin has also been shown to antagonize Rho-ROCK signalling, and we found that simvastatin pretreatment protected LSECs from p4N1-induced myosin activation and defenestration.We conclude that CD47 signals through the Rho-ROCK-myosin pathway to induce defenestration in LSECs.
Affiliation: Mechanobiology Institute, National University of Singapore, Singapore.
Show MeSH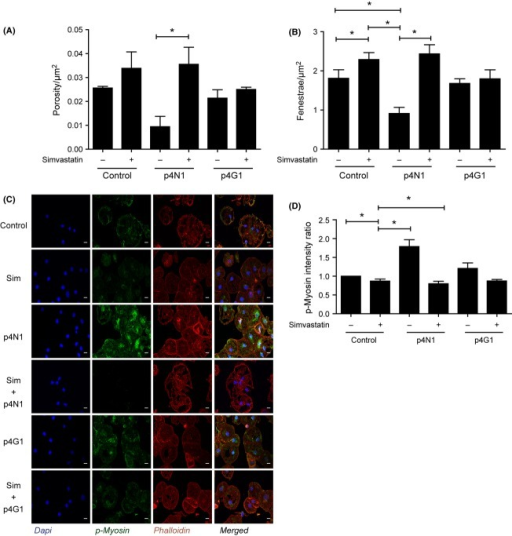 © Copyright Policy - open-access
License
getmorefigures.php?uid=PMC4285809&req=5
Mentions: For all experiments, freshly isolated LSECs were seeded on collagen-coated dishes for 2 h in supplemented M131 medium, after which the medium was changed to basal M131 medium with addition of peptides, inhibitors or small molecules. To show the long-term, general effect of TSP1 on LSECs, cells in Fig. 1 were treated for 12 h with different doses (0 ng/ml, 10 ng/ml and 100 ng/ml) of purified human platelet TSP1 (Millipore, Billerica, MA, USA) in basal M131 medium and were fixed for SEM preparation. For all subsequent experiments (Fig. 7), 1 h treatments were used, as 1 h exposure to TSP1 was sufficient to induce significant levels of defenestration (Fig. 2A). For experiments involving the inhibitor SB-431542 (R&D systems, Minneapolis, MN, USA) and TGF-β1 (R&D systems), cells were pretreated with 20 μM (24) of inhibitor for 1 h before addition of 100 ng/ml of TSP1 or 5 ng/ml of TGF-β1 [which has a very short half-life (25)] for 1 h, followed by fixation for SEM analysis. The CD47-binding peptides and the mutated peptides (Anaspec, Fremont, CA, USA) of TSP1 (Fig. 3A) were used at a concentration of 1 μM (26) in basal M131 media. For experiments with other compounds, LSECs were first incubated with 10 μM of Y-237642 (Sigma Alderich, St. Louis, MO, USA), or 1 μg/ml of B6H12 (BD Pharmigen, San Diego, CA, USA), or 1 μM (27) of simvastatin (Sigma Alderich, MO, USA), in basal M131 medium for 1 h followed by addition of 1 μM p4N1 or p4G1. The samples were fixed after 1 h and further processed for SEM.