Mechanistic differences between phenotypes of chronic lung allograft dysfunction after lung transplantation.
Bottom Line: In both LB/ARAD and PAN, significant increases in IL-1α, IL-1β, and IL-8 were present.This study demonstrates clear differences in the airway microenvironment between different CLAD phenotypes.Systematic phenotyping of CLAD may help the development of more personalized approaches to treatment.
Affiliation: Fibrosis Research Group, Institute of Cellular Medicine, Newcastle University, Newcastle upon Tyne, UK.
Show MeSH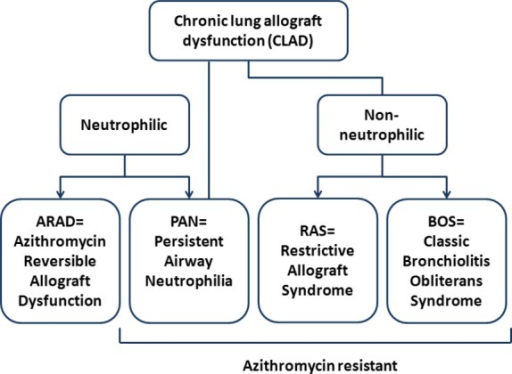 © Copyright Policy - open-access
License
getmorefigures.php?uid=PMC4282071&req=5
Mentions: Since October 2001, all lung transplant recipients at the Leuven University Hospital have been enrolled in a routine prospective bronchoscopy study. Physical and radiological examination, systemic C-reactive protein (CRP), lung function, and bronchoscopy with bronchoalveolar lavage (BAL) collection are performed at fixed time points after LTx or in case of suspected complication. Bronchoalveolar lavage samples were obtained from lung transplant recipients from the Leuven Lung Transplant programme with hospital ethical committee approval (s51577), and all participants provided written informed consent. Bronchoalveolar lavage procedure was performed as previously reported 24. Briefly for BAL, two aliquots of sterile saline (50 ml) were instilled in the right middle lobe or lingula. The returned fractions were pooled and processed for cell counting and supernatant collection for protein measurement and BEC stimulation. To be included in the study, the patients needed a bronchoscopy and BAL collection at the time of diagnosis of BOS, RAS, ARAD/LB, or PAN without interfering factors such as infection, post-transplant lymphoproliferative disorder (PTLD), and anastomotic complications. RAS (n = 9) was defined as a combination of a persistent parenchymal infiltrates on CAT scan together with a persistent TLC decline of more than 10% or a decline in FEV1 of more than 20% and a simultaneous decline in forced vital capacity (FVC), so that the FEV1/FVC ratio was 0.7 or more, compatible with a restrictive pulmonary function defect as previously reported 26,29. BOS patients (n = 13) were defined by a persistent decline in FEV1 of more than 20%, without any restrictive pattern of pulmonary function defect and without another identifiable cause or confounding factor being present. ARAD/LB patients (n = 10) histologically demonstrated lymphocytic inflammation around the airways (B grade acute rejection) without inflammation around the blood vessels (A grade acute rejection) and were not on azithromycin treatment for at least 3 months. PAN patients (n = 10) were diagnosed with prior B grade rejection and therefore were actively treated with azithromycin for at least 2 months. In this patient group, azithromycin treatment was started because of a previous episode of high BAL neutrophilia or re-transplantation (routine immunosuppression for re-transplant patients in our center includes azithromycin treatment at discharge from the hospital). No other interfering factors such as infection, post-transplant lymphoproliferative disorder (PTLD), and anastomotic complications were present. A control group was selected and matched according to the mean sample time of the whole rejection group. Additionally, as controls for BOS and RAS, samples obtained from these two groups of patients prior to diagnosis (pre-BOS and pre-RAS, respectively) were also included in the study. A proposed phenotypic dichotomy of chronic lung allograft dysfunction is presented in Fig.1. Patient characteristics are shown in Table1. Primary bronchial epithelial cells (PBEC) were obtained from a stable lung transplant recipient undergoing surveillance bronchoscopy at the Freeman Hospital, Newcastle. (The study was approved by the regional ethics committee, and the patient provided written informed consent to participate Ref. 2001/179.) IL-1α, IL-1β, IL-6, IL-8, and TNF-α proteins were measured in undiluted BAL using MSD electrochemiluminescence assay (MesoScale Discovery, Gaithersburg, US) according to the manufacturer's instructions. Protein limits of quantification were 0.63 pg/ml (IL-1α), 0.65 pg/ml (IL-1β), 0.64 pg/ml (IL-6), 3.33 pg/ml (IL-8), and 0.66 pg/ml (TNF-α).