Biofilm formation by enteric pathogens and its role in plant colonization and persistence.
Bottom Line: The significant increase in foodborne outbreaks caused by contaminated fresh produce, such as alfalfa sprouts, lettuce, melons, tomatoes and spinach, during the last 30 years stimulated investigation of the mechanisms of persistence of human pathogens on plants.Also the major exopolysaccharide of the biofilm matrix, cellulose, is an adherence factor not only of S. enterica and E. coli, but also of plant symbionts and pathogens.Plants, on the other hand, respond to colonization by enteric pathogens with a variety of defence mechanisms, some of which can effectively inhibit biofilm formation.
Affiliation: Faculty of Biotechnology and Food Engineering, Technion - Israel Institute of Technology, Haifa, 32000, Israel.
Show MeSH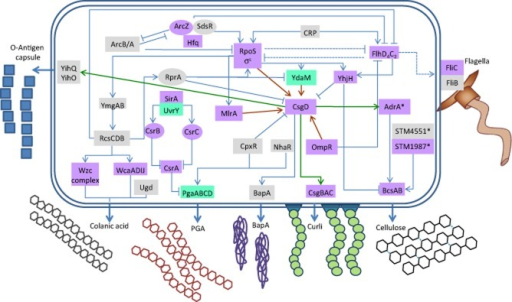 © Copyright Policy - open-access
License
getmorefigures.php?uid=PMC4265070&req=5
Mentions: A regulatory scheme for the main biofilm components is illustrated in Fig. 1. For clarity, only major regulators and regulators that have been investigated in relation to association of the bacteria with plants are shown. As outlined above, the extracellular matrix components, cellulose, curli fimbriae and in S. enterica BapA are positively regulated by CsgD, the major hub of biofilm formation (Romling et al., 2000; Uhlich et al., 2001; Latasa et al., 2006; Simm et al., 2014). Synthesis of the Salmonella O-antigen capsule coregulates with the cellulose synthesis. CsgD also regulates the yih genes in coordination with cellulose and curli (Gibson et al., 2006). Regulation of CsgD and subsequently the expression of the matrix components is highly responsive to many environmental signals such as growth phase, nutrients, oxygen tension, ethanol, temperature, osmolarity and a number of regulatory proteins (Gerstel and Romling, 2003). For most strains of Salmonella and also a fraction of E. coli strains, csgD expression is optimal at temperatures below 30°C in media with low salt (Romling et al., 1998; Bokranz et al., 2005). Maximal expression is observed during stationary phase upon limitation of nutrients such as nitrogen, phosphate and iron (Gerstel and Romling, 2003), which, directly and indirectly, requires the stationary-phase sigma factor RpoS (Arnqvist et al., 1994). The response regulator OmpR, a component of the two-component regulatory system OmpR/EnvZ that responds to changes in osmolarity (Pratt et al., 1996), is absolutely required for CsgD expression. Oxygen tension also plays a major determinative role in CsgD expression (Romling et al., 1998; Gerstel and Romling, 2001). Investigating 51 S. Typhimurium strains from different origins indeed demonstrated that most strains form optimal biofilm at acidic pH (∼ 5.5), 0.5% NaCl and 25°C (Lianou and Koutsoumanis, 2012). In the same line, the genes involved in curli and cellulose production were highly induced in a panel of S. enterica strains at 25°C and low nutrient availability (Castelijn et al., 2012), and also colanic acid is generally not produced at temperatures above 30°C (Whitfield and Roberts, 1999). PGA is synthesized at 37°C, but it is also implicated in attachment to surfaces during growth at lower temperatures (Wang et al., 2004).