Neural crest specification and migration independently require NSD3-related lysine methyltransferase activity.
Bottom Line: Nevertheless, only Sox10 histone H3 lysine 36 dimethylation requires NSD3, revealing unexpected complexity in NSD3-dependent neural crest gene regulation.In addition, by temporally limiting expression of a dominant negative to migratory stages, we identify a novel, direct requirement for NSD3-related methyltransferase activity in neural crest migration.These results identify NSD3 as the first protein methyltransferase essential for neural crest gene expression during specification and show that NSD3-related methyltransferase activity independently regulates migration.
Affiliation: Department of Genetics, Cell Biology, and Development, University of Minnesota, Minneapolis, MN 55455.
Show MeSH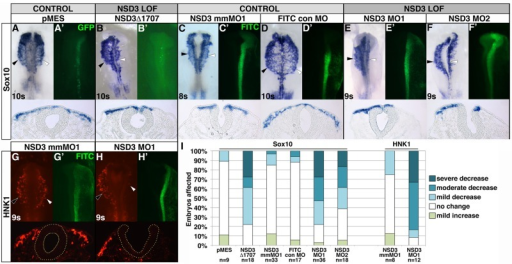 © Copyright Policy - creative-commons
getmorefigures.php?uid=PMC4263458&req=5
Mentions: Because NSD3 expression persists in migratory neural crest cells (Figure 1), we reasoned that NSD3 might also be required for neural crest migration. First, we examined the effects of constitutive NSD3 loss of function. We electroporated NSD3Δ1707, pMES, NSD3 MO1, MO2, mmMO1, or FITC control MO into HH stage 4–6 embryos, incubated until 8–11 somites, and identified migrating neural crest cells by Sox10 in situ hybridization. NSD3Δ1707-targeted neural crest cells remained in the neural tube or migrated a shorter distance than those on the untargeted side in 77.8% of embryos, compared with only 11.1% with pMES (Figure 6, A, B, and I; p = 0.011). Similarly, Sox10-positive neural crest cell migration distance was reduced in 77.8% of embryos electroporated with NSD3 MO1, with more than one-half of the embryos moderately or severely decreased (Figure 6, E and I; p = 5.3 × 10−7 compared with mmMO1). In contrast, only 15.2% of NSD3 mmMO1-electroporated embryos were affected (Figure 6, C and I). Similarly, neural crest migration was curtailed on the targeted side of 61.1% of NSD3 MO2-electroporated embryos, compared with 11.8% of embryos electroporated with a standard FITC control MO (Figure 6, D, F, and I; p = 0.031). Because NSD3 knockdown interferes with Sox10 expression (Figure 3) and NSD3-dependent neural crest migration defects could reflect impaired Sox10 expression rather than faulty migration, we also evaluated HNK1 immunofluorescence, a marker expressed once neural crest cells are migratory. HNK1 immunoreactivity confirmed that NSD3 knockdown was incompatible with migration: 91.7% of NSD3 MO1–electroporated embryos exhibited decreased migration on the targeted side, with >80% severely or moderately affected, compared with 25.0% mildly affected NSD3 mmMO1 embryos (Figure 6, G–I, p = 0.0023). Of importance, both NSD3 MO1 and MO2 produce the same phenotype (compare Figure 6, E and F; also see Figure 6I) in a dose-dependent manner (Supplemental Figure S6, B and C), indicating specificity (Eisen and Smith, 2008; Moulton and Yan, 2008). Neural crest migration defects achieved by two different loss-of-function techniques—morpholino and dominant negative—indicate that NSD3 is necessary for neural crest migration.