Neural crest specification and migration independently require NSD3-related lysine methyltransferase activity.
Bottom Line: Nevertheless, only Sox10 histone H3 lysine 36 dimethylation requires NSD3, revealing unexpected complexity in NSD3-dependent neural crest gene regulation.In addition, by temporally limiting expression of a dominant negative to migratory stages, we identify a novel, direct requirement for NSD3-related methyltransferase activity in neural crest migration.These results identify NSD3 as the first protein methyltransferase essential for neural crest gene expression during specification and show that NSD3-related methyltransferase activity independently regulates migration.
Affiliation: Department of Genetics, Cell Biology, and Development, University of Minnesota, Minneapolis, MN 55455.
Show MeSH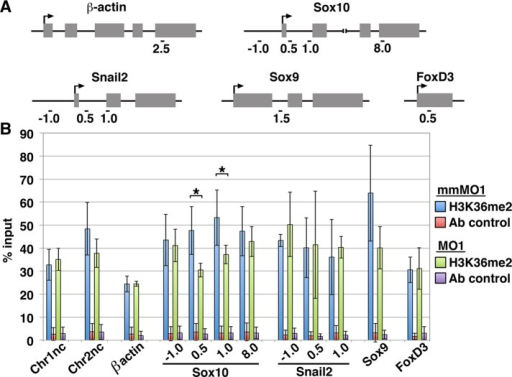 © Copyright Policy - creative-commons
getmorefigures.php?uid=PMC4263458&req=5
Mentions: NSD3 binds target gene promoters and coding regions and is believed to affect transcriptional initiation and elongation because gene silencing in NSD3-deficient cells is associated with loss of gene body H3K36 methylation (Fang et al., 2010; Rahman et al., 2011; Wagner and Carpenter, 2012). Thus NSD3 could affect neural crest gene expression (Figures 3 and 4) by H3K36 dimethylating these genes. To investigate this hypothesis, we bilaterally electroporated embryos with NSD3 MO1 or mmMO1 and dissected cranial neural tubes at four to eight somites, when neural crest gene expression was NSD3 dependent (Figures 3 and 4). Because chromatin immunoprecipitation (ChIP)–rated NSD3 antibodies are not available, we then performed ChIP using a validated H3K36me2 antibody (Egelhofer et al., 2011). Because H3K36me2 is highest immediately upstream and downstream of transcription start sites and also marks intergenic regions and constitutive heterochromatin (Bell et al., 2007; Rechsteiner et al., 2010; Chantalat et al., 2011; Kuo et al., 2011), we evaluated the effects of NSD3 knockdown on H3K36me2 occupancy at several locations. Compared to mmMO1-electroporated tissue, NSD3 knockdown did not affect H3K36me2 occupancy at open reading frame–free, intergenic regions of chromosome 1 (Figure 5B; Chr1nc, control for Sox10, p = 0.32) and chromosome 2 (Chr2nc, control for Snail 2, p = 0.12). Similarly, H3K36me2 at the β-actin gene was NSD3 independent (Figure 5B; p = 0.49), indicating that NSD3 knockdown does not affect gene body H3K36 dimethylation generally. In contrast, NSD3 knockdown reduced H3K36me2 occupancy at the Sox10 gene 0.5 and 1.0 kb from the transcription start site (Figure 5, A and B; p = 0.026 and 0.047, respectively). On the other hand, NSD3 knockdown did not diminish H3K36me2 occupancy in the Sox10 promoter or 3′ end, at any location in Snail2, or in the Sox9 or FoxD3 gene bodies (Figure 5, A and B; Sox10, p = 0.38 at −1.0 kb, p = 0.29 at 8.0 kb; Snail2: p = 0.22 at −1.0 kb, p = 0.47 at 0.5 kb, p = 0.35 at 1.0 kb; Sox9: 0.072 at 1.0 kb; FoxD3: p = 0.47 at 0.5 kb). Therefore NSD3 is required for H3K36 dimethylation of Sox10 but not other neural crest transcription factors, despite being required for the expression of all four genes (Figures 3 and 4). This disconnect indicates that the regulation of neural crest specification by NSD3 is more complex than direct H3K36 dimethylation of neural crest genes.