Neural crest specification and migration independently require NSD3-related lysine methyltransferase activity.
Bottom Line: Nevertheless, only Sox10 histone H3 lysine 36 dimethylation requires NSD3, revealing unexpected complexity in NSD3-dependent neural crest gene regulation.In addition, by temporally limiting expression of a dominant negative to migratory stages, we identify a novel, direct requirement for NSD3-related methyltransferase activity in neural crest migration.These results identify NSD3 as the first protein methyltransferase essential for neural crest gene expression during specification and show that NSD3-related methyltransferase activity independently regulates migration.
Affiliation: Department of Genetics, Cell Biology, and Development, University of Minnesota, Minneapolis, MN 55455.
Show MeSH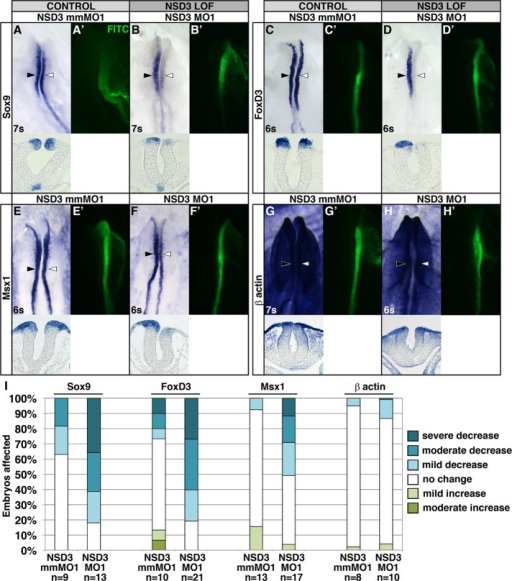 © Copyright Policy - creative-commons
getmorefigures.php?uid=PMC4263458&req=5
Mentions: First, we evaluated the effect of NSD3 knockdown on neural crest gene expression during specification. Because 1.0 mM NSD3 MO1 exceeded the effective and specific dose range (Supplemental Figure S6A; Moulton and Yan, 2008), we unilaterally electroporated 0.75 mM NSD3 MO1 or a 5–base pair mismatch of NSD3 MO1 (NSD3 mmMO1), or 0.92 mM NSD3 MO2 into late gastrula–stage embryos (HH stages 4–5), and evaluated Sox10 and Snail2 expression by in situ hybridization. NSD3 MO1 and MO2 significantly impaired Sox10 expression on the targeted side of the embryo (Figure 3, D, E, and O; MO1, 90.0% with reduced expression, p = 3.0 × 10−4 compared with mmMO1; MO2, 90.9% with reduced expression, p = 6.4 × 10−4 compared with mmMO1), whereas mmMO1 did not alter Sox10 expression in the majority of embryos (Figure 3, C and O; mmMO1: 36.8% with reduced expression). Meanwhile Snail2 expression was reduced or lost in all embryos electroporated with NSD3 MO1 (Figure 3, K and O; 100% with reduced expression, p = 6.8 × 10−5) and most embryos electroporated with NSD3 MO2 (Figure 3, L and O; 65.0% with reduced expression, p = 0.048), compared with only 11.1% with NSD3 mmMO1 (Figure 3, J and O). This phenotype was not due to off-target effects on cell proliferation or death (Eisen and Smith, 2008), as the frequency of phospho-histone H3 and cleaved caspase 3 immunopositive cells was not significantly changed in the targeted versus untargeted dorsal neural tube of NSD3 MO1 or mmMO1 electroporated embryos (Supplemental Figure S7). Moreover, the splice-blocking phenotypes were not due to production of short, truncated NSD3 protein, because MO2 produced very little misspliced transcript (Supplemental Figure S5C) and because a NSD3 translation blocking MO (trans MO) also disrupted Sox10 expression (Figure 3, G and O; trans MO, 46.7% with reduced expression; FITC control MO, 16.7% with reduced expression; p = 0.0011) and showed a slight effect on Snail2 (Figure 3, N and O; trans MO, 50.0% with reduced expression; FITC control MO, 30.6% with reduced expression; p = 0.34). Although trans MO was less potent, it, like MO1 and MO2, affected Sox10 more strongly than Snail2. That three MOs phenocopy the dominant negative (Figure 4, B, I, and O) with different severities suggests that knockdown is specific and that inhibition of NSD3 can account for the dominant-negative phenotype.