Draft sequencing and analysis of the genome of pufferfish Takifugu flavidus.
Bottom Line: The combined length of repetitive sequences was 26.5 Mb, which accounted for 6.87% of the genome, indicating that the compactness of T. flavidus genome was approximative with that of T. rubripes genome.A total of 1,253 non-coding RNA genes and 30,285 protein-encoding genes were assigned to the genome.This draft genome provides a valuable resource for understanding and improving both fundamental and applied research with pufferfish in the future.
Affiliation: The Key Laboratory of Experimental Marine Biology, Institute of Oceanology, Chinese Academy of Sciences, Qingdao, Shandong 266071, China University of Chinese Academy of Sciences, Shijingshan, Beijing 100049, China.
Show MeSH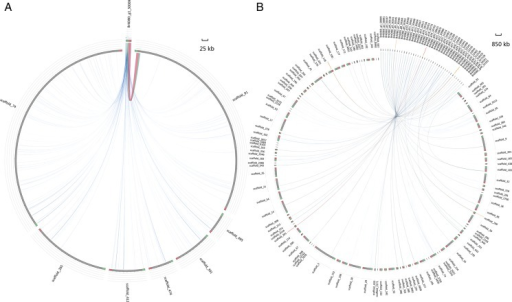 © Copyright Policy - creative-commons
License
getmorefigures.php?uid=PMC4263296&req=5
Mentions: There were a batch of genes involved in the growth and development through hormonally mediated pathways in the teleost fish, such as insulin-like growth factors (IGFs) and growth hormone (GH) axis.36 The growth rate and appetite were obviously enhanced in the GH-transgenic coho salmon, according to previous studies.37 In the genome of T. flavidus, there were 718 genes from 9 species of growth factors and corresponding receptors, including vascular endothelial growth factor (VEGF), epidermal growth factor (EGF), fibroblast growth factor (FGF), transforming growth factor (TGF), platelet-derived growth factor (PDGF), nerve growth factor (NGF), insulin-like growth factor (IGF), granulocyte colony-stimulating factor (G-CSF), granulocyte-macrophage colony-stimulating factor (GM-CSF), as well as 8 genes of GHs and 7 genes of the somatostatin (GH-inhibiting hormone) (Table 4). Comparing with the T. rubripes and Tetraodon nigroviridis genomes, the gene copy numbers of VEGF and VEGF receptors in T. flavidus were significantly greater, which participated in blood vessel formation (angiogenesis). It might hint that the angiogenesis function was more activated in T. flavidus, but conclusion can only be made upon further evidence. Surprisingly, there was no significant difference in most growth factors/hormone-related gene copies among the three pufferfish. EGF and PDGF even had more gene copies in Tetraodon nigroviridis, which had the smallest body size. It was reasonable to believe that the body size was determined and regulated by alternative genes. At the same time, there was an interesting finding that the genes potentially encoding proteins with the Brinker DNA-binding domain (BrkDBD) existed in both the T. flavidus and Tetraodon nigroviridis genomes, whereas none was found in T. rubripes. In T. flavidus, 40 of the 42 Brinker-encoding genes were with complete ORFs and distributed in 38 scaffolds of T. flavidus. Structure comparison between BrkDBD coding genes of T. flavidus (including exons and introns) and genome sequences of T. rubripes was also performed (Fig. 4). The data showed that even sharing a high level of sequence similarity in total, there is no complete homologous sequences of the BrkDBD coding gene distributed in a single scaffold of T. rubripes. Instead, the homologous sequences distribute into multiple scaffolds of T. rubripes. It is most likely due to the species difference, not assembly artefacts, since the BrkDBD coding regions are supported by transcriptome data as well. Among them, 30 BrkDBD-encoding regions were hit by the transcriptome sequencing data of T. flavidus,32 whereas none was observed in the transcriptome of T. rubripes. In Tetraodon nigroviridis, there were five BrkDBD-encoding genes located in the same chromosome. The Brinker is a transcription repressor of the activated targets of decapentaplegic (Dpp), whose gradient resulted in significantly increased tissue size and cell amounts.38 The Dpp/Brinker system was a well-known regulator of tissue growth and size.39,40 There was likelihood that the smaller body size and slow growth rate of T. flavidus and Tetraodon nigroviridis were regulated by the Brinker-encoding genes.Table 4.