Associative transcriptomics study dissects the genetic architecture of seed glucosinolate content in Brassica napus.
Bottom Line: A weighted gene co-expression network analysis provided additional 40 candidate genes.The transcript abundance in leaves of two candidate genes, BnaA.GTR2a located on chromosome A2 and BnaC.HAG3b on C9, was correlated with seed GS content, explaining 18.8 and 16.8% of phenotypic variation, respectively.Resequencing of genomic regions revealed six new SNPs in BnaA.GTR2a and four insertions or deletions in BnaC.HAG3b.
Affiliation: Centre for Novel Agricultural Products, Department of Biology, University of York, Heslington, York YO10 5DD, UK Oil Crops Research Institute, CAAS, Wuhan 430062, Hubei, China.
Show MeSH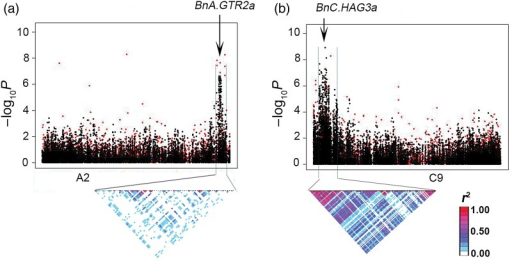 © Copyright Policy - creative-commons
License
getmorefigures.php?uid=PMC4263295&req=5
Mentions: The first unigene of interest is JCVI_13343 (BnaA.GTR2a); the Arabidopsis ortholog encodes proteins for transporting GS compounds from leaf to seed.33BnaA.GTR2a is located in a genomic region within the peak on A2 (Fig. 3a), and its expression was positively correlated with the accumulation of GS in seeds (r = 0.43, P < 10−4), accounting for 18.8% of trait variation (Supplementary Fig. S10a). Although there were nine known SNPs (at positions 469, 625, 655, 667, 688, 775, 860, 861, and 952) within this unigene, none of them was strongly associated with GS. To detect the potential new sequence variation (i.e. insertion or deletion, InDel) within this locus, specific primers were designed and used to amplify the complete unigene (ca. 600 bp) from 42 lines. By sequences alignment, all nine known SNPs were re-identified although some of them were not polymorphic (as only a subset of lines were analysed), and six were previously unidentified SNPs (at positions 538, 565, 571, 640, 727, and 748) (Supplementary Table S4). These results confirmed the robustness and efficiency of SNP development via mRNA-Seq in B. napus. However, none of the 10 polymorphic SNPs (at positions 469, 538, 565, 571, 640, 655, 727, 748, 860, and 861) were correlated with the GS content (r < 0.11, P > 0.500) and thus were not likely to be causative for trait variation.Figure 3.