Beta-Adrenoceptor Activation Reduces Both Dermal Microvascular Endothelial Cell Migration via a cAMP-Dependent Mechanism and Wound Angiogenesis.
Bottom Line: Beta-adrenoceptors (β-AR) are G protein-coupled receptors (GPCRs) expressed on all skin cell-types.In this study, a range of in vitro assays (single cell migration, scratch wound healing, ELISAs for angiogenic growth factors and tubule formation) were performed with human dermal microvascular endothelial cells (HDMEC) to investigate and dissect mechanisms underpinning β-AR-mediated modulation of angiogenesis in chick chorioallantoic membranes (CAM) and murine excisional skin wounds. β-AR activation reduced HDMEC migration via cyclic adenosine monophosphate (cAMP)-dependent and protein kinase A (PKA)-independent mechanisms as demonstrated through use of an EPAC agonist that auto-inhibited the cAMP-mediated β-AR transduced reduction in HDMEC motility; a PKA inhibitor was, conversely, ineffective.In more complex environments, β-AR activation delayed HDMEC tubule formation and decreased angiogenesis both in the CAM assay and in murine excisional skin wounds in vivo. β-AR activation reduced HDMEC function in vitro and angiogenesis in vivo; therefore, β-AR agonists could be promising anti-angiogenic modulators in skin.
Affiliation: Department of Cell Physiology and Pharmacology, University of Leicester, Leicester, UK.
Show MeSH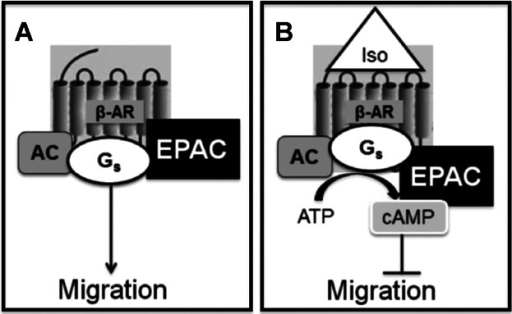 © Copyright Policy - open-access
License
getmorefigures.php?uid=PMC4263239&req=5
Mentions: Efficient signal transduction downstream of β-ARs, like that of many other GPCRs, involves scaffolding and the subsequent assembly of intracellular signalling complexes at the membrane to bring signalling proteins into proximity, facilitating interactions and rapid signal relay. The β2-AR is known to form part of a number of macromolecular signalling complexes; it associates with Gαs, AC, PKA (Hall, 2004) as well as the α-amino-3-hydroxy-5-methyl-4-isoxazolepropionic acid-type glutamate receptor subunit GluR1 (Joiner et al., 2010). In hippocampal neurons, the β2-AR associates with Gαs, AC, PKA, protein phosphatase 2 and the Ca2+ channel Cav1.2 (Davare et al., 2001) to facilitate the highly localised, rapid, but selective regulation of cAMP signalling pathways. Indeed, Förster resonance energy transfer studies revealed that, upon β-AR activation, cAMP was found in much higher concentrations at the plasma membrane supporting the theory that regulated pools of cAMP become available in a spatial manner upon β-AR activation (DiPilato et al., 2004). In multiple cell types, cAMP can modulate cell migration through the activation of both PKA and EPAC (Gloerich and Bos, 2010); this was replicated in our study. cAMP activation of EPAC leads to its translocation to the plasma membrane where it proximally activates its downstream effector, Rap1 (Ohba et al., 2003; Wang et al., 2006; Ponsioen et al., 2009). Indeed, there is compelling evidence to suggest that the formation of macromolecular signalling compartments directly influence EPAC signalling and cell function (Breckler et al., 2011; Edwards et al., 2012). Therefore, it is reasonable to speculate that a β-AR-AC-EPAC signalling complex could be formed at the HDMEC membrane (Fig. 9A), which, upon β-AR activation, creates a highly localised pool of cAMP capable of reducing HDMEC migration rate through EPAC (Fig. 9B). It was initially surprising that the addition of 8-pCPT did not reduce the HDMEC migration rate alone, but prevented the iso-mediated reduction in motility (Fig. 4C). Perhaps EPAC dissociates from the β-AR complex signalling compartment upon 8-pCPT binding and is, therefore, no longer able to transduce any inhibition of migration in either the absence or presence of β-AR agonist. It is also a possibility that the one-hour incubation with 8-pCPT desensitised or depleted the EPAC signalling system within HDMECs, although after much longer incubations (24 h) EPAC was still active in rat ventricular myocytes (Metrich et al.; 2008). Further studies will investigate this possibility.