Low resting metabolic rate is associated with greater lifespan because of a confounding effect of body fatness.
Bottom Line: Fat-free mass (FFM) and fat mass (FM) were both significantly positively related to RMR.After removing the effect of FFM on RMR, the association between RMR and lifespan remained significantly negative; however, after statistically removing the effect of FM on RMR, the significant association between RMR and lifespan disappeared.We conclude that the negative association between RMR and lifespan is primarily due to the effect of FM, with FM positively related to both RMR and mortality and hence RMR negatively to lifespan.
Affiliation: Institute of Biological and Environmental Sciences, University of Aberdeen, Aberdeen, Scotland, AB24 2TZ, UK, l.duarte@abdn.ac.uk.
ABSTRACT
---
A negative association between resting metabolic rate (RMR) and lifespan is the cornerstone of the rate of living and free-radical damage theories of aging. Empirical studies supporting a negative association of RMR to lifespan may arise from the correlation between RMR and both daily energy expenditure (DEE) and thermoregulatory activity energy expenditure (TAEE). We screened 540 female mice for higher and lower DEE and measured RMR in the resulting 324 (60Β %). We then selected 92 mice in which there was no link between residual from the regression of RMR against body mass (BM) and residual of DEE against BM to separate the effects of these traits. Lifespan was not significantly related to body mass, DEE and TAEE, but significantly negatively related to RMR. Fat-free mass (FFM) and fat mass (FM) were both significantly positively related to RMR. After removing the effect of FFM on RMR, the association between RMR and lifespan remained significantly negative; however, after statistically removing the effect of FM on RMR, the significant association between RMR and lifespan disappeared. We conclude that the negative association between RMR and lifespan is primarily due to the effect of FM, with FM positively related to both RMR and mortality and hence RMR negatively to lifespan. In 40 additional screened mice, greater FM was also associated with greater oxidative damage to DNA. Show MeSH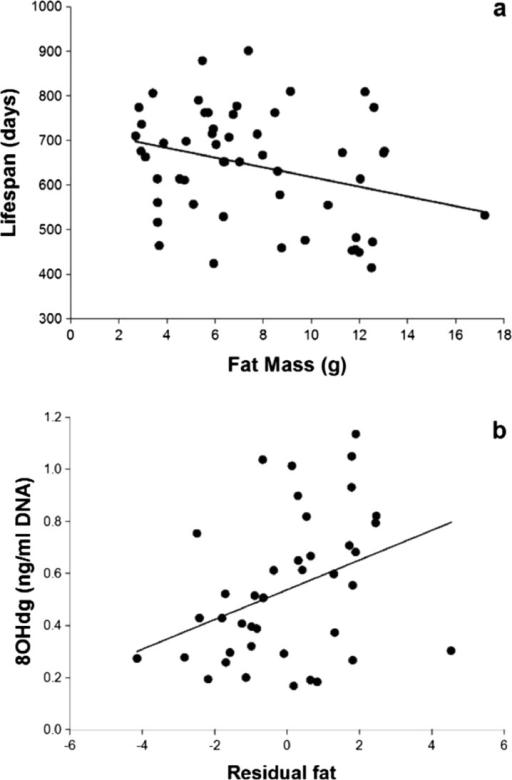 © Copyright Policy - OpenAccess
getmorefigures.php?uid=PMC4262579&req=5
Mentions: RMR is known to be affected not only by variations in body mass, an effect we also confirmed (LSR: F1,90 = 58.0, P < .001, R2 = 0.39, b = 0.39), but especially by differences in body composition. Fat-free mass (FFM), which accounts for the larger part of body mass, is directly related with RMR, and fat mass (FM) has a smaller but similarly positive contribution to RMR (Johnstone et al. 2005; Kaiyala et al. 2010; TschΓΆp et al. 2012), possibly mediated in part via an effect of leptin (Kaiyala et al. 2010). We evaluated body composition by measuring FM and FFM in a subsample of mice (n = 53). In this sample, the negative relationship between lifespan and RMR was confirmed (LSR: F1,51 = 6.3, P = 0.015; R2 = 0.11, b = βˆ'12.8). To discriminate the effect of FM and FFM on RMR and consequently their putative effects on lifespan, we used the residuals from two separate analyses. In the first, we performed a regression analysis of RMR on FM (LSR: F1,51 = 23.47, R2 = 0.32, P < .001; b = 0.51, SEb = 0.11; Fig.Β 4a) and calculated the residual, hereafter called β€œRMR without FM effect". The second involved a regression of RMR on FFM (LSR: F1,51 = 35.24, R2 = 0.41, P < .001; b = 0.76, SEb = 0.13; Fig.Β 4b), and the calculated residual was called the β€œRMR without FFM effect". The β€œRMR without FM effect" was not significantly related with lifespan (LSR: F1,51 = 1.9, P = 0.17, b = βˆ'9.0; Fig.Β 4c), while β€œRMR without FFM effect" remained negatively and significantly related with lifespan (LSR: F1,51 = 7.2, P = 0.01, R2 = 0.12, b = βˆ'17.7; Fig.Β 4d). This analysis indicated that the negative relationship between RMR and lifespan was due to the association between RMR and body fat, as when the effect of FM on RMR was statistically removed, the effect on lifespan disappeared. If the effect of RMR is due to an effect of body fat, then we would anticipate that there would be an effect of fat tissue mass on longevity, but no effect of lean tissue mass. This was indeed the case (Fig.Β 5a: LSR: F1,51 = 5.32, P=0.02; R2 = 0.1, b = βˆ'10.9), but there was no effect of fat-free mass on longevity (LSR: F1,51 = 0.46, P=0.5, b = βˆ'4.38: plot not shown). We repeated the analysis using soft lean tissue mass obtained by excluding bone from fat-free mass, and we got the same results (not shown here).Fig. 4