Halorhabdus tiamatea: proteogenomics and glycosidase activity measurements identify the first cultivated euryarchaeon from a deep-sea anoxic brine lake as potential polysaccharide degrader.
Bottom Line: Euryarchaea from the genus Halorhabdus have been found in hypersaline habitats worldwide, yet are represented by only two isolates: Halorhabdus utahensis AX-2(T) from the shallow Great Salt Lake of Utah, and Halorhabdus tiamatea SARL4B(T) from the Shaban deep-sea hypersaline anoxic lake (DHAL) in the Red Sea.Halorhabdus tiamatea furthermore encodes proteins characteristic for thermophiles and light-dependent enzymes (e.g. bacteriorhodopsin), suggesting that H. tiamatea evolution was mostly not governed by a cold, dark, anoxic deep-sea habitat.Using enrichment and metagenomics, we could demonstrate presence of similar glycoside hydrolase-rich Halorhabdus members in the Mediterranean DHAL Medee, which supports that Halorhabdus species can occupy a distinct niche as polysaccharide degraders in hypersaline environments.
Affiliation: Max Planck Institute for Marine Microbiology, Bremen, Germany; Jacobs University Bremen gGmbH, Bremen, Germany.
Show MeSH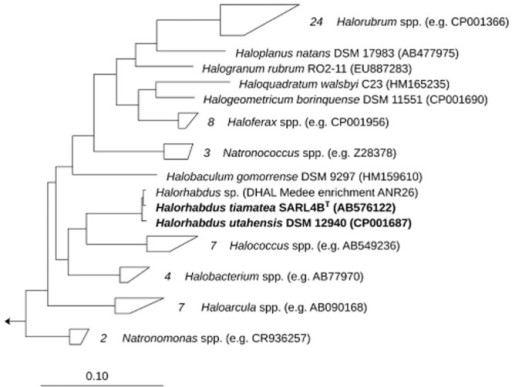 © Copyright Policy - open-access
License
getmorefigures.php?uid=PMC4257568&req=5
Mentions: Among the most peculiar hypersaline habitats are deep-sea brine lakes, like the Orca Basin in the Northern Gulf of Mexico (Pilcher and Blumstein, 2007), the ice-sealed Antarctic Vida lake (Murray et al., 2011), the numerous deep-sea hypersaline anoxic lakes (DHALs) in the Eastern Mediterranean Sea (Bortoluzzi et al., 2011) and the Red Sea (Antunes et al., 2011a). The thalassohaline DHAL Shaban Deep in the Red Sea was discovered in 1984 (Pautot et al., 1984), and since several novel species were isolated from this location (Antunes et al., 2003; 2007; 2008a, b). Halorhabdus tiamatea SARL4BT stems from the brine–sediment interface of the Shaban Deep's Eastern basin (26°13.9′ N, 35°21.3′ E, −1447 m depth, pH 6.0, salinity: 244) and features pleomorphic, non-pigmented cells that grow chemoorganoheterotrophically under anoxic to micro-oxic conditions [optimum: 45°C; pH 5.6–7.0; 27% NaCl (w/v)], but poorly under oxic conditions (Antunes et al., 2008a). The only other Halorhabdus (Hrd.) (Oren et al., 2007) species with a validly published name so far is Halorhabdus utahensis AX-2T (DSM 12940T), a sediment isolate from the southern arm of the shallow thalassohaline Great Salt Lake in Utah, USA (Wainø et al., 2000). Halorhabdus utahensis also features pleomorphic but pigmented cells that can grow under anoxic and oxic conditions (Table 1). Both Hrd. species exhibit a 16S ribosomal RNA (rRNA) sequence identity of 99.3% (Fig. 1). The genome of H. utahensis has been completely sequenced (Anderson et al., 2009), whereas until now only a draft sequence was available for H. tiamatea (Antunes et al., 2011b). Both genomes share a large proportion of genes, but also exhibit notable niche differentiations, such as an increased number of genes for membrane transport and utilization of maltose, maltodextrin, phosphonate, and di- and oligopeptides in H. tiamatea (Antunes et al., 2011b). Halorhabdus tiamatea and H. utahensis belong to those Halobacteriaceae species that can degrade plant polysaccharides (Anderson et al., 2011). For instance, H. utahensis has proven β-xylanase, β-xylosidase (Wainø and Ingvorsen, 2003) and cellulase activities (Zhang et al., 2011).