Loss of Tropomodulin4 in the zebrafish mutant träge causes cytoplasmic rod formation and muscle weakness reminiscent of nemaline myopathy.
Bottom Line: Accordingly, although actin monomers polymerize to form thin filaments in the skeletal muscle of tmod4(trg) mutants, thin filaments often appeared to be dispersed throughout myofibres.Organised myofibrils with the typical striation rarely assemble, leading to severe muscle weakness, impaired locomotion and early death.Myofibrils of tmod4(trg) mutants often featured thin filaments of various lengths, widened Z-disks, undefined H-zones and electron-dense aggregations of various shapes and sizes.
Affiliation: Australian Regenerative Medicine Institute, Monash University, Clayton, VIC 3800, Australia Joachim.Berger@monash.edu.
Show MeSH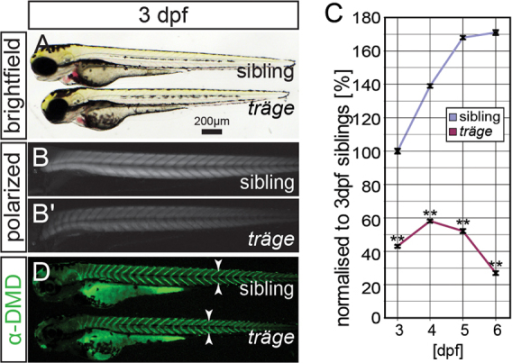 © Copyright Policy - open-access
License
getmorefigures.php?uid=PMC4257009&req=5
Mentions: To identify novel genes associated with congenital muscle diseases, a forward genetic screen was performed aiming to isolate zebrafish mutants with defects in the musculature. The chemical ENU was used to induce random mutations in males, which were outcrossed over two generations to establish 126 F2 families (Berger et al., 2011). The progeny of F2 incrosses were screened under polarised light at 3 days post fertilization (dpf). Polarised light shows the birefringence of muscle, a light effect provoked by the pseudo-crystalline array of the sarcomeres of the contractile apparatus; therefore, a reduction in birefringence indicates a broad range of myofibre defects and correlates with the level of muscle damage (Berger et al., 2012). One mutant was isolated that appeared similar to siblings under brightfield conditions. The total body length of mutant larvae was only slightly reduced to 96.0±0.6% compared with their siblings, and the swimming bladder did not inflate (P<0.01, n=7). In addition, mutants were sensitive to touch and showed an impaired motility with compromised forward thrust (supplementary material Movies 1, 2), which led to the designation träge (trg) (German for slow). Under polarised light, trg mutants displayed a marked reduction in birefringence (Fig. 1A–B′). At 3 dpf, there was a highly significant reduction in the birefringence of trg mutants to 45±2% of that of siblings, which persisted through to 6 dpf (P<0.01, n=3) (Fig. 1C). The birefringence of trg homozygotes normalised to that of siblings at 3 dpf were 58±2% at 4 dpf, 52±2% at 5 dpf, and 27±2% at 6 dpf (P<0.01, n=3). Importantly, the birefringence of trg homozygotes remained uniform rather than scattered, as has been seen in dystrophic mutants, in which the scattered distribution of detaching and degenerating fibres leads to a patchy pattern of birefringence (Fig. 1B′) (Berger et al., 2012). As birefringence is provoked by the myofibril, this indicates that the reduction in birefringence of trg mutants comes from a defect in the myofibril, rather than a stochastic loss of entire myofibres due to degeneration. Similarly, dystrophin expression at the vertical myosepta of trg mutants, analysed by immunohistochemistry using antibodies against dystrophin, matched that of siblings, revealing that myofibre differentiation is unaffected (Fig. 1D). Nonetheless, although siblings were viable and fertile, trg mutants died by 11 to 13 dpf. It is probable that an impaired swimming ability leaves trg mutants unable to hunt effectively for food, as starved siblings died at the same age.