Multigeneration impacts on Daphnia magna of carbon nanomaterials with differing core structures and functionalizations.
Bottom Line: Several classes of contaminants have been shown to have multigenerational impacts once a parental generation has been exposed.Certain nanomaterials, however, such as C60-malonate, SWCNTs, SWCNT-CONH2 , and MWCNTs, caused a significant decrease in either survival or reproduction in F1 daphnids; and SWCNT-CONH2 decreased reproduction out to the F2 generation.Impacts of nanomaterials on F1 and F2 size were small and lacked clear patterns, indicating that CNMs have minimal multigenerational impacts on size.
Affiliation: School of Freshwater Sciences, University of Wisconsin-Milwaukee, Milwaukee, Wisconsin, USA.
Show MeSH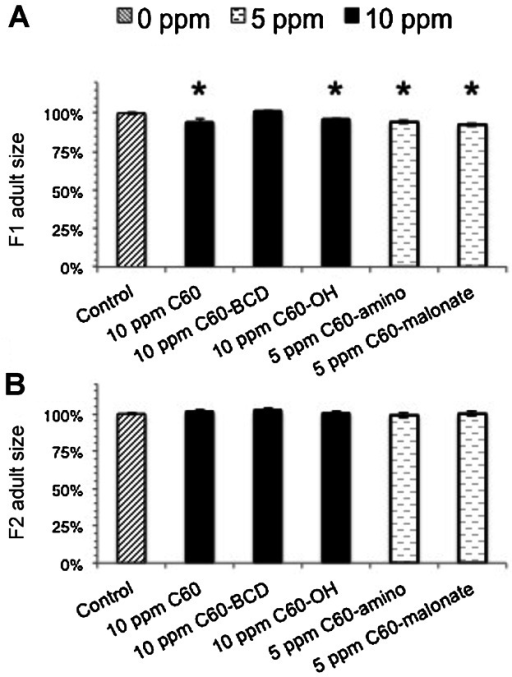 © Copyright Policy - open-access
License
getmorefigures.php?uid=PMC4255752&req=5
Mentions: Carbon nanomaterials also had a marginal multigenerational impact on daphnid size, and this was dependent on core structure and functionalization. At 10 ppm and 50 ppm, C60 significantly decreased F1 adult size by 5.5% and 4% (t = −4.083, p < 0.05 and t = 3.351, p < 0.05). For functionalized fullerenes, significant decreases in F1 size were observed for 10 ppm C60-OH, 5 ppm C60-amino, and 5 ppm C60-malonate (decreases of 4%, 5.8%, and 7%; t = 3.036, p < 0.05; t = −4.863, p < 0.05; t = −6.687, p < 0.05, respectively; Figure 6A); however, none of these treatments were significantly different from controls in the F2 generation (Figure 6B). In addition, none of these results were significantly different from F1 daphnids from C60 exposures, indicating that functionalization with these surface chemistries does not change the toxicity of unfunctionalized fullerenes to F1 daphnid size. In addition, SWCNT-CONH2 significantly decreased F1 adult size at a concentration of 50 ppm compared with controls (decrease of 5%, t = −6.439, p < 0.05). Increases in F1 size were observed with 10 ppm MWCNTs (increase of 2.8%, t = 2.374, p < 0.05) and 10 ppm SWCNT-CONH2 (increase of 6%, U = 3, p < 0.05). In the F2 generation, a decrease in adult size was observed for 10 ppm SWCNT-COOH (decrease of 4.9%, t = −2.876, p < 0.05) and increases in size were observed for 50 ppm C60 (increase of 1.7%, t = 2.003, p < 0.05), 50 ppm MWCNT (increase of 5%, t = 3.711, p < 0.05), and 10 ppm SWCNT-PEG (increase of 6.5%, t = 4.401, p < 0.05).