MOZ-mediated repression of p16(INK) (4) (a) is critical for the self-renewal of neural and hematopoietic stem cells.
Bottom Line: Here, we show that the histone acetyltransferase (HAT) monocytic leukemia zinc finger protein (MOZ) controls the proliferation of both hematopoietic and neural stem cells by modulating the transcriptional repression of p16(INK4a) .In the absence of the HAT activity of MOZ, expression of p16(INK4a) is upregulated in progenitor and stem cells, inducing an early entrance into replicative senescence.Our results suggest a critical requirement for MOZ HAT activity to silence p16(INK4a) expression and to protect stem cells from early entrance into replicative senescence.
Affiliation: Cancer Research UK Stem Cell Biology Group, Cancer Research UK Manchester Institute, The University of Manchester, Manchester, United Kingdom.
Show MeSH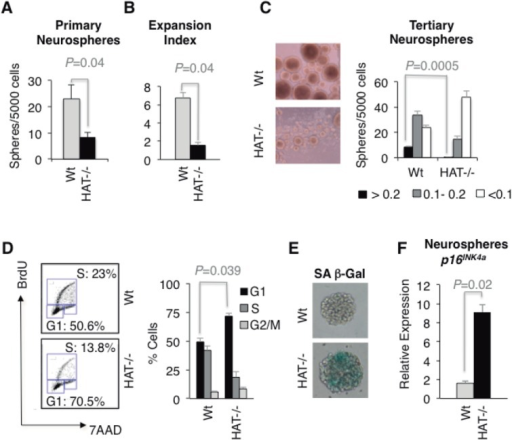 © Copyright Policy - open-access
License
getmorefigures.php?uid=PMC4237135&req=5
Mentions: MOZ and its close homologue MORF (MOZ related factor, MYST4 or KAT6B) have been assigned specific roles in either hematopoietic or neural development, respectively 33,34. However, our previous observation that MozHAT−/− ESCs, unlike their Wt counterparts, did not extensively contribute to the formation of the brain in chimeric mice 8 suggests that MOZ, through its HAT activity, might also play a role in regulating the proliferation of NCS/Ps. To test this hypothesis, we first cultured cells isolated from the telencephalon of Wt and MozHAT−/− E14.5 embryos under clonogenic conditions to compare their potential to generate self-renewing neurospheres, a measurement of the number of cells with neural stem-like properties 35,36. MozHAT−/− embryos generated three times less neurospheres than Wt controls (Fig. 3A) suggesting that there are significantly fewer NSCs in the telencephalon of MozHAT−/− embryos. In addition, MozHAT−/− neurospheres displayed reduced expansion kinetics, producing fewer neurospheres at each passage, with an expansion index fivefold lower than Wt neurospheres (Fig. 3B), suggesting a reduced self-renewal potential. In fact, no neurospheres could be generated from the MOZHAT−/− cells after the third passage. In addition to this reduced expansion rate, MozHAT−/− neurospheres were, on average, smaller than their Wt counterparts (Fig. 3C), which could be indicative of cell-cycle arrest. BrdU incorporation analysis of MozHAT−/− secondary neurospheres revealed a reduced percentage of cells in the S-phase of the cell cycle and accumulation of cells at the G1 phase, similar to the phenotype observed for MozHAT−/− hematopoietic progenitors (Fig. 3D). Consistent with the acquisition of a senescent phenotype, cells from secondary MozHAT−/− neurospheres also displayed SA β-gal activity and higher p16INK4a expression levels than Wt controls (Fig. 3E, 3F). These in vitro findings were further substantiated in vivo by the observation that a lower percentage of cells expressing aldehyde dehydrogenase (ALDH), a marker of cells with stem-like properties 37,38, was detected in brains of E14.5 MozHAT−/− embryos compared with Wt embryos (Fig. 4A). Furthermore, a reduction in the number of cells expressing the proliferation marker Ki67 (Fig. 4B) and cells incorporating BrdU (Fig. 4C) was also observed in the brains of E14.5 MozHAT−/− embryos. Finally, qPCR analysis of E14.5 telencephalons revealed an increased p16INK4a expression in the telencephalon of MozHAT−/− embryos (Fig. 4D). Altogether, these data demonstrate that, similarly to the hematopoietic system, MozHAT−/− NSC/Ps display proliferative defects ex vivo and in vivo, upregulate the expression of p16INK4a and readily enter into replicative senescence.