High-resolution genetic map for understanding the effect of genome-wide recombination rate on nucleotide diversity in watermelon.
Bottom Line: We assessed the genome-wide variation in recombination rate (GWRR) across the map and found an association between GWRR and genome-wide nucleotide diversity.LD decay was estimated for various chromosomes.We identified a strong selective sweep on chromosome 3 consisting of important genes that might have had a role in sweet watermelon domestication.
Affiliation: Gus R. Douglass Institute, Department of Biology, West Virginia State University, Institute, West Virginia 25112-1000 ureddy@wvstateu.edu.
Show MeSH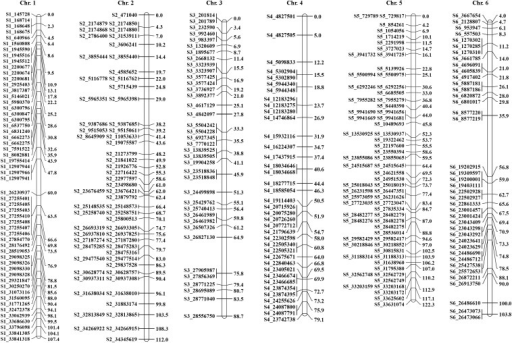 © Copyright Policy - open-access
License
getmorefigures.php?uid=PMC4232547&req=5
Mentions: We mapped 10,480 SNPs into a genetic linkage map using a mapping population that contained 113 progenies generated from a cross of egusi and sweet watermelon. Chromosome distribution of 547 skeletal markers is provided in Figure 3, A and B. To select skeletal markers, SNPs violating map stability on mapping were removed and linkage groups were reanalyzed several times until the map showed complete stability. Use of MultiPoint allowed for detection and removal of markers violating the order stability and monotonic growth of distances in the skeleton map. After cleaning, markers from the heap were checked as candidates for filling-in the gaps. The map showed a strong threshold of the absolute linked markers and showed very good correspondence between the map characteristics (the number of skeletal markers and length of the map). Chromosomes 1 to 11 contained 55, 61, 38, 38, 66, 40, 52, 47, 55, 51, and 44 skeletal markers, respectively, with genetic lengths (cM) 107.4, 112, 88.7, 79.1, 122.3, 103.8, 81.2, 94.2, 106.1, 104.9, and 96.9, respectively (Figure 3, A and B). In addition, the current map defined 3821 recombination events within the skeletal map. The skeletal map for chromosomes 1 to 11 contained 406, 339, 240, 219, 450, 257, 305, 391, 464, 373, and 388 recombination events, respectively. Each recombination bin or skeletal marker segregated with multiple add-on markers, for a high-density genetic map. Of note, chromosomes 3, 4, and 6 contained the least skeletal markers and fewer recombination events as compared with the other chromosomes, perhaps because of recombination suppression. In contrast, chromosomes 5, 2, and 9 possessed multiple recombination bins, so they contained hot spots of recombination. The entire length of the genetic map was 1096.53 cM. Keeping the framework markers as anchors, 9933 add-on SNPs were incorporated across the lengths of various chromosomes, for a high-density genetic map. Add-on SNPs were 1171, 819, 766, 558, 1332, 822, 874, 644, 1054, 1023, and 870 on chromosomes 1 to 11, respectively, for a high-density genetic map (add-on markers anchored to skeletal markers are in Supplementary Materials). Clearly, a large set of the remaining add-on markers could also be attached to the corresponding interval or marker on the skeleton map (Figure S3-1, Figure S3-2, Figure S3-3, Figure S3-4, Figure S3-5, Figure S3-6, Figure S3-7, Figure S3-8, Figure S3-9, Figure S3-10, and Figure S3-11). Total add-on or anchor markers are in Table S3, Table S4, Table S5, Table S6, Table S7, Table S8, Table S9, Table S10, Table S11, Table S12, and Table S13. Skeletal markers are framework markers with high confidence.