S-layers: principles and applications.
Bottom Line: S-layers are also identified to contribute to virulence when present as a structural component of pathogens.In Archaea, most of which possess S-layers as exclusive wall component, they are involved in determining cell shape and cell division.Studies on structure, chemistry, genetics, assembly, function, and evolutionary relationship of S-layers revealed considerable application potential in (nano)biotechnology, biomimetics, biomedicine, and synthetic biology.
Affiliation: Institute of Biophysics, Department of Nanobiotechnology, University of Natural Resources and Life Sciences, Vienna, Austria.
Show MeSH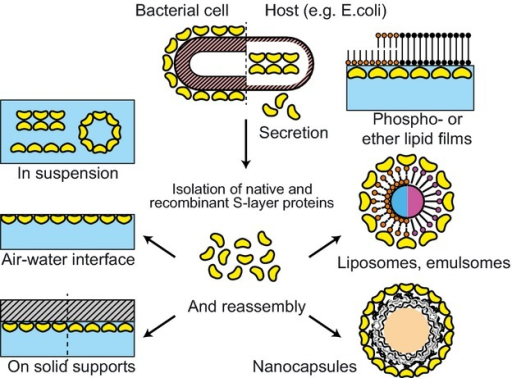 © Copyright Policy - open-access
License
getmorefigures.php?uid=PMC4232325&req=5
Mentions: The capability of isolated S-layer proteins to assemble into two-dimensional arrays in vivo and in vitro is one of their key properties exploited in basic and application-oriented research. It occurs upon dialysis of the disrupting agents as described before (Fig.4). The formation of the self-assembled arrays is only determined by the amino acid sequence of the polypeptide chains, and consequently the tertiary structure of the S-layer protein species (Sleytr, 1975). As S-layer proteins have a high proportion of nonpolar amino acids, most likely, hydrophobic interactions are involved in the initial stage of the assembly process. Some S-layers are stabilized by divalent cations, such as Ca2+ (Pum & Sleytr, 1994, 1995b; Norville et al., 2007; Baranova et al., 2012) and in the case of extremely halophiles by Mg2+ (Mescher & Strominger, 1976; Cline et al., 1989; Eichler et al., 2010) interacting with acidic amino acids. Studies on the distribution of functional groups on the surface have shown that free carboxylic acid groups and amino groups are arranged in close proximity and thus contribute to the cohesion of the proteins by electrostatic interactions (Sára & Sleytr, 1987a; Sára et al., 1988a; Pum et al., 1989; Györvary et al., 2004). S-layer proteins are noncovalently linked to each other and, in the case of their adhesion to supporting structures (e.g. silicon, metal or polymeric solid surfaces, or lipid membranes) differing combinations of weak bonds (hydrophobic bonds, ionic bonds involving divalent cations or direct interaction of polar groups, and hydrogen bonds), are responsible for the structural integrity as well. Nevertheless, disintegration and reassembly experiments led to the conclusion that the bonds holding the S-layer proteins together must be much stronger than those binding them to the support (Sleytr, 1975, 1976, 1978). Once formed, S-layer proteins were never observed to leave the lattice, and thus, it was concluded that lattice growth is irreversible and no S-layer protein turnover occurs. The reason for this irreversibility may be that after the addition of the 'last' protein monomer to the (incomplete) morphological unit, this monomer is locked into place and now has a low probability of leaving (Chung et al., 2010; Comolli et al., 2013) because this final conformational arrangement in 'confinement' constitutes the state of lowest free energy (Chung et al., 2010).