CTCF induces histone variant incorporation, erases the H3K27me3 histone mark and opens chromatin.
Bottom Line: The insulator factor, CTCF, has been found to bind to boundaries and to mediate insulator function.This demonstrates the causal role for CTCF in generating the chromatin features found at insulators.Thereby, spreading of a histone modification from one domain through the insulator into the neighbouring domain is inhibited.
Affiliation: Institute for Genetics, Justus-Liebig-University, 35392 Giessen, Germany.
Show MeSH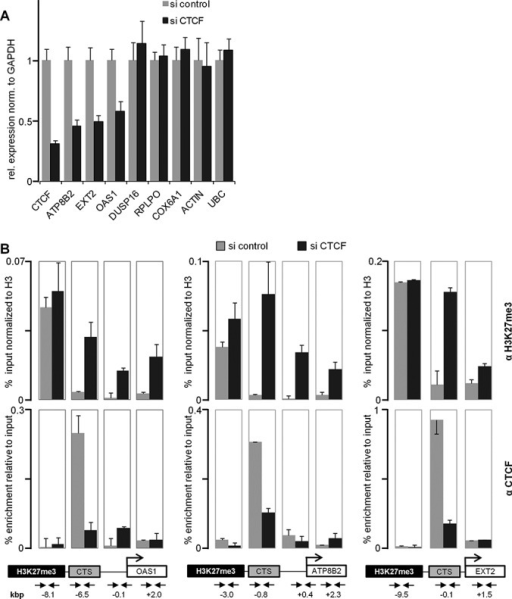 © Copyright Policy - creative-commons
License
getmorefigures.php?uid=PMC4231773&req=5
Mentions: To characterize domain boundaries in more detail, we searched the human genome for typical domain boundaries. According to published results, CTCF is enriched at chromatin domain boundaries separating repressed H3K27me3 marked domains from active domains (10). In order to test the effect of CTCF at the boundary, we searched for such an arrangement with the active chromatin region containing an active gene. In this way gene activity can be monitored in the presence or absence of CTCF and can be used as a readout for insulator function. We chose three boundary model genes, ATP8B2, EXT2 and OAS1, which are active in HeLa cells. These are located in active chromatin, which is flanked by a stretch of more than 20 kb marked by H3K27me3 (Supplementary Figure S1). In each case, a CTCF site (CTS) separates both domains, with a distance of the gene promoter between 6 kb (OAS1) and 0.1 kb (EXT2). For comparison and control we selected four other genes with a similar arrangement of a CTS relative to the promoter of an active gene, but in the absence of any H3K27me3 domain within a 50 kb region. These were DUSP16, RPLPO, COX6A1 and Actin (Supplementary Figure S1). First, we tested whether the expression of these genes is modulated by depleting CTCF from the cells. The protein level of CTCF is decreased upon treatment with specific siRNA (Supplementary Figure S2). As a positive control for CTCF depletion we also determined the amount of CTCF RNA and, as negative control, we tested the expression of the UBC gene. The siRNA-mediated CTCF knockdown resulted in reduced expression of CTCF as well as of the boundary monitoring genes ATP8B2, EXT2 and OAS, as determined by quantitative reverse transcriptase-polymerase chain reaction (RT-PCR) (Figure 1A). In contrast, the genes distant from any H3K27me3 domain boundary (DUSP16, RPLPO, COX6A1 and Actin), while harbouring a CTS in the vicinity of the promoter, did not respond to CTCF depletion, nor did the CTCF negative gene UBC. This suggests that depletion of CTCF from the boundary may result in a spreading of H3K27me3 into the active domain and thereby cause gene repression. We tested this hypothesis using ChIP. First, we verified the presence of CTCF at the boundary with an antibody directed against CTCF. Clearly, CTCF was found at the CTS of all three boundary model genes (Figure 1B). We also verified the chromatin status using an antibody against H3K27me3. The ChIP experiments showed the presence of H3K27me3 in the inactive domain, whereas the CTCF site and the active domain were almost devoid of this histone mark. Besides changes in gene expression induced by CTCF depletion, the crucial test for a CTCF boundary function is to detect changes in chromatin modification. ChIP analysis revealed that CTCF was indeed depleted from the CTS, and that the previously active domain showed an increase in H3K27me3. The strongest increase of this methylation was seen at the CTS itself (Figure 1B). Thus, CTCF depletion induces a loss of gene activity as well as an increase of H3K27me3.