Regularized machine learning in the genetic prediction of complex traits.
Affiliation: Department of Information Technology, University of Turku, Turku, Finland; Turku Centre for Computer Science (TUCS), University of Turku and Åbo Akademi University, Turku, Finland.
Compared to univariate analysis of genome-wide association (GWA) studies, machine learning–based models have been shown to provide improved means of learning such multilocus panels of genetic variants and their interactions that are most predictive of complex phenotypic traits... In contrast to identifying variants explaining most of the phenotypic variation at the population level, supervised machine learning models aim to maximize the predictive (or generalization) power at the level of individuals, hence providing exciting opportunities for e.g., individualized risk prediction based on personal genetic profiles –... We argue here that many medical applications of machine learning models in genetic disease risk prediction rely essentially on two factors: effective model regularization and rigorous model validation... We demonstrate the effects of these factors using representative examples from the literature as well as illustrative case examples... This review is not meant to be a comprehensive survey of all predictive modeling approaches, but we focus on regularized machine learning models, which enforces constraints on the complexity of the learned models so that they would ignore irrelevant patterns in the training examples... Simple risk allele counting or other multilocus risk models that do not incorporate any model parameters to be learned are outside the scope of this review; in fact, such simplistic models that assume independent variants may lead to suboptimal prediction performance in the presence of either direct or indirect interactions through epistasis effects or linkage disequilibrium, respectively, ... While such standard models have provided relatively good predictive accuracies, as assessed using simulation studies or hypothetical effect size distributions, we argue here that it makes sense to use machine learning both for selecting the subsets of the most predictive genetic features as well as training the final prediction model using regularized learning approaches, ... The recent work of Chatterjee et al., where they estimated the effect size distributions for various quantitative and disease traits, highlighted the benefits gained from more holistic models that make use of the whole spectrum of genetic variation toward improving the predictive power of the genetic risk prediction models... To illustrate the similarities and differences in their behavior, we ran a number of common regularization approaches on two example datasets (Figure 1)... In both datasets, the two embedded methods, Lasso and Elastic Net, showed strikingly similar prediction behavior, but needed a larger number of variants for their peak performance, compared to the greedy regularized least-squares (RLS) wrapper, which peaked much earlier but resulted in lower prediction accuracy... These example cases suggest that there is no golden rule for feature selection, but that the model should be selected based on the characteristics of the data and goals of the genetic application (e.g., whether small number of variants is preferred over the overall predictive accuracy)... However, the trade-off is a slight drop in the overall predictive accuracy (Figure 1), indicating that more in-depth and effective wrapper selection strategies need to be implemented... There are also other strategies to reduce the dimensionality of genetic feature spaces using data transformations, such as principal components analysis (PCA), multidimensional scaling (MDS), partial least squares (PLS), or discrete wavelet transformation (DWT), which may in some cases lead to improved predictive accuracy... The current evidence contradicts the idea of a universally optimal model across datasets and prediction applications; rather, the model should be selected based on whether one is trying to achieve a maximally predictive model without restricting the number or type of variants, or whether the goal is to build a sufficiently predictive model with a limited number of genetic and nongenetic features... Genotype–phenotype modeling is a highly challenging problem, but we believe that through appropriate implementation and application of the supervised machine learning methods, such as those presented here, increasingly predictive relationships and biological understanding will be extracted from the current and emerging genetic and phenotypic datasets.
Show MeSH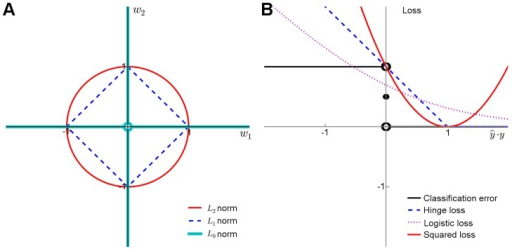 © Copyright Policy
License
getmorefigures.php?uid=PMC4230844&req=5
Mentions: Model regularization refers to the technique of controlling the model complexity, with the aim of preventing overfitting the model to the training data, and hence to improve its generalization capability to new samples. Classical regularization approaches rely on explicit penalization of the model complexity through penalty terms such as L1 and L2 norms for model weights (Figure 2A). Together with the squared loss function (Figure 2B), which is often used to measure the fit between the observed and estimated phenotypes (Eq.1), these functional norms give rise to the optimization problem used in various types of linear genetic risk prediction models:(2)Ridge regression is the special case of Eq. 2, in which , and the regularization parameter is used to shrink the variable weights toward zero to prevent any particular variable from having too large effect on the model. However, the use of L2 penalty alone tends to favor models that depend on all the variables. In Lasso, , and through adjusting the regularization parameter , it is possible to favor sparse models with only a few nonzero weights, leading to variable selection within the model fitting [82]. The Elastic Net model makes use of both penalty terms L1 and L2 to select also correlated features [83]; for instance, groups of variants within a pathway that together contribute to the predictive accuracy.